Have you noticed how a story from a book or piece of writing can significantly impact your mind? How easily is our mind influenced and affected by the information we obtain from books?
Books have always played an essential role in gathering information about anything and everything. Reading books helps reduce stress and anxiety.
Nowadays, mental health is the first thing that needs to be regulated to keep us happy and content.
Students are at a vulnerable age, and it is easier to grasp the negative surroundings, which might eventually affect their mental health and well-being. Therefore understanding the importance of mental health books for students is required.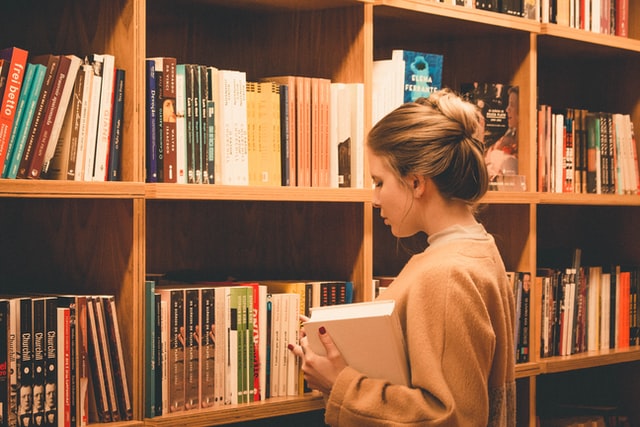 Why are mental health books for students important?
We must first understand that healthy mental health is mandated in a student's life. Students continuously have to process their minds and learn something new every day. And to process their brains properly, they need healthy mental health. Stress-free mind is the best for any student to excel in their life and career.
Nowadays, students have to deal with many problems like anxiety, depression, bullying, and eating disorders. These issues may continue for a very long time. And it is very hard on their part to express their feelings or emotions. In such a case, if mental health books for students are introduced in their curriculum, they will benefit from understanding what they are going through, and eventually, they'll open up.
There are various mental health books for elementary students and mental health books for college students. They can be really helpful in making them aware of different mental health issues or illnesses. Reading also reduces stress and calms the mind. Selecting a suitable book can help one achieve better mental and physical health.
Here are some mental health books for students that might help you.
Mental health Books For College Students
College students face several difficulties once they enter university, including problematic family dynamics, identity concerns, and intense pressure to succeed. Numerous students are turning to campus resources and mental health books for college students for assistance with their mental health issues, including everything from adjustment disorders to mood disorders.
These students come to campus hoping for a new and improved life stage but are also resilient and eager to study. In college and university mental health services, according to psychiatrist Doris Iarovici of Duke University Counseling and Psychological Services, there is a chance for mental health professionals to positively impact young people at a critical juncture in their development.
Dr. Iarovici talks about the present problem in college mental health and how college mental health services have changed as student demographics have changed. Using case vignettes to investigate various approaches, she talks about students' lifestyle issues and mental health issues. Substance abuse, interpersonal conflict, eating disorders, depression, anxiety, and eating disorders are covered. Sleep problems and perfectionism are two issues this book addresses specifically. The volume's core element is a manual for conducting emergency assessments, including everything from risk categorization and hospitalization to public safety and communication inside and outside the campus community.
Are you aware that one in every four university students received a mental health problem diagnosis in the previous calendar year? In a climate of increasing academic, social, and financial pressures, college students are experiencing anxiety, depression, alcohol misuse, and other mental health concerns at alarming rates. Marcia Morris has worked as a college mental health psychiatrist for over 20 years and is the mother of two young adults. She has seen how problems can cause students to stray from their objectives while parent interventions at crucial moments can help them get back on track.
A first help manual for your child's well‐being, The Campus Cure: A Parent Guide to Mental Health and Wellness for College Students, one of the mental health books for college students, equips you to deal with the mental health issues and emotional ups and downs many young adults encounter while attending college. This book will increase your understanding of typical issues, pressures, and crises in college; it will show you how to support your child and work with campus resources; and it will offer stories of hope to parents who frequently feel alone and overburdened when their child experiences a mental health problem. It does this by using anecdotes and the most recent scientific literature. While you are passionate about supporting your child, this book will give you the tools to help them find pleasure during their college years.
Renowned primatologist Robert Sapolsky presents a revised and updated edition of his most well-known work, why zebras don't get ulcers, one of the best mental health books for college students.
Sapolsky explains that most of us do not spend our nights worrying about contracting leprosy or malaria. Instead, illnesses like heart disease and cancer are brought on by the gradual buildup of damage, which causes the diseases we fear and the ones that currently afflict us. Our bodies activate the same physiological reactions that animals do when anxious or stressed. Still, we do not deal with conflict like animals do—through fighting or running away. This stress response's prolonged activation physically makes us ill.
Why Zebras Don't Get Ulcers explains how prolonged stress causes or worsens various physical and mental illnesses, including depression, ulcers, colitis, heart disease, and more. It does this by fusing cutting-edge research with a healthy dose of humor and helpful advice. It also offers crucial advice for managing our stress responses. This new edition is anticipated to be the most thorough and interesting.
In this New York Times bestseller, co-founder and editor-in-chief of The Huffington Post, Arianna Huffington, demonstrates how our cultural rejection of sleep as time wasted compromises our health and ability to make decisions and undermines our ability to live productive, personal, and professional lives.
Every Body Yoga is one of the groundbreaking mental health books for college students by the legendary yoga instructor Jessamyn Stanley. It is a handy book for novices of all sizes and shapes: We can overcome these psychological and physical limitations if Jessamyn can. This book is for readers who already practice yoga and want to brush up on their technique or discover new methods to stay motivated. It is a how-to guide. Here are full-color, step-by-step instructions for 50 fundamental yoga positions and ten home practice sequences. It's a book that raises important questions about body acceptance and what it means to be beautiful. It's a book that shifts the paradigm by demonstrating that yoga isn't about how one looks but how one feels.
Mental Health Books For High School Students
For fans of Bridge to Terabithia and Counting by 7s, reality, and fantasy meet in this story about a girl who must save a magical make-believe world to save herself. Booklist called it a "beautiful and introspective narrative," one of the outstanding mental health books for high school students.
The Everwood, a forest country that exists only in Finley's notebook, is her haven. The Everwood is real and contains more mysteries than she could have imagined, including a family of pirates she isn't allowed to speak to, trees with ash all over them, and a strange old wizard in a house made of bones. That is until she discovers the endless woods behind her grandparents' house.
Finley embarks on a quest to save the withering Everwood and discover its secrets with the aid of her cousins. But as the mysteries mount and the horrifying grief inside of Finley intensifies, she concludes that to save the Everwood, she must first heal herself.
Another on the list of mental health books for high school students is mosquitoland. Mim Malone is taken from her home in northern Ohio to the "wastelands" of Mississippi after her family's abrupt collapse. She lives with her dad and her new stepmother, a drug addict. She discovers her mother is ill in Cleveland before the dust can settle.
To return to her real home and mother, she abandons her new life and boards a Greyhound bus headed north. Along the way, she meets a quirky group of fellow passengers. Mim must confront her problems and redefine her ideas of love, loyalty, and being sane after her thousand-mile journey takes a few unexpected turns.
It contains a discussion guide, an exclusive author interview, and David Arnold's song lyrics.
Challenger Deep is a moving novel and one of the best mental health books for high school students about mental illness written by New York Times bestselling author Neal Shusterman that captivates readers from the first to the final page.
The southern Marianas Trench, or Challenger Deep, is the deepest place on Earth, and Caden Bosch travels there on a ship.
High school student Caden Bosch is intelligent, but his friends are starting to question his peculiar conduct.
Caden Bosch will serve as the ship's resident artist and take pictures to record the voyage.
Caden Bosch walks for kilometers daily, lost in his thoughts while pretending to join the school's track squad.
Even at home, Audrey always sports a pair of dark glasses. She rarely leaves the house, hardly ever engages in conversation with strangers, and finds it difficult to make eye contact.
But then she meets Linus one day. Her brother's friend Linus is a kind soul with whom she can share her anxieties. He makes her laugh and leaves her with no sense of being scrutinized. Audrey's recovery progresses as their friendship grows, and she and Linus start to feel attracted to one another. But if Audrey hasn't dealt with her past, how can they have a future together? And after witnessing her at her worst, how could anyone ever love her?
An exceptional tragicomedy and one of the best mental health books for high school students that delicately examines mental illness, the long-term impact of bullying, and the healing power of friends and loving families
It turns out that reality is frequently not what you think; occasionally, someone is trying to harm you. This thought-provoking debut novel and one of the best mental health books for high school students is perfect for Liar and Silver Linings Playbook fans. It tells the tale of Alex, a high school senior who is the definition of an unreliable narrator because she cannot distinguish between reality and illusion.
Every day, Alex struggles to distinguish between what is true and what is false. Alex fights her schizophrenia head-on with the help of her camera, a Magic 8 Ball, and her only ally—her younger sister—to remain sane long enough to apply to college. Up until she encounters Miles, she is relatively confident about her chances. She must have imagined him. Before her awareness, Alex is making friends, attending parties, falling in love, and going through all the typical teenage rites of passage. However, Alex is accustomed to being crazy. She isn't ready for everyday life. She can't trust herself. Can we rely on her?
Mental Health Books For Elementary Students
Cory talks about how having ADHD impacts his interactions with friends and family, his academic achievement, and his general functioning. He also discusses several methods for managing ADHD, including medication, treatment, counseling, and helpful advice for relationships, the family, and the workplace. It is one of the best mental health books for elementary students.
Wince is one of the most anxious people you will ever meet. Wince frets about everything, including the weather, homework, and cookies. And his WorryBug arises as soon as Wince starts to worry. The WorryBug starts little and harmless, but as Wince frets more, the WorryBug enlarges. Do not eat The WorryBug is a fantastic story to get people talking about worry and anxiety and is one of the best mental health books for elementary students. We all worry; it's natural. It is important to prevent the WorryBug from becoming so large that it completely disrupts your day.
In this substantial book on the list of mental health books for elementary students with lovely heart cutouts, a girl explains that her heart is filled with emotions. Every spread focuses on feelings like joy, boldness, or fear. In particular, the descriptions of the feelings are fascinating: "There are days when my heart weighs as much as an elephant. Tears fall like rain, and a black cloud is over my head. My heart is depressed at this time. The author is Harry N. Abrams.
Kai goes through a range of emotions after his father passes away, including despair, rage, fear, and guilt. They occasionally collide and blend. Other times, there are simply no feelings at all. The waves keep coming in as Kai and his family get used to life without Dad. However, they learn to cope and, eventually, heal with the aid of friends and one another. A poetic tale about grief for anybody who has experienced loss.
This heartfelt chapter book in the list of mental health books for elementary students follows 12-year-old Molly Nathan as she copes with middle school friendships and life without her mother, who has temporarily moved for a job while battling an undiagnosed obsessive-compulsive disease. Many of Molly's OCD tendencies are initially subtly woven into a plot that centers on her desire to win the poetry slam for her mother to attend the banquet. These tendencies include organizing takeout menus alphabetically and searching for patterns in phone numbers. But over time, her OCD worsened. When Molly develops a counting obsession, her father sends her to the doctor, who gives her the diagnosis.
Conclusion:
So here are some of the must-read mental health books for students. You need to select the one that is easier to read and keeps you engaged. So choosing a story of your choice is your first step. You can also go for mental health books students that mental health professionals or experts write. They give their insights that can help you to a great extent. Choose a book that makes you comfortable. The author should understand you and not judge you.
If you are undergoing mental health issues and the symptoms worsen over time, many health professionals can help you reduce your symptoms and discomfort. Don't ignore your signs. Your feelings are valid. Try communicating. Give yourself time. Develop good habits. Trust the process.
Some books specifically deal with different mental health issues like anxiety or depression. Click here to learn about the 10 best anxiety self-help books for better mental health.
To know more about mental health and issues, subscribe to your mental health pal.