According to an article by the World Health Organization, depression affects more than 264 million individuals globally and is associated with long-term health issues. In other words, the constant stress, anxiety, and depression you might experience in daily life can actually affect your physical health. Thus, you need a break.
And we have the best escape for you. Mental health audiobooks ; easy access to escape stress, anytime and anywhere.
Audiobooks are a great escape from anxiety or panic. A calming voice while reading a book provides a soothing, relaxing influence and the best comfort while reading if you have any distraction problems. To help you take a break from daily stress and anxiety, here are the most popular mental health audiobooks you should listen to.
Available on: Kobo, audiobooks.com, Google Play Books, and Scribd
Dr. Nadine Burke Harris is a distinguished physician, researcher, and advocate who is committed to altering how our society addresses childhood trauma. One of the most serious, expensive, and pervasive public health concerns.
In this audiobook, she explains how early stress may result in long-term health issues and demonstrates how to interrupt the pattern. Dr. Harris breaks down and refines the relation between Adverse Childhood Experience (ACE) and adult behavior.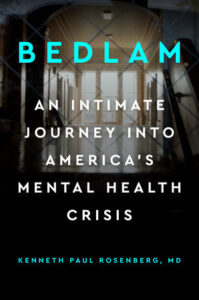 Available on: Audible, Kobo, audiobooks.com, and Scribd
Written by Dr. Rosenberg, this audiobook is an award-winning documentarian that sheds light on the mental-health-care crisis in the United States.
In this audiobook, Dr. Rosenberg provides listeners with a detailed analysis of the historical, political, and economic factors that have contributed to the mental health crisis in the US. Bedlam not only traces back to the mental health issues in the US but also teaches compassion towards the people suffering from mental illness.
Available on: Kobo
This best-selling book is written by Robin Norwood. It is made for you if being in love with you implies being weak and in agony. Loving too much, according to therapist Robin Norwood, is a pattern of thinking and behavior that some women exhibit as a result of issues from their childhood. This audiobook covers personal questions like:
Is having 'somebody to love' essential in your life?
Do you constantly believe you would no longer feel depressed or lonely with the right man?
Are you bored with 'nice guys' who are open, honest, and dependable?
The strength of these dysfunctional relationships is examined in depth in this best-selling book. Moreover, it also offers a specific treatment plan for recovering from the illness of excessive love.
Available on: Audible, Kobo, audiobooks.com, and Scribd
In his book The Upward Spiral, Dr. Alex Korb demonstrates how to reverse the downward spiraling journey caused by depression. And turn it into an upward spiraling journey of happiness and fulfillment, one small step at a time.
Dr. Alex deconstructs the neurological processes that cause depression and provides simple, actionable steps to eliminate the source of the problem.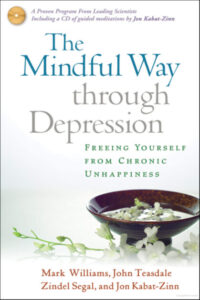 Available on: Audible
The Mindful Way through Depression is written by four acclaimed individuals- J. Mark G. Williams an Emeritus Professor of Clinical Psychology, John D. Teasdale a leading researcher at Oxford University, and Zindel V. Segal a cognitive psychologist, and Jon Kabat-Zinn an American professor emeritus of medicine.
In The Mindful Way through Depression, these four highly experienced professionals provide a novel method for overcoming depression. They have created an innovative method of treating depressed thoughts by fusing Cognitive Behavioral Therapy (CBT) with Eastern meditation practices as a result of a significant study.
The book claims that self-doubt, ruminating, and anxious thoughts that cause depression can be managed without the use of antidepressants with the help of these meditation techniques and exercises.
Available on: Kobo, audiobooks.com, Google Play Books, and Scribd
How to Stay Sane is written by Philippa Perry, a British psychotherapist. This book advocates the argument that mental health is just as important as physical health.
How to stay sane is like a maintenance manual for the mind. After years of working as a psychotherapist showed Philippa Perry what approaches produced positive change in her clients and how best to maintain good mental health. In How to Stay Sane, she has applied these principles to self-help. She shows us how to understand ourselves better through neuroscience and sound psychological theory ideas.
This is an innovative, short, listenable audiobook that everyone with even a passing interest in their psychological health will find helpful.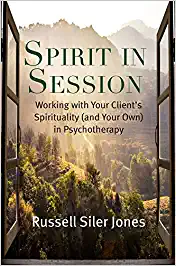 Available on: Audible and Scribd
Russell Siler Jones writes and teaches about psychotherapy and spirituality. Spirituality is essential to many clients' lives, as it can be a resource for stabilization, healing, and growth.
It can also be the cause of struggle and even harm. More and more therapists, those who consider themselves spiritual and those who do not, recognize the value of addressing spirituality in therapy and increasing their skill for engaging it ethically and effectively.
In this book, Russell Siler Jones helps therapists feel more competent and confident about having spiritual conversations with clients.
Available on: Kobo, audiobooks.com, and Google Play Books
The two authors of this book are Douglas Abrams, co-author of the international best-selling novel The Book of Joy, and Jane Goodall, a well-known living naturalist.
Jane concentrates on her "Four Reasons for Hope" in The Book of Hope:
the amazing human intellect,
the resilience of nature,
the power of young people, and
the indomitable human spirit.
The Book of Hope focuses on important issues, such as how to maintain hope when everything around us seems bleak. It does this by drawing on decades of study that have helped deepen our knowledge of what it is to be human and what we can all do to contribute to the creation of a better world. How can we raise our kids with a sense of hope? How do optimism and action relate to one another? This is a chat with one of the most adored people in the world today, and it is full of motivational tales from Jane's incredible career.
Enrico Gnaulati is a clinical psychologist & author with more than thirty years of experience providing psychotherapy to adults, couples, teens, children, and families.
According to Enrico Gnaulati, there has been a decline in the quality and availability of psychotherapy. America has largely overlooked mental health despite rising rates of anxiety, depression, and suicide. In 'Saving Talk Therapy,' psychologist Dr. Enrico Gnaulati presents evocative case studies from his practice to remind patients and therapists about how and why traditional talk therapy works.
Saving Talk Therapy is a passionate and must-listen audiobook that has deeply researched cases on the advantages of evidence-based treatment and psychoactive medications without overusing them.
Available on: Audible, Kobo, audiobooks.com, Google Play Books, and Scribd
Dana White, a decluttering specialist and author of Decluttering at the Speed of Life, describes the emotional obstacles and mindsets that make decluttering challenging. She then offers practical strategies to overcome these difficulties and permanently remove the clutter in her trademark hilarious style.
Regardless of the reader's level of clutter or emotional resistance to decluttering, Dana goes far beyond merely providing methods. She delves deeply into how to put them into practice. In addition to showing how to go forward when there isn't time to declutter, she assists in identifying the things that will ultimately get done but doesn't seem important.
Available on: Kobo, audiobooks.com, Google Play Books, and Scribd
The Psychopath Test is written by Jon Ronson a Welsh journalist, author, and filmmaker.
Combining Jon Ronson's trademark humor, charm, and investigative incision, The Psychopath Test is entertaining and honest, unearthing dangerous truths and asking serious questions about how we define normality in a society where the craziest margins are frequently used to evaluate us.
Conclusion
Listening to audiobooks can help you feel more connected and help people with various mental health issues. They allow your imagination to become more engaged, and you connect emotionally to characters and reflect on your feelings, problems, and desires as you listen.
We have recommended our 11 best mental health audiobooks, take your pick and tell us about it in the comments below.
If you think your mental health needs more attention than just audiobooks then, you are advised to get professional help. Now you can book therapy sessions online from the comfort of your very home. To know more about online therapy, click here.
Subscribe to Your Mental Health Pal to keep discovering something new about mental health and self-care.