"Yoga is a light, which, once lit, will never dim. The better your practice, the brighter your flame." ~B.K.S. Iyengar
Yoga is a practice that helps in enhancing the body, mind, and soul. Yoga generates an inner power to heal from any discomfort. There are numerous mental benefits of yoga. Yoga calms our senses and opens different horizons in our thoughts.
It helps both mentally and physically. Yoga started as a spiritual practice for treating mental health disorders.
Let's dive in to learn more about yoga and its benefits.
What is yoga?
Yoga started as a spiritual practice, but nowadays, it is famous for boosting mental health and well-being. Yoga has been there in society for a very long time. Now there are numerous mental benefits of yoga.
Yoga generally contains asanas (physical postures), pranayama (breathing techniques), and dhyana (meditation).
There are different types of yoga, and each type has different benefits. Yoga ranges from gentle practices to demanding ones.
Yoga is derived from a Sanskrit word,' yoke,' which means union. The goal of yoga is to yoke the mind, body, and soul. Yoga is the cessation of thoughts to calm the mind through physical, mental, and spiritual practices.
Can yoga cure mental illness?
Researchers have proven that meditation and other forms of yoga help cure schizophrenia. Yoga increases the cognitive function of the brain. Yoga and mindfulness also help in reducing depression symptoms.
Clinical studies have demonstrated that yoga can reduce inflammation by controlling chronic stress, lower blood pressure by resetting the autonomous nerve system, and alleviate pain by stretching muscles and aligning posture.
Yoga may also treat post-traumatic stress disorder (PTSD). The brain region called the amygdala, which links the memory of specific experiences with emotions, is related to PTSD; in this condition, the amygdala is overactive and hence continuously creates the symptoms mentioned above. Yoga increases parasympathetic activity, which helps in relaxation and decreases amygdala activity.
Yoga also helps in reducing generalized anxiety disorder. It is seen that people with anxiety are less mindful, and yoga might help them enhance their concentration by controlling the fluctuations in their minds. Breathing exercises that we practice in yoga can also help someone with anxiety as they face shortness of breath when they are anxious.
Though there is no concrete research on whether yoga can cure mental illness, there are many mental benefits of yoga that can help reduce the symptoms of different mental health disorders. Moving forward, what are the mental benefits of yoga?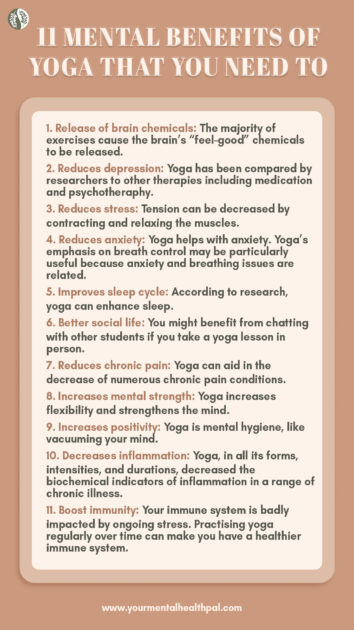 What are the benefits of yoga on mental health?
1. Release of brain chemicals
Most exercises cause the brain's "feel-good" chemicals to be released. Brain messengers such as dopamine, serotonin, and norepinephrine are among these mood-enhancing substances.
Despite being calm and regulated, yoga motions still increase heart rate, put a lot of strain on the muscles, and encourage the release of brain chemicals. Yoga can therefore improve your happiness.
Researchers have compared yoga to other therapies, including medication and psychotherapy. Yoga typically costs little money and has fewer adverse effects than many medications. Even people with significant depressive disorder can benefit from it.
There aren't enough controlled trials. Therefore, more research is needed on yoga's potential to treat depression.
Tension can be decreased by contracting and relaxing the muscles. The relaxed environment, soothing music, and upbeat attitude typical in yoga courses may also be helpful to you in reducing your anxious feelings.
4. Reduces anxiety
Yoga helps with anxiety. Yoga's emphasis on breath control may be beneficial because anxiety and breathing issues are related.
Yoga might not be beneficial if you have an anxiety issue. Nevertheless, some psychologists are adding yoga to other types of therapy.
5. Improves sleep cycle
According to research, yoga can enhance sleep. For older folks specifically, this might be true. Participants in a yoga study who were over 60 years old reported better sleep in quality and quantity.
Additionally, they improved their sleep efficiency, gauging how much time spent in bed is spent sleeping.
6. Better social life
You can chat with other students if you take a yoga lesson in person. Social connections have a good impact on both physical and mental health. Additionally, synchronization, often known as a coordinated action, has special social advantages.
You may feel a sense of community and group bonding while you move and breathe with the others.
7. Reduces chronic pain
Yoga can aid in the decrease of numerous chronic pain conditions. Yoga enhances grip strength and wrist splinting. Knee osteoarthritis can be improved by yoga as well.
Consequently, it is advantageous to incorporate yoga into daily activities. It is one of the many advantages of yoga for mental wellness.
8. Increases mental strength
Yoga increases flexibility and strengthens the mind. It teaches you to be self-effective and consider your preferences, dislikes, strengths, and limitations.
Yoga focuses on making commitments and strengthening self-control.
9. Increases positivity
Yoga is mental hygiene, like vacuuming your mind. The mental imprints are removed, relieving the mind of unneeded emotional baggage and releasing its positive energy.
It is one of the many advantages of yoga for mental wellness.
10. Decreases inflammation
Chronic inflammation is frequently the first sign of sickness. Prolonged inflammation has been associated with heart disease, diabetes, arthritis, Crohn's disease, and many other illnesses.
An analysis of 15 studies found a consistent finding: yoga, in all its forms, intensities, and durations, decreased the biochemical indicators of inflammation in a range of chronic illnesses.
11. Boost immunity
Your immune system is badly impacted by ongoing stress. The mental health benefits of yoga help your mind stay calm.
You are more prone to sickness when your immune system is weak. However, as was previously said, yoga is regarded as an alternate stress-reduction strategy with scientific support.
Even while the research is still in its early stages, certain studies have discovered a clear connection between practicing yoga regularly over time and having a healthier immune system.
This is partly caused by yoga's anti-inflammatory properties and the improvement of cell-mediated immunity.
Final thoughts on the mental benefits of yoga:
If you practice the right ways to start, you'll find many benefits of yoga, mentally and physically. Yoga is one of the safest forms of physical activity if appropriately performed. Sometimes we have to take proper training from professionals to practice yoga. Wrong yoga postures can be harmful to the body.
Therefore avoid extreme forms of yoga when you have just started doing it. Older people should only take the risk of doing physical yoga with supervision. Before doing yoga, they should inform their instructors about their health issues.
There are many mental benefits of yoga in an individual's life. Short yoga sessions can make a lot of difference and enhance mental well-being. You need to practice the right form.
There are many mental benefits of yoga poses. You only need to learn them with the help of professionals. Want to learn more about them? Click here.
Learn more about mental health at Your Mental Health Pal.