Did you forget your house keys in the fridge once again today?
Working people from every gender, especially parents and caregivers, struggle to balance their personal and professional responsibilities. But there are generational burdens and the pressure of societal expectations attached to these struggles when it comes to working women.
Women are more likely to suffer from mental health issues like depression and anxiety, and unsurprisingly, the problems tend to be more common in working women. Not only do women have to feel the excess burden of proving themselves at workplaces, but they are also shouldering the maximum responsibilities of their children and families. At the same time, the reports on pay equity suggest that women still earn less than their male counterparts in the same position. A survey by NPR reported an astounding 81% of women reporting instances of sexual harassment at workplaces.
Although we have made progress in terms of talking about women's rights, we still need to go a long way in acknowledging, understanding, and addressing the unique challenges women face in workspaces.
As we celebrate International Women's Day 2023 with the themes of #Embrace Equity and DigitALL: Innovation and technology for gender equality, it is important to address the fact that women still face harassment, discrimination, and unfair treatment in workplaces. This adds up to their existing mental burden causing them burnout, fatigue, and other severe mental health issues.
This year's International Women's Day theme, #Embrace Equity, aims to address the gap in opportunities that women face in every sphere of their life.
To celebrate the theme of International Women's Day, let us dive deeper into what organizations can do to protect women's mental health in workplaces and address the gaps in their well-being.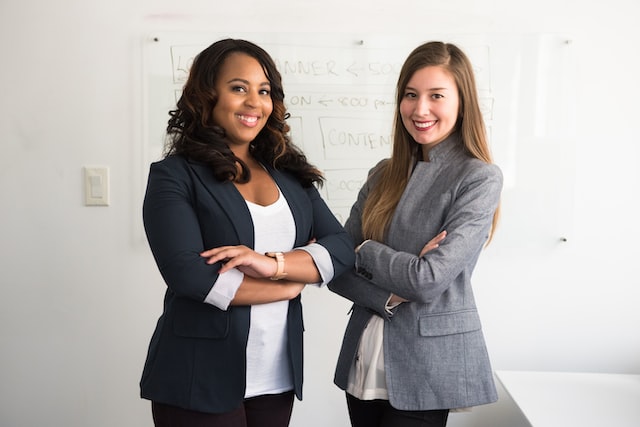 What Can Organizations Do To Protect Women's Mental Health In Workplaces?
1. Make Mental Health A Priority.
In a survey by Mckinsey and Company, just 31% of workplaces in America recognized mental health as a priority. This is why at the very first step of identifying and addressing mental health concerns of women at workplaces this International Women's Day, organizations should start addressing mental health as a priority. While taking care of one's mental health is a personal process, it is important that this process is supported by co-workers, employers, and institutions.
Read more: How To Avoid Burnout At Work – 5 Useful Tips That Actually Help
2. Reevaluate the rules and norms of your workplace.
We all know that the pandemic has redesigned what office hours mean, and most of us are working round the clock nowadays. This is especially true for working women. As a result of the overwhelming stress of juggling between work and home, four times more women left their jobs during the pandemic, while almost 10 million of them reported feeling burnout.
Therefore, a sustainable work policy is important to protect the mental health of working women. Additionally, even though such policies can be present, women might hesitate to use them due to the stigma surrounding them. Therefore, key management figures need to openly address the mental health concerns of their workforce and make such policies more accessible to all.
3. Address the inequalities.
Addressing the age-old gender biases and stereotypes followed in workplaces is still a significant issue. The doubts and beliefs around whether women can successfully hold positions of power are apparent in the pay disparities present in the system. Many women are forced to prove themselves worthy of their posts which adds additional pressure on them, further disturbing their mental health.
What Can Women Do For Themselves?
While workspaces and organizations as a whole can work to enhance their policies and support systems to aid women's mental health, women can play an integral role in the process too.
This International Women's Day, it is equally vital for women to take charge of their well-being and look after their mental health needs. In your all-consuming lifestyles of climbing the ladders, bringing change, and breaking the glass ceiling at workplaces, mental health is an essential yet overlooked aspect. Here's what you can do to prioritize your well-being at workplaces.
1. Stop trying to be a superwoman and know what your limits are.
This one seems to be so obvious, right? But, we often tend to forget our limits while trying to make the most of our time. Therefore, dear women, please know that you can't be everywhere all the time. When you set your weekly goals, try not to overwhelm your plate with too many tasks. Try to let go of the superwoman cape every once in a while, and give your overburdened shoulders a rest. Always know that while you can be super-efficient at most things in your life, you will sometimes be not-so-awesome in the rest.
Read more: Struggling To Keep Up? 3 Easy Ways To Simplify Your Work Life
2. Communicate your boundaries with your colleagues and employers.
In a world where employees are now supposed to work 24×7, it is important you are upfront about your needs and schedules. This includes clearly stating the times you are available for official work. It is important that you have the required self-awareness to detach yourself from work after a point of time and focus on the other aspects of life as well.
3. Prioritize your well-being.
While working hard is great, it is also important that you schedule proper time for relaxation with your friends and family. Guiltlessly let go of your professional world and try to focus on what you love to do. Make simple yet meaningful changes in your life, like prioritizing your sleep, nutrition, and physical well-being. Learn to do what you want to do rather than what you are supposed to do all the time. Let your partner or loved ones help you on some days. The world will not collapse if you ask for help, nor will you.
Conclusion:
International Women's Day is an opportunity for us to recognize and continue our fight for equality and equity in every sphere of our lives. The theme #Embrace Equity highlights that there is still lots of work that needs to be done in order to create a truly equitable society for all.
We hope this post on protecting women's mental health in workplaces will help start important conversations about women's mental well-being.
If you are struggling with the constant stress and anxiety of work-life, it is important to address these issues in a safe space. Therapy provides the perfect space to unwind your problems and find solutions. Access to therapy is now easier than ever with the advent of online therapy platforms. To learn more about them, click here.
To continue learning about mental health daily, subscribe to Your Mental Health Pal.