Are you searching for motivation in life?
If yes! Then this is where you stop looking!
Here, we provide you with the best motivational podcasts for women. Motivation is a need for everyone in this world. It is the lubricant we need to make our life a bit frictionless. If one stays motivated, one will be more productive and calm.
A person with a calm mind is a happy person, and a happy person is free from stress and other mental illness. Motivation is induced by dopamine which affects us to function with more positivity. It gives us a sense of direction in our life.
Podcasts provide you with tons of information on multiple genres too. Motivational podcasts help you get that motivational boost with zero screen time anytime and anywhere. Just plug in your headsets and get motivated. This article provides you with a list of such podcasts that give your life a new and better perspective.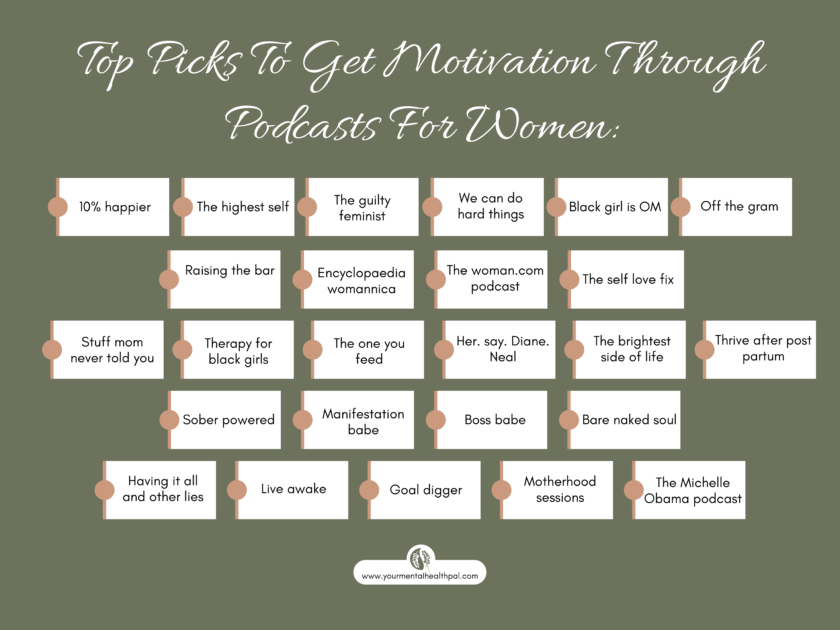 Best motivational podcasts for women
Now we know, the importance of motivation in everyone's life. There are many situations such as during postpartum, during real-world hardships, and many others, where women might feel demotivated, if this remains unchecked, it could become harmful in the future.
Therefore, we present you with our top 25 picks on motivational podcasts for women.
Available on: Spotify, apple podcasts, and Audacy
Find answers to your hardships with Glennon Doyle, an author and an activist who started the podcast along with her wife, Abby Wambach, and sister Amanda Doyle after her life-changing mantra "we can do hard things" from her bestselling book "The Untamed."
Her motto is to make you drop the fakeness and help you find the ray of hope in your most challenging times and find solutions to it. Because when people start helping each other, it makes the world a kinder place.
Available on: Spotify, and Apple podcast
One of the best female motivational podcasts for women all around the globe helps you find inner peace through the deep discussion between various women of color in different industries and the founder and host, Lauren Ash.
They aim to help women find their inner peace and heal them from the inside through guided meditations and words of affirmation to make their day.
Available on: Apple Podcast, and Spotify
The guilty feminist podcast, founded by UK-based comedians Deborah Frances-White and Sofie Hegan in 2015, discusses topics that "All the 21st-century feminists agree on" along with her guest. The podcast was named one of their best listens of 2019.
They are a perfect example of women inspiring women podcasts. They help women understand their feelings and motivate them to be more upfront about and help them with ways to cut off and emotionally detach themselves from toxic relations with others.
Available on: Apple podcast
An inspirational yet motivational podcast for women, Encyclopaedia wommanica, provides the listener with 5 minutes of biography of incredible women throughout history.
A Wonder Media Network's award-winning podcast aspires to tell you the stories of women you may or may not know — but definitely should. Their main motto is to motivate and inspire you through real-life examples. What better way to feel motivated?
Available on: Apple Podcast, and Spotify
In search of peace and calmness! Then this is the right stop for you!
The host of ten percent happier, Dan Harris, a former newsman of Good Morning America, found meditation as a ridiculous concept until he had a panic attack on live news. This incident led him to see the depths of meditation.
Ten percent happier podcasts focus on wisdom and enlightenment through meditation. They believe that mental health awareness is also crucial and discuss how meditation helps heal various mental health problems.
Available on: Spotify, and Apple podcast
One of the best motivational podcasts for women, Goal Digger, was founded and hosted by a successful entrepreneur, motivational speaker, business consultant, and a mother, Jenna Kutcher.
She helps you find that entrepreneur in you and redefines success for you and how you can find it with joy and peace. If you are in any kind of business and want to grow more?
Her podcasts are more of a live workshop where you get those highly beneficial tips you can implement in your business.
Available on: Apple Podcast
The self love fix, an uplifting podcast for women is hosted by a teacher, mentor, and embodiment coach, Beatrice Kamau.
She aims to help her listeners and motivate them to find the best version inside them by opting for self-love. Her podcasts help one shift away from codependency, low self-esteem, and self-doubt by resolving them with self-trust and self-love.
Available on: Spotify, and Apple Podcast
The hosts, Anney and Samantha, focus on the feminist issues in our society. This is a podcast focused purely on feminism. If you're a feminist or a greenhorn about the issues that impact women daily, this podcast is for you.
This is one of the best motivational podcasts for women who love feminism and can help you gain awareness and motivation to get more involved.
Available on: Spotify, and Apple Podcast
Joy Harden Bradford, Ph.D., a licensed psychologist based in Atlanta, Georgia, hosts the podcast for addressing mental health issues and how to resolve them for women of color. She helps people by providing insights on personal development, self-care, and mental health so that we can become the best possible versions of ourselves.
Available on: Apple Podcast, and Spotify
One of the best motivational podcasts for women pursuing spirituality. The host Eric Zimmer discusses the purpose of life with scientists, spiritual teachers, and public figures so that their listeners can get help in achieving a more fulfilling life. He hosts open-minded discussions on psychology, motivation, mental health issues, and philosophy.
Available on: Apple Podcast, and Spotify
If you are looking for a light-hearted and positive podcast with tons of laughter! You are at the right place!
The famous actor and comedian Diane Neal hosts a podcast known as Hear.Say.Diane.Neal is full of laughter but also focuses on heartfelt topics at each episode's ending segment.
Available on: Apple Podcast, and Spotify
Mental health awareness is essential for mental health development, and learning more about it has become a necessity. "The brightest side of life," hosted by Melissa Bright, a self-care advocate, focuses on the mental health of its audience. Every episode, they invite a new guest to discuss their journey to better mental health. Quickly add this podcast as your short-term mental health goal!
13. Thrive after postpartum
Available on: Apple podcast, and Castro
Yet other beautiful women inspiring women podcast. Danielle Jernigan a ray of light for women new to motherhood. She helps empower women and speaks for all those undergoing pregnancy or postpartum. They even discuss the social stigma and how it affects one's mental health during the process, mostly on women of color.
Available on: Apple Podcast, and Sound Cloud
A podcast that shows you how even in the darkest time, you can find that light.
"Gill," the founder of Sober Powered, empowers their listeners by discussing her path to sobriety. Her podcast is very informational for those on their journey to sobriety. Even people who face challenges in daily life feel empowered just by listening to her speak.
Available on: Apple Podcasts
When you are in need of finding your best self within you, then why wait? You can learn it from the manifestation queen herself, Kathrin Zenica.
She is a very ambitious woman who wishes that all of you must try manifestation to become the most authentic version of yourself. Her podcast is audience friendly and has helped millions achieve their life goals.
Available on: Apple Podcast, and Spotify
Looking for motivational podcasts for women in business?
Then this is where you should stop scrolling!
Natalie Ellis and Danielle Canty, the creators of the podcast "Boss Babe," provide their audience with the best secrets to building a successful business and even ways to balance it all. Listening to their podcast will also get expert advice from all those successful business tycoons.
Available on: Spotify, and Apple Podcast
Find the right change in mindset with Leah Pardee's podcast! Leah is an Alignment Mentor, breathwork facilitator, and author of the "Heal Your Shit Journal."The Bare naked soul is one of the top uplifting podcasts for women. Her podcasts aim to provide positive energy to the listener, and along with that, she helps you unleash your full potential and manifest your dream life through self-development.
Available on: Apple Podcast
An uplifting podcast for women by Sara Cliff, "Having It All and Other Lies," aims to make you a stronger person and capable of overcoming any challenge that life throws at you! The podcast is mainly preferred for its excellent guest interviews and inspiring stories.
Available on: Apple Podcasts, and Sound Cloud
Sarah Blondin, a spiritual teacher and the host of "Live Awake," helps her listeners to feel grounded through reflection and guided meditation. She aims to make people understand the value of self-care, self-esteem, and self-love. Her podcasts are very soothing and emotional. The podcast gives you a new perspective on life's challenging landscape.
20. Motherhood sessions
Available on: Spotify, and Apple Podcast
An inspirational podcast for all women by reproductive psychiatrist Dr. Alexandra Sacks. On her podcast "motherhood sessions," she discusses all the problems, whether with career or family, in the life of a mother or soon-to-be mother. Her podcasts are very moving as she sits down with moms and has an honest conversation with them about challenges during motherhood, sex after childbirth, and uncertainty about being a mom.
21. The Michelle Obama podcast
Available on: Spotify
The former First Lady Michelle debuted her podcast in 2020, having conversations with her near and close ones exploring relationships, community, and gender and how they shape us the way we are.
The podcast includes heartfelt and candid conversations on numerous topics with guests, including her mother and even former President Barack Obama.
Available on: Apple Podcast, and Spotify
If you want to be in touch with your spiritual self! Look no far!
Author and Wellness Personality Sahara Rose is also considered "a leading voice in the millennial generation into the new paradigm shift."
She helps her audience find their inner self and their reason or purpose in this life. She encourages her listeners to find their highest selves by living in Dharma and finding their one true purpose!
23. Off the gram
Available on: Apple Podcast
One of the best motivational podcasts for women includes "off the gram" from Meaghan Murphy and her three co-hosts, Jamie, Heidi, and Christine. They come to have real-world conversations from self-care tips, meditation, and even how to live your best life! Her guest list is vast and diverse, from CEOs and designers to fitness trainers. She teaches you how to channel your emotions into becoming something extraordinary.
Available on: Apple Podcast
Alli Webb & Adrian Koehler are the co-hosts of this entrepreneur-focused podcast, where they try to tackle the conversations people in leadership roles rarely have in public.
They interview other entrepreneurs and founders, such as Emily Current and Meritt Elliot, to discover what drives them to move forward and achieve great heights that others usually don't possess. This podcast is a study of perseverance where they talk about the mistakes they made along the way, keeping you inspired throughout the process.
25. The woman.com podcast
Available on: Apple Podcast
Women.com is a women inspiring women podcast, where the host Jessica interviews different inspiring women from CEOs, authors, actors, influencers, and comedians. The Women.com Podcast aims to give a platform where every woman can be inspired by hearing stories from successful women worldwide.
Conclusion
Motivation acts as a gear in our life and is essential not just for adults but also for teenagers and students seeking mental health treatment.
The above-listed podcasts will help you become a new self and improve how you perceive things. Although the list mentions 25, there are numerous motivational podcasts for women out there for you to get motivated.
There are numerous ways to feel motivated; if you think podcasts are not your cup of tea, you should follow these Facebook pages to keep you motivated even when scrolling down your feed.
To know more about self-care and mental health topics, subscribe to https://yourmentalhealthpal.com/.