Sometimes while referring to our well-being, we at Your Mental Health Pal talk about ourselves in a third person form, as delicate flowers.
We get it's a weird analogy. But stay with us.
So think of yourself, your mind and body, as a flower, something like a delicate Petunia. It needs proper care. And when left unattended, it quickly wilts. This flower has been feeling crushed by a number of life events – stress, anxiety, burnout. You have let go of the daily maintenance routine required to focus on something trivial.
The flower continuously wilts under extreme pressure situations while we do nothing to save it. We do nothing to save ourselves.
We need to save the flower. We need to look after it. And by going with the analogy, this translates into the fact that we need to take care of ourselves. Now, it is more important than ever to be kinder to ourselves and practice self-care. To get you started, we have combined a list of the easiest self-care activity ideas to help you heal your mind and soul.
But first, what are self-care activities?
Self-care is a term that has become so common that it has almost lost its meaning. However, self-care is the practice of taking an active role in protecting one's well-being and happiness, particularly during stress. It is taking time from your busy daily schedule to make sure that you, your heart, body, and mind have the potential to handle another day.
A good self-care day is practicing a self-care activity by taking time and investing in the things you love to do, like talking to your friends, DIY face masks, decluttering your shelves, etc. Unfortunately, many people see a self-care activity as a sign of luxury rather than a fundamental priority.
It is essential to determine how you're caring for yourself at different points in time to ensure you're caring for your mind, body, and spirit.
Self-Care Activity Types
Self-care isn't only about finding ways to relax, but it is a lot more than that. Self-care involves taking care of yourself physically, spiritually, mentally, emotionally, and socially. Sometimes you might need more self-care in a specific area to restore the balance in your life and keep you stress-free. Following are the different types of self-care:
1) Physical Self-Care
People believe that self-care means relaxing such that you're mentally healthy. But, it's not true. Doing a physical self-care activity is also required if you want your body to run efficiently.
There is a strong link between your mind and body.
There will be no benefits of doing exercises or yoga daily if you are not practicing a healthy diet. Physical self-care includes activities such as eating a healthy balanced diet, getting proper sleep, doing physical exercises daily, taking prescribed medications, regular physical check-ups, managing your health, etc.
2) Social Self-Care
Socialization might also be considered a self-care activity for some. Our busy schedules make it challenging to make time for family and our loved ones. We tend to neglect the people we love as life gets busier.
Social self-care means enjoying and having fun with the people you love. It may imply going out for coffee with your friend or planning a fabulous date night with your spouse.
Close connections are an essential part of your life and your mental well-being. There isn't a perfect number of hours that you should devote to your friends or family members. However, you should definitely try to maintain your connections and build enough time in your schedule to create an optimum social life.
3) Spiritual Self-Care
Spiritual self-care is a practice that diversifies your thoughts and helps you connect to your true self, the real you!
The true you is the natural expression of who you are meant to be and how you were to serve the world. It can give you your true identity and energy and inspire you in many ways. Spiritual self-care is essential to enhance your inner peace and your calmness.
4) Emotional Self-Care
It is essential to have coping skills to deal with your inevitable and uncomfortable emotional outbursts. Be it talking to a friend, taking online therapies, or consulting a professional – emotional self-care is very important in a person's life.
To learn more about emotional and mental strength, click here.
5) Mental Self-Care
How you think about different things affects your mind and dramatically influences your psychological well-being. If you think positively, you will be filled with positive energy all around. Mental self-care includes solving puzzles, quizzes, learning a new language, etc. It is basically those things that help you maintain your mental well-being and state of mind.
Self-Care Ideas To Heal Your Body And Soul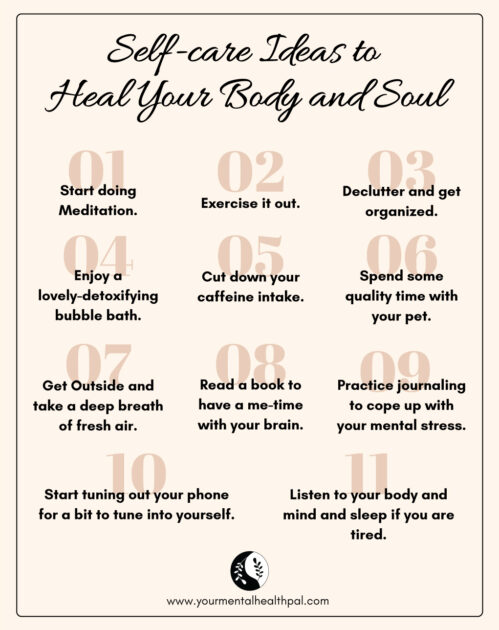 We have compiled a list of 11 self-care activity ideas for you. Try to select at least five that you think would work for you, and help you enjoy a quality 'you-time.' Trust us when we say that your body and mind will be grateful to you and thank you once you become regular.
1) Meditation
Practicing meditation will give you a sense of calmness, peace, and balance that benefits your emotional well-being and physical health.
Moreover, these benefits don't disappear at the end of your meditation session. Doing meditation as a part of your daily routine is when you unlock the incredible mental and physical benefits of meditation for yourself.
Start meditation effectively by doing it for the first 15-20 minutes and gradually making small increments (5-10 minutes). Even if you don't see short-term results of doing meditation, don't pause.
Meditation has become essential for every human being nowadays. Regardless of how busy you are, try to find some time to meditate daily. It doesn't have to be a way to achieve the perfect state of mind. Let it just be 15 minutes of allowing yourself to breathe freely. That is enough for now!
2) Get Outside
When you feel depressed or tired, take a break and head outside to breathe fresh air. Going to a nearby park, garden, or any other green space can give you great refreshment and can uplift your mood in seconds.
Reports have depicted that being around nature can quickly reduce stress, anxiety, and other mental issues. The American Psychology Association, in research titled, Nurtured by Nature, found that spending time with nature is linked to improved mental health and sharpened cognitive skills.
3) Spend Some Time With Your Pet
Spending time with your pets lowers the stress hormone and increases the feeling of happiness inside you. They are our best friends in times of need. We all have those moments when we need someone to just listen to us. Not someone who gives us advice or tells us to stop acting irrational. On some days, we just need somebody to say yes and nod.
This is what pets do for us. Moreover, besides being the absolute best listeners, they can also help us be more balanced. And most importantly, they make us happy. They fill our hearts with love.
So go to your pet. Play, and cuddle with them. This is one of the best self-care activities we could think of.
4) Cut Down Caffeine
Cutting down on caffeine can be a significant step toward self-care. Caffeine keeps the body and mind constantly 'on,' and you just cannot relax. Caffeine is most obviously found in coffee, but it can sneak up where people expect it the least, like diet soda, energy drinks, and sometimes even tea.
Cutting down caffeine intake can help your body and mind relax because this is only what you want during self-care, right?
5) Switch Off Your Phone
Our cell phone takes up a lot of time as well as our energy during the day. Daily calls, texts, emails, social media, and news updates can be mentally demanding. Even when we are free, we tend to scroll through social media apps which takes up a lot of our time and headspace, which could have been fruitfully utilized to do self-care activities.
Start tuning out of your phone for a bit to tune into yourself. Just an hour's break from your phone can give you a lot of mental peace and space.
6) Read A Book
Starting a new book can help you to escape from reality. Immersing in a book can help you spend some me-time with yourself and make the brain work. Books can help you fight loneliness in a way that is less intimidating.
To learn more about the best mental health books on Amazon, click here.
7) Have Proper Sleep
When your body informs you that it has given all it can provide, listen to it. Listen to your body and mind when it needs rest. It is essential to make sure you get the right amount of sleep.
Whether getting 8 or 9 hours of sleep or sneaking in a quick 15-minute power nap, there is never a more efficient way to take care of yourself than to get a night of proper sleep.
8) Exercise
Exercise is a mini jolt of energy to your brain. It helps in boosting blood circulation in the body. If you have had a rough day or have been burdened by work, a quick 20-minute exercise can give you the required energy for the day.
Remember that exercising is not about pushing yourself past the limits, but it's about moving. It is about sensing good and staying fit.
9) Declutter And Get Organized
For some people, decluttering and organizing directly affect their mood and mental health. Sorting out your closets, organizing your wardrobe, papers, and kitchen items, and decluttering the junk can give you outstanding mental achievement and peace.
According to a study led by professor NiCole R. Keith, people with organized and cleaner homes tend to have a healthy mind. Hopefully, this gives you the required motivation to start cleaning.
10) Enjoy A Bubble Bath
Sometimes the finest gift you can give yourself after a long and tiring day is a warm bubble bath. You can try making the space relaxing by lighting some candles and playing soft music.
However, if you just want to get under the shower to clear your head, you have all our support. This simple act of soaking in a warm bath can leave you feeling cleansed and like a brand new you.
11) Practice Journaling
Journaling is an effective method that can help your mental well-being. Journaling can give you clarity of mind and increase focus to help you work effectively. Writing a journal daily will make you notice a significant reduction in stress as all your thoughts and feelings are processed healthily. Doing so will help you identify those small wins you would otherwise not notice.
Conclusion
Adopting these self-care activity ideas into your daily or weekly routine is not only vital for your mental health but will also make you more confident, creative, and productive. It can also help you make efficient decisions, build powerful relationships, and communicate more effectively.
Do you know clothes can also become a form of self-care? Don't know how? To know more about the relationship between your clothes and your mood, click here.
To learn more about mental health, subscribe to Your Mental Health Pal.