When it comes to mental health care, proper treatment is the key.
But let's face it- mental health care services can get expensive.
An hour of therapy session can cost you around $65 to $250; a patient with major depression spends around $10,836 a year. Many people seeking effective treatment may struggle to access it because of these costs. They cannot benefit from these treatment services if they are already behind financial barriers.
This is where mental health treatment scholarships come to the rescue. These mental health scholarships aim for everyone to access proper care and treatment facilities by providing financial assistance to cover the charges of therapy, inpatient treatments, and other services. These scholarships help students graduate or undergraduates either for their mental health treatment or careers in mental health services.
So let's understand these mental health treatment scholarships and why students need one.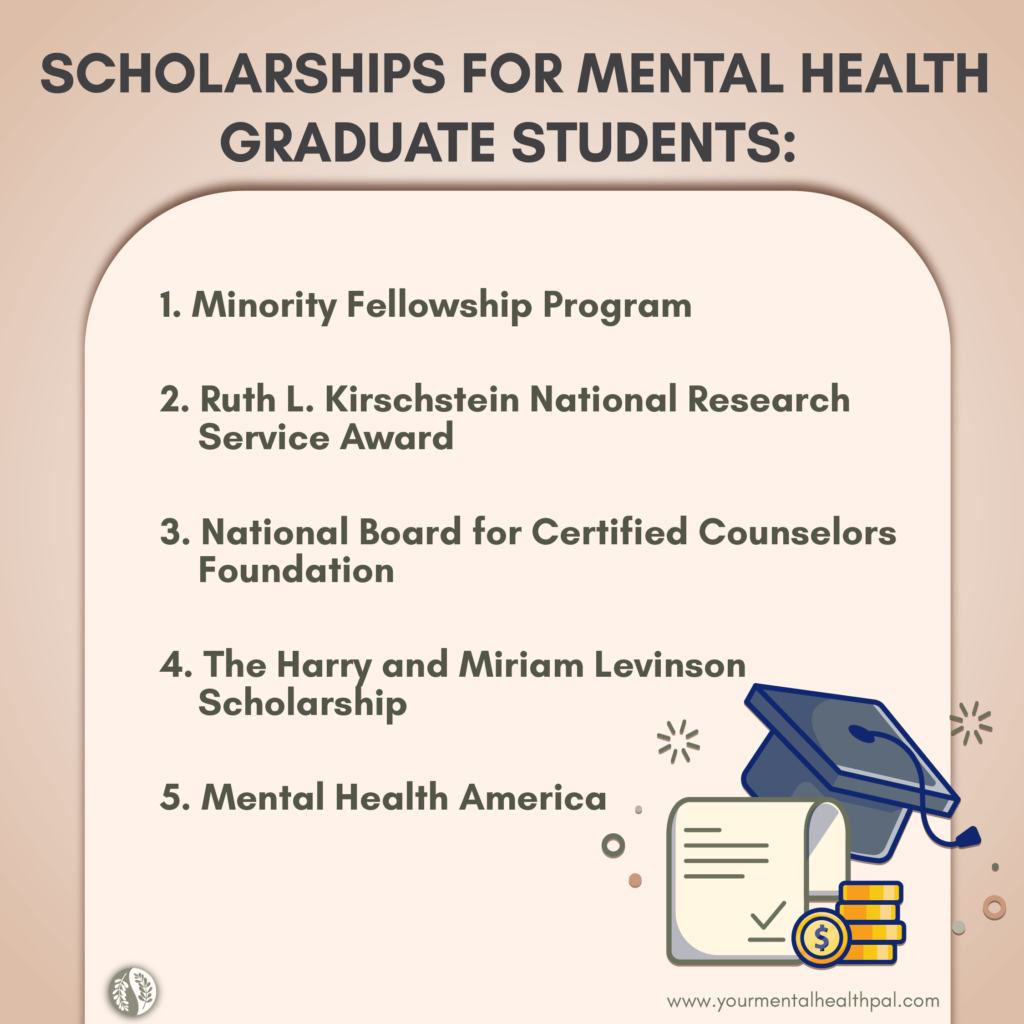 What Are Mental Health Treatment Scholarships?
Mental health treatment scholarships are like general scholarships but for individuals' mental health issues and treatments. These mental health treatment scholarships are financial aid for the mental health services like therapy, counseling, treatment medications, and other services.
These scholarships are generally provided by non-profit organizations, government agencies, and private individuals who want to help people with mental health issues by providing access to proper mental health care. People of any age or background can avail of these if they are suffering from any mental health condition. These mental health treatment scholarships either cover the entire treatment or parts of the treatment. 
Why Do Students Need Mental Health Scholarships?
Financial barriers are the first obstacles for many students intaking mental health care. These students suffer from prolonged mental health disorders but cannot get treatment. Due to this, their symptoms start getting worse. To combat that, scholarships for students with mental health issues were introduced.
If left untreated, mental health issues can affect the students' academics and future goals and careers. These mental health scholarships will help them get the required treatment and support to manage their symptoms. This will also help them build their careers and learn different skills for their future goals. 
What are the different types of mental health scholarships?
There are various types of mental health treatments, like counseling, therapy, inpatient treatments, support groups, medications, recovery treatments, etc., and there are different types of mental health scholarships for all these treatments or therapies.
Counseling and therapy scholarships: These scholarships cover the counselor or therapist fees charged each session to the students undergoing mental health issues. These also cover group therapies and support group counseling fees.
Mental health advocacy scholarships: These are the scholarships given to students working towards increasing awareness about mental health issues among people in society.
Mental health research scholarships: These are the scholarships given to students researching various mental health issues and developing treatments for them.
Mental health education scholarship: These scholarships are provided to students studying mental health to pursue their careers as counselors or social workers in mental health awareness.
Mental health recovery scholarships: These scholarships cover the treatment plans of students undergoing recovery treatment from substance abuse or PTSD. 
How to apply for mental health treatment scholarships?
Now that you know there are many scholarships for different mental health issues, the next important thing to be noted is the criteria and the process for applying for mental health treatment scholarships.
Who can apply for mental health scholarships?
The eligibility criteria for mental health scholarships differ depending on the organization or the individual offering the scholarship. Though there are some common eligibility criteria for being able to avail of mental health scholarships:
You should have the status of being a student. Many scholarships have fixed this criterion and are only available to students or recent graduates.
You should be facing a financial crisis. Certain scholarships only provide financial aid to students who have financial barriers. They may even be asked to submit documentation of their income status.
You should have a good GPA. Some scholarships focus on the academic section of your school or college life. They might also have set a minimum GPA required for the scholarships.
You should submit an essay. Some scholarships also require a statement or essay from you describing your mental health journey and how this scholarship would help you.
You should have a letter of recommendation: some scholarships require a letter of recommendation from your therapist, counselor, or teacher regarding your requirement for mental health scholarships.
How can you apply for mental health scholarships?
Applying for scholarships can be competitive because many people might try to avail of them. You must properly submit all the required documents and always keep a check on the scholarship deadline.
Do thorough research: When you have decided you want mental health scholarships, complete your thorough research on all kinds of scholarships and start applying. Apply for as many scholarships as possible, increasing your chances of selection.
Check the eligibility criteria: Look for the scholarships that you qualify for. Before applying, see if you match all the requirements to avoid disqualification. This will save you time and you can search for more scholarships and apply.
Keep your documents ready: Many scholarships may require you to submit documentation regarding your identity, financial status, statement or essay, letter of recommendation, and transcripts.
Carefully complete your application: An offline application can be sent through the mail, or online applications are available for mental health treatment scholarships. You must carefully fill out all the documents and meet all the deadlines while completing the application.
Recheck and submit: Once done, submit your application before the deadline. Check whether you have given all the correct documents, and once your application is complete, submit it.
Don't forget to follow up: You must follow up with the scholarship organization, asking whether they have received your application. This will assure you and increase your chances of getting selected.
How to find mental health scholarships?
There are many different ways available that can help you find mental health scholarships. Professional organizations like the American Psychological Association, American Counseling Association, and the National Association Of Social Workers keep updating about mental health scholarships. You can check for your targeted scholarship here.
National Alliance on Mental Illness( NAMI) and the Mental Health Association (MHA) also provide various mental health treatment scholarships. You can also check with your university or your academic advisor to help you provide information regarding mental health scholarships.
And you can always check online for scholarships by going through their eligibility criteria; you can easily apply to many of them. 
What are some of the top mental health scholarships?
Now that you have understood the entire process of applying for scholarships, you just need to wait for the most suitable scholarships to apply for. We have made a list of the top mental health treatment scholarships along with scholarships for mental health graduate students:
This grant is only for students with paranoid schizophrenia or bipolar disorder. This scholarship covers most of your educational expenses whether you are a student enrolled in full-time or part-time undergraduate or graduate coursework. Apply every year between October and January.
Reward: $1,000
This particular award has a mission to improve cyberbullying problem awareness. For people who online bullies have directly impacted, a $1,000 prize is available. This award serves as both a significant issue and a cutting-edge research platform.
Reward: $1,000
Students with a range of physical or mental problems are eligible for these scholarships for mental illness. A student must submit a convincing personal statement, two recommendation letters, and documentation of their impairment to be considered for admission.
Reward: Upto $1,000
Bipolar condition qualifies full-time college students for a $2,300 award. A student seeking this scholarship should submit medical documentation and a treatment regimen to be able to qualify.
Reward: Upto $2,300
With a maximum award of $5,000, this scholarship is for students with mental disabilities like PTSD or who have endured catastrophic physical trauma like limb loss or spinal cord injuries.
Reward: Upto $5000
The Anne Ford Scholarship is granted to graduating high school graduates. Candidates must be diagnosed with a learning disability or ADHD. They must have plans for the fall semester of a full-time bachelor's program.
Reward: $10,000
Google awards this grant to students with disabilities. A bachelor's degree in computer science subject or a similar field is required for applicants. Essays describing their interests in computer science and professional aspirations are required.
Reward: $10,000
High school students with mental health challenges are eligible for the Allegra Ford Thomas Scholarship. Any kind of learning disability or attention deficit hyperactivity disorder must be present in applicants (ADHD). They must have the vision and urge to enroll in community college.
Reward: $5,000
You can apply for the Elevate Mental Health Awareness Scholarship whether you are a high school or college student. Candidates must have experienced mental health problems. They are required to write an essay outlining their experiences with mental health.
Reward: $750
Disabled undergraduate or graduate students are eligible for the Business Plan Scholarship. A minimum GPA of 3.0 is required. Students must produce a 500-1,000-word essay explaining their learning while developing a business strategy.
Reward: $2,500
Rehabmart Disability Scholarships are available to students with disabilities. Candidates must major in either health sciences or special education. They must submit a personal statement.
Reward: $250-$25,000
The Tony Coelho Media Scholarship will be awarded to eight undergraduates and graduates. Candidates must be physically or mentally impaired in some way. They simply want to work in communications, media, or entertainment.
Reward: $5,625
Beat the Odds Scholarships are available to Oregon public school students. Candidates must have overcome adversity, including a disability, to be considered. In addition, you must have at least a 3.0 GPA.
Reward: $4,000
This scholarship is for college students with a physical or learning disability, a mental disease, or a behavioral disorder. They must have finished at least one semester of college. For consideration, individuals must write an essay on how they overcame adversity.
Reward: $1,000
The Andrew Q. Peschard Memorial Scholarship is available to seniors who have graduated from high school. Candidates must be residents of and attend school in San Mateo, California. They must have overcome obstacles because of their mental state. They must exhibit a genuine desire to graduate from college.
Reward: $1,000
The John Weir Academic Award is available to graduating high school students with significant handicaps. Students must intend to enroll in a four-year university, a two-year college, or a vocational institution. Students must write an essay regarding their community service or volunteer efforts.
Reward: $500
The Lillian Cooper Droke Memorial Scholarship is available to students suffering from mental diseases. A technical school, college, or university must be where the applicant is currently enrolled.
Reward: $5,000
Students who have lost a parent or sibling to suicide are eligible to compete for rewards from the Peyton Tuthill Foundation. Candidates must experience any mental health issues. They required age group is between 17 and 25. Also, they had to go to grief therapy for at least a year. Essays from students regarding their experiences with treatment are required.
Reward: $1,000
Many scholarships for mental health care are available from the Quell Foundation. Students with a diagnosed mental health condition are eligible for the Fighter Scholarship. A 3.2 GPA and at least a part-time enrollment in college are requirements for applicants.
Reward: $1,250
The Quell Foundation Student-Athlete Fighter Scholarship is available to students with mental diseases. They must have a GPA of at least 3.4. Candidates have to submit a statement or essay with their application.
Reward: $1,250
A nonprofit organization called the JED Foundation supports young people with mental illness. Applicants must try to initiate conversations about mental illness on campus.
Reward: $3,000
Microsoft offers high school students with disabilities scholarships. All compulsory majors include computer science, engineering, computer information systems, business, and law. Students must demonstrate financial need and keep their GPA at 3.0.
Reward: $5,000
Students who are struggling financially can get help through the INSIGHT Scholarship. Residents of California, Oregon, or Washington are required to apply. Students must enroll in graduate programs, vocational schools, universities, or community colleges to extend their education.
Reward: Depends on the type of scholarship
High school graduates with mental or physical illnesses might get financial aid through the Susanna DeLaurentis Scholarship. To apply, students must write an essay describing how they overcame challenges.
Reward: $1,000
Students who suffer from mental diseases are eligible for the Prochnow Foundation Annual Scholarship. Essays about overcoming mental illness and attaining success are required of applicants. Also, they must have a GPA of at least 3.5.
Reward: $10,000
The Disability Care Center supports students with disabilities. Additionally eligible to apply are those pursuing a degree in special education. Essays from applicants must discuss how they overcame obstacles caused by their condition.
Reward: $500
Graduate students who have disabilities are eligible for the FSD Science Graduate Scholarship. The applicants must be pursuing a graduate degree in a STEM field.
Reward: $1000
The Ability Centre Scholarship is open to students from Ohio or Michigan. Candidates must have mental disabilities. Students must submit an essay detailing their disability and its impact on their lives. The pupils' GPAs must be at least 3.0.
Reward: As per the need of the students
Bipolar disorder students can apply for scholarships from the Jared Monroe Foundation. Applicants must be full-time college students or high school seniors.
Reward: $2,300
Veterans with disabilities can apply for scholarships from the Aknin Law Office. Applicants must be veterans with a 30 percent disability rating. Physical handicaps, mental illness, or PTSD may bring on the disability.
Reward: $1,000
Veterans can apply for the Liberty University Heroes Fund Scholarship to pursue a degree. Candidates must have a Purple Heart or a PTSD score of 50% to 100% connected to battle.
Reward: As per the needs of the students
The Jack Scura Fund offers scholarships for high school students with disabilities. In New Jersey, they are required to have a bachelor's degree. They must have a GPA of at least 3.2. Candidates having severe mental or physical disabilities can apply for this scholarship.
Reward: $5,000
The Tommy Tranchin Award benefits students throughout North Texas. Candidates who are suffering from any kind of mental and physical illness can apply for this scholarship. The age range for them must be between eight and twelve.
Reward: $1,500 
Students with a range of disabilities can get financial aid through the Wells Fargo Scholarship Program. Seniors or recent high school graduates can apply. If they are considering registering for an accredited undergraduate program, they must have a minimum GPA of 3.0.
Reward: 2,500
Students aiming to reduce the stigma attached to mental illness are recognized with the Jerry Greenspan Award. The candidate will be given recognition on the JED channel and the opportunity to work with JED.
Reward: $3,000
Undergraduate students with behavioral health concerns can get financial aid through the JC Runyon Foundation. Applicants must have completed a facility or hospital-based in-patient program. To enroll in a university or college, they must be accepted.
Reward: As per the need of the students
Scholarships from Paradigm Malibu are available to registered students at affiliated colleges. The candidate must give an essay describing their educational qualifications and how this scholarship will benefit them.
Reward: $1,000
The WiseGeek Mental Health Well-Being Scholarship aims to raise awareness of mental health issues and offer a $500 prize to those who have had to deal with them to cover their tuition.
Reward: $500
Four people who have battled their mental illness or the mental illness of a loved one will receive this kind of scholarship. Each winner will get $1,012 in funding from the Mental Health Movement. To apply, candidates must prepare a 300-word essay.
Reward: $1,012
This honor is given in memory of Noah A.H. Wilson, who tragically committed suicide in 2020. This scholarship is given to one high school senior who will graduate in 2022. This person must be a degree-seeking artist passionate about mental health and suicide prevention.
Reward: $1,200
Scholarships for mental health graduate students:
Mental health graduate students benefit a lot from these mental health graduate scholarships. They are under the constant financial burden of paying their tuition fees and other expenses. Graduate students in the field of mental health frequently go on to work as educators, researchers, and practitioners who are vital to the advancement of mental health and the reduction of inequities in mental health. Thus, certain organizations provide scholarships to graduate students:
This grant is available to minority students seeking a psychology doctorate, including mental health concentrations, through the American Psychological Association.
Reward: $25,000 per year for three years.
Graduate students interested in conducting research in mental health are supported by this award, which the National Institutes of Health finance.
Reward: $50,000 per year
Scholarships are available from this foundation to graduate students seeking counseling degrees, including degrees in mental health counseling.
Reward: $8,000
Graduate students pursuing degrees in mental health can apply for various scholarships from Mental Health America.
Reward: Depends on the type of scholarship.
Graduate students seeking a doctorate in psychology with a concentration on mental health are eligible for this fellowship from the American Psychological Foundation.
Reward: $5,000
Final Thoughts:
Mental health treatment scholarships are an effective tool to help students who need mental health treatment but cannot afford it due to financial barriers. These scholarships are like superheroes for them. Be it for any mental health issue, you can easily apply for these scholarships. While filling out the form, you must look for the deadlines, eligibility criteria, and documents required. Many scholarships require you to give an essay, and the best essay gets selected. Keep practicing your essay or statement to stand out from others.
Finally, when you have your scholarships look for proper treatment. This also requires a lot of research. If you are going for therapy, you must choose the therapist you will be comfortable with. You can also ask them certain questions before starting your sessions, and if you are satisfied, you can continue your sessions with them. To know what type of questions you can ask, click here.
To know more about mental health and issues, subscribe to your mental health pal.