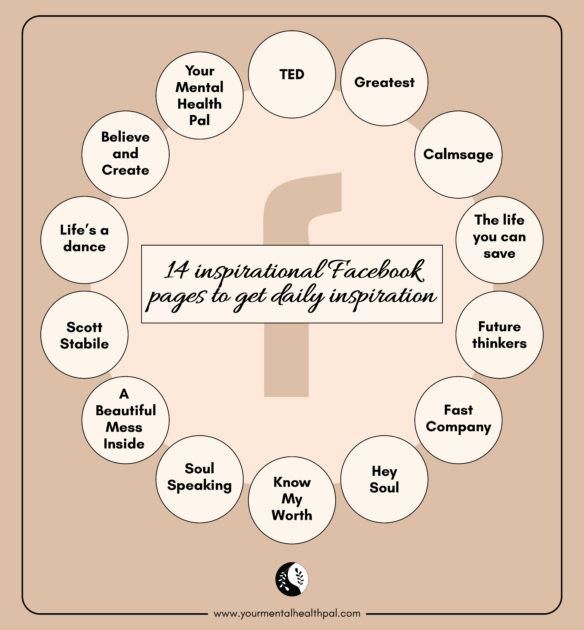 You are feeling low, and to distract yourself, you open your social media and come across a Facebook post that lifts your mood or gives you a slight smile.
These Facebook communities help people by motivating them, making them feel good, and supporting and inspiring them to do something new and exciting.
In all the negativity in the digital world, these Facebook pages try to make you happier and bring positivity to your life.
They are like your motivating companion when you feel low.
So, we have curated a list of your top motivational Facebook pages to follow. 
Best Motivational Facebook Pages To Follow
These are some of the motivational Facebook pages, with varieties of posts, including motivational quotes and stories of different people; videos relating to mental health and well-being; events and activities to enhance societal engagement; and posts to just lighten up your day.
You just have to follow these pages and turn on the notification to get updated about their recent posts.
When you are searching for inspirational Facebook pages, Believe and Create is the one that you'll definitely love. This page brings different people together who share their ideas and views to motivate each other to have a better life.
The page provides:
Another best motivational fb page name is speaking tree. This page motivates you spiritually and helps you enhance your mental well-being. If you are searching for a spiritual connection, a speaking tree can be your best companion.
The page provides:
daily posts and blogs by spiritual masters and seekers,
Another motivational fb page name is for science lovers. It deals with the adaptation to changing worlds to survive them. This page deals with reality and the human mind.
The page provides:
Posts on daily inspiration,
posts about meditation and psychedelics,
blogs, seminars, and podcasts about transhumanism to artificial intelligence.
Another motivational Facebook pages to follow is the greatest. This page focuses on motivating you to build a healthy life and a healthy body. Their posts deal with situations like the pandemic, how to sleep better, etc.
The page provides:
Daily motivational posts,
Home workout plans,
Posts about self-care activities.
Another motivational fb page name suggestions include Calmsage. This Facebook page focuses on physical and mental well-being. The page aims to boost your mood when you scroll through their posts.
The page provides:
Beautiful posts for seeking happiness,
Posts n
-9uytdz about fighting anxiety and dealing with depression.
Everyday motivational quotes and blog posts.
This page focuses on self-energy and positivity. Self-development, philosophy, and self-enrichment is the main thing that resonated with this page. This page focuses on different ranges of topics. It is also one of the best motivational Facebook pages to follow.
The page provides:
Daily reminders,
posts on growing energy within oneself,
amazing daily updates to comment on and converse on.
Regarding motivation and inspiration, nothing's better than ted talks. It is a platform where people from around the world come forward and share their inspiring stories and help motivate people to keep working hard and having faith in life. There is also a Facebook page for TED which is one of the best motivational Facebook pages to follow.
The page provides:
Creative and intellectual,
conversations and debate,
covers all subjects,
introduces new concepts,
inspiration by regular quotes and videos.
This page revolves around the inspiring and soothing effect of nature. It shows how nature increases creativity and positivity. And if you are a nature lover, Over Grow, The System is the right fit for you. It is one of the best inspirational pages on Facebook.
The page provides:
Promotes sustainability,
shares real stories about humanity,
contains visually appealing pictures.
This is a fan page of Jim Rohn. He is a philosopher who inspired millions with his positive messages and insights. This page helps iimpartJim Rohn's beliefs about ways to have a prosperous and peaceful life. This page tries to motivate its followers to move forward.
The page provides:
daily motivational posts,
post about self-development and success,
videos about motivation and inspiration.
One of the best motivational pages on Facebook you'll love is your mental health pal. This page talks about all the aspects of mental health and mental well-being. You'll find motivational, inspirational, and informational posts, daily videos, and blogs.
The page provides:
Posts about mental illness and disorders,
posts about self-care and self-development activities,
posts about mental health awareness,
motivational quotes.
Final thoughts:
So here are some of the best inspirational and motivational Facebook pages to follow that will be your companion, motivate you, and brighten your day. Follow these pages and get all the benefits from their constant posts about body, mind, and soul.
Motivational Facebook pages encourage a sense of support and belonging. Connecting with people who have similar goals and struggles allows people to find common ground. They are able to communicate with one another, share stories from their experiences, and encourage one another. People who do not have a strong support network in their local surroundings can benefit significantly from this sense of community.
Additionally, these pages might act as a platform for progress and personal development. For people to learn new skills, improve their thinking, and get over hurdles, they frequently offer useful advice, methods, and tools. These sections can provide insightful information that can make a good difference in people's lives, from goal-setting strategies to time management practices.
Motivational Facebook pages should be approached cautiously. Not all of the information presented on these pages may be true or appropriate for everyone's situation. It's important to analyze the accuracy of the information and suggestions given and their applicability to the individual's circumstance. Additionally, people should be aware of the possibility of comparison and irrational expectations that might result from overindulging in motivational information.
Also, many podcasts are available; if you want to feel motivated and inspired, you can listen to them. Click here to know more.
For more blogs about mental health and issues, subscribe to Your Mental Health Pal.