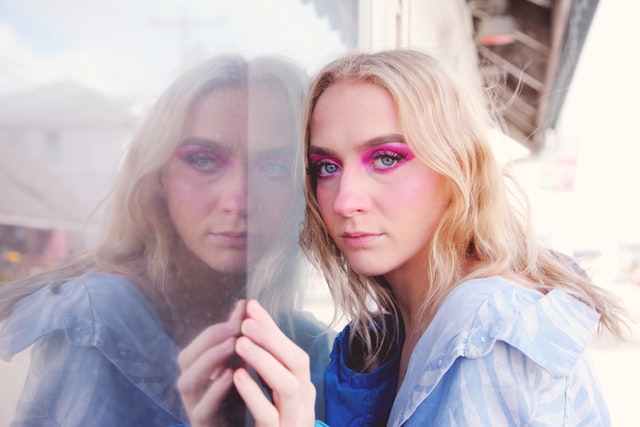 Do you occasionally talk to yourself?
Do you do it often?
Is it healthy?
Many people talk to themselves. It is not unhealthy to talk to yourself.
Why do some people talk to themselves?
Some people do it to motivate themselves or find a solution when stuck somewhere. Some do it for positive affirmations.
But also, if you are murmuring due to hallucinations, there can be a chance that you might be undergoing some kind of mental illness. Here we will be discussing why do people talk to themselves with schizophrenia. 
Why do some people talk to themselves? Is it healthy?
Some people believe that their positive self-talk surrounds them and improves their mood. This could lessen loneliness.
Why do people talk to themselves out loud?
Speaking aloud to yourself in public is frowned upon, although doing so can help you better comprehend your surroundings. Talking to oneself forces you to notice your surroundings consciously.
Usually, your inner speech resembles how you would communicate with others. This type of self-talk might occur aloud or in private in your brain. In either case, it's a mindless exercise to do nothing more than listen to your thoughts.
When you debate with yourself rather than merely listen to your thoughts, you engage in a different kind of internal self-talk. 
What mental disorder makes you talk to yourself?
Sometimes the answer to why do people talk to themselves can be a mental health issue. For example, speaking incoherently and muttering might be symptoms of schizophrenia. Worldwide, schizophrenia affects a large population. When young individuals experience significant life transformations, it is more prevalent in them.
More people have schizophrenia than Alzheimer's or multiple sclerosis combined. Men who are in their mid-20s and women who are a little older may be affected. Rarely do children develop schizophrenia.
Although there isn't a known cause for this illness, some factors increase a person's risk of getting it. These include hereditary factors, environmental factors, and the brain's chemical composition. Drugs could also be a factor.
Disordered thinking is one of the critical signs of schizophrenia, and is the reason why do schizophrenics talk to themselves. You can have mental blockage or confusion. They might not make sense when you express them. You might make up new words, repeat isolated words or phrases out of context, or give them new meanings when you speak to yourself. Schizophrenia can be managed and cured if discovered early.
What is schizophrenia?
Schizophrenia is a severe mental illness where patients have unusual perceptions of reality. Hallucinations, delusions, and very abnormal thoughts and behavior are all possible symptoms of schizophrenia, making it challenging to carry out daily tasks and devastating.
Various issues with behavior, emotions, and understanding (cognition) are present in schizophrenia. Although there are many different signs and symptoms, they typically entail delusions, hallucinations, or slurred speech and indicate a reduced capacity for function.
What are the symptoms of schizophrenia?
The first reason why do schizophrenics talk to themselves is they suffer through hallucinations. Typically, symptoms comprise hearing or seeing nonexistent objects. However, a typical event has energy and significance as a true event to a person with schizophrenia. Hearing voices is the most frequent hallucination, though they can occur in any sense.
2. Disrupted and disorganized thinking:
Disorderly speech implies disorganized thought and that is the second reason why do schizophrenics talk to themselves. Answers to questions need to be more connected, hindering effective communication. Rarely speaking may involve stringing together incomprehensible words.
3. Abnormal behavior:
This may be displayed in various ways, from childlike behavior to irrational agitation which is the third reason why do schizophrenics talk to themselves. Because behavior isn't goal-focused, activities are challenging to complete. Resistance to commands, odd or unsuitable postures, a complete lack of response, or unnecessary and excessive movement are all examples of behavior.
4. Decreased functionality
This describes a diminished or absent capacity to carry out routine tasks. For instance, they might not take care of their hygiene or exhibit a lack of emotion by speaking monotonously, avoiding eye contact, or changing their facial expressions. Additionally, the person can stop enjoying routine tasks, withdraw socially, or be incapable of enjoying themselves.
These are unfounded misconceptions and another reason why do schizophrenics talk to themselves. You may feel threatened or harassed, receive offensive gestures or remarks, be famous or gifted, be in love with someone else, or be on the verge of a severe disaster. Most persons with schizophrenia experience delusions.
What are the causes of schizophrenia?
There is no known definitive cause of schizophrenia. However, according to research, a person may be more susceptible to acquiring the illness if a combination of physical, genetic, psychological, and environmental factors are present.
Though some reasons can increase the risk of schizophrenia
1. Brain development
There are slight variations in the brain structures of those with schizophrenia, according to studies.
Not all persons with schizophrenia experience these changes, which can also happen in healthy individuals and can be the reason why do schizophrenics talk to themselves. However, they consider that schizophrenia might also be a brain illness.
2. Genetics
Although schizophrenia frequently runs in families, no one gene is known to be the cause.
It's more likely that particular gene combinations increase a person's susceptibility to the illness. Nevertheless, schizophrenia is not a guarantee if you have these genes.
Studies on twins provide evidence that the condition is partially hereditary. Identical twins have the same genes.
If one identical twin experiences schizophrenia, the other twin has a one in two probability of experiencing it. Even if they were reared apart, this is still true.
4. Neurotransmitters
Chemicals called neurotransmitters are used to communicate between brain cells.
There is a link between neurotransmitters and schizophrenia because some of the symptoms of schizophrenia are alleviated by medications that change the number of neurotransmitters in the brain.
According to research, a change in the neurotransmitters serotonin and dopamine levels may be the root of schizophrenia and also the reason why do schizophrenics talk to themselves.
According to research, those who develop schizophrenia are likelier to have had a birth or prenatal difficulties like a premature delivery with low birth weight or suffocation by lack of oxygen during birth. So it's possible that these factors subtly impact how the brain develops.
Events in life that are stressful are the primary psychological triggers of schizophrenia. For example, death in the family means losing a relationship, a job, a house, or physical, sexual, or emotional abuse. Despite being stressful, these kinds of situations do not lead to schizophrenia. However, if a person is already susceptible, they can cause it to develop.
What are the treatments available for schizophrenia?
Even after the symptoms of schizophrenia have decreased, treatment is still necessary for life. The illness can be managed with medical care and psychosocial counseling. However, hospitalization may be required in specific situations.
Typically, a psychiatrist with experience with schizophrenia directs care. The full-team strategy might be offered in clinics with experience treating schizophrenia.
The majority of people with schizophrenia need assistance with daily tasks. Programs to assist people with schizophrenia with employment, housing, self-help groups, and crisis circumstances are available in many communities. Finding resources can be helped by a case manager or a treatment team member. Most persons with schizophrenia can control their illness with the right care.
How to stop talking to yourself?
Again, talking to yourself is completely OK. However, you might be interested in how you could break this habit or, at the very least, reduce it if you do it frequently at work or other locations where it annoys people.
Both journaling and talking to yourself can be effective tools for problem-solving.
You can discuss alternative answers and keep track of what you've previously tried by writing down your thoughts, emotions, or anything else you wish to investigate.
Additionally, recording information allows you to review it afterward. Therefore, keep your journal close by and consult it whenever you have a thought worth exploring.
You may rationalize your way out of problems when you encounter them at the workplace or school. However, your surroundings can also be helpful.
Consider talking to a coworker or classmate instead of attempting to figure something out alone. You might even meet someone new.
3. Eat to distract
You might chew on hard candies or gum if you need to be quiet. You may successfully keep your self-talk in your thoughts if you have to talk around anything in your mouth. Another smart move is carrying a beverage and taking a sip every time.
Takeaway:
These were some of the reasons why do people talk to themselves with schizophrenia. Multiple advantages of self-talk exist. You just have to understand First, it poses no substantial health hazards unless a person exhibits other signs of a mental health disorder, including hallucinations.
Self-talk can help with task management, concentration, and performance when carrying out a task using a set of instructions. It also improves your ability to solve problems.
A 2012 study looked at the impact of self-talk on visual search tasks. According to the research, talking to oneself while seeking a specific object, like a pair of lost keys or a piece of clothes, or when trying to find items in a grocery shop, may speed up discovering that object. 
If a person talks negatively and harshly to themselves, it may harm their mental health. People should seek the advice of a mental health expert to learn how to boost self-esteem and modify their self-talk to focus on being more uplifting and positive. There are various online and offline therapies available at affordable prices. To learn more about them, click here.
For more mental health-related blogs, subscribe to your mental health pal.