The longest day of the year, June 21, is celebrated worldwide as the International Day of Yoga. The day was first celebrated in 2015, following its acceptance by the United Nations General Assembly in 2014.
Yoga is practiced by almost 36 million Americans worldwide. It is associated with the release of mood-boosting chemicals like dopamine and serotonin in the brain. It is also found to play a substantial role in reducing stress and anxiety.
The practice of Yoga is carried out in calm surroundings to get the maximum benefit. That way, the aroma of the place you will be practicing Yoga is essential. On this International Day of Yoga, let's take a step toward enhancing your Yoga practice through Aromatherapy.
How does Aromatherapy aid in Yoga practice?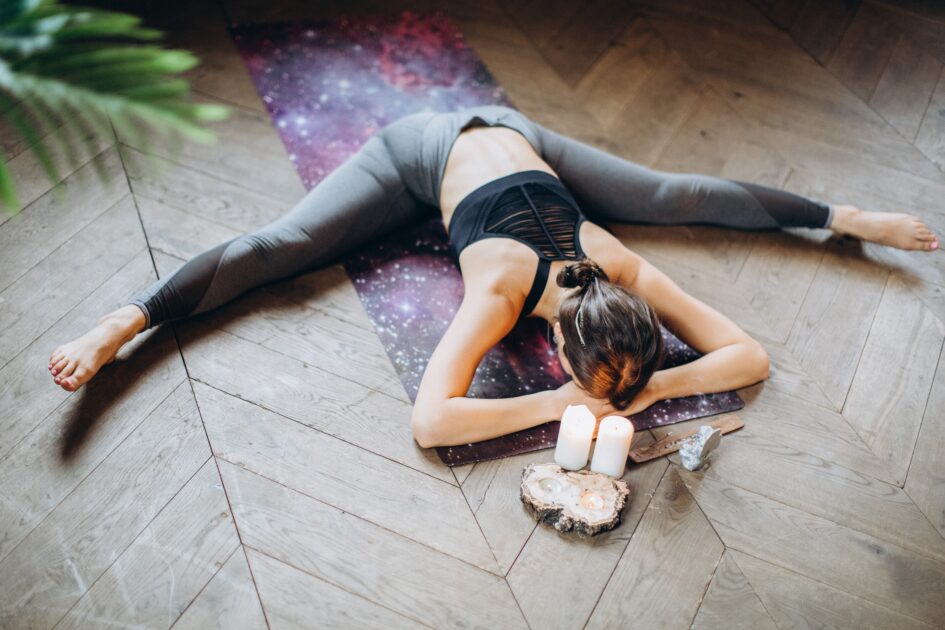 Yoga and Aromatherapy share the same ancestral roots. Both these holistic disciplines revolve around the phenomena of breathing. A key concept of Yoga is the control over breathing. But people mostly ignore the fact that the air you breathe also matters.
When you pair Aromatherapy with Yoga, your physical surrounding helps generate positive thoughts. Aromatherapy is associated with pain relief and relaxation that would aid your Yoga practice.
Diffusers, roll-on essential oils, and therapeutic sprays are some of the most popular products used for Aromatherapy during Yoga.
Also Read: Essential Oils For Mental Health
Here's a list of the top five products that will help elevate your yoga practice:
1. Ceramic Aroma Diffuser Lamp
Where to buy: layeredlounge.com, amazon.com
Price: $73.34
A ceramic diffuser should be the perfect pick if you practice Yoga from home. It looks less like a diffuser and more like a desk lamp that would fit just right with your home's decor. These diffusers come with an inbuilt timer and sleep function. The timer automatically turns the lamp off after 30 minutes. It reduces your hustle to keep track of time.
2. Mindful Meditation Essential Oil Yoga Blend Aromatherapy Roll-On
Where to buy: shophealthy.in, amazon.com
Price: $69.22
Mixing and matching different fragrances is one of the best parts of Aromatherapy. However, if you don't find that fun, this blend Aromatherapy roll-on is for you. The mixing and matching have already been done for you. There is no risk of an oil spill or chances of getting the proportion of oils wrong. All you have to do is use the roll-on and prepare for your Yoga practice.
Also Read: How To Create a Meditation Space In Your Bedroom In 11 Ways
3. Sandalwood Premium Grade Fragrance Oil
Where to buy: amazon.com
Price: $ 6.00
The scent of sandalwood is woody and sweet. A few drops of sandalwood fragrance oil will provide more clarity, focus, and strength for your yoga practice. If it's one of those days when your mind has scattered thoughts, this oil might help you return to the center. Allow yourself to meditate for a few minutes after applying the oil, and you are all set for your practice within minutes.
4. Hinoki Lavender Reed Diffuser
Where to buy: apothekeco.com
Price: $ 54.00
This one is for the people who love the smell of the outdoors. With the Hinoki Lavender Reed diffuser, you can create the ambiance of the perfect outdoor yoga setting in your room. The diffuser releases a blended fragrance of Cyprus, fresh lavender, and lotus. It creates an earthy and soothing environment for your Yoga practice.
5. Mimosas Candle
Where to buy: aloyalsociety.com
Price: $ 24.00
There is no rule that Aromatherapy can't be playful. This candle from Loyal Society is the best proof of that. It is a hand-poured candle with a blend of mimosas, jasmine, and mandarin orange. If you are in one of those peppy moods or want to try Yoga with a partner or friend group, this might just be what you are looking for.
Takeaway
We hope from this International Day of Yoga; your sessions will become more fruitful using the above products. Let us know in the comment section about your views on Aromatherapy and Yoga.
To aid your yoga practice, find the list of the best Youtube Yoga channels here.
To build a supportive society and know more about mental health, subscribe to https://yourmentalhealthpal.com/.