Do you ever feel overwhelmed with emotions? Or constantly feel tired and depressed but keep it to yourself in fear of judgment? If yes, then you might be a victim of mental health stigma.
Stigma is one of the biggest issues in the way of accessing mental health care. According to an article by Medical News Today, the most possible source of stigma is personal, social, or family beliefs. In other words, it all starts from the base of society, i.e., children.
Since children spend most of their time in school, we should focus on making a healthier environment for them to grow. Children are known to adapt to their surroundings; that's why this blog post focuses on addressing the mental health stigma in schools.
Learning young will create a positive chain of mental health awareness. But first, let's understand the relationship between stigma and students.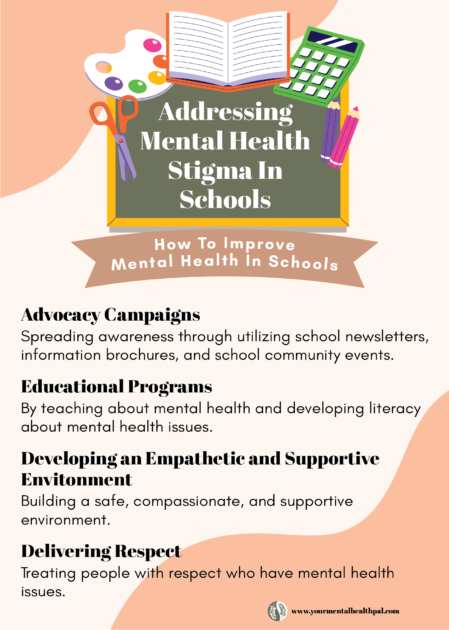 The Relation Between Stigma And Students
When someone is shunned because of a particular characteristic, such as mental health issues, it results in shame and guilt. Being afraid to tell others about their health conditions makes it hard to ask for support and help.
The view toward mental health is influenced by ignorance, cultural beliefs, and less awareness about mental health issues. This unawareness turns into stigma and can affect the students in various ways, such as:
social isolation,
hopelessness,
shame,
worsening symptoms,
lack of criminal justice,
discrimination at work, and
unemployment.
According to a research article by the National Library of Medicine, schools play one of the most essential roles in addressing mental health stigma and awareness in school. Let's dive deeper to understand how addressing mental health stigma in schools can help students.
Schools And Mental Health Stigma
Schools play an important role in addressing mental health stigma and awareness since schools are the base of society where young minds are nurtured. As discussed earlier, stigma is the beliefs that people absorb from their surroundings as they grow up. So, unless the broader community, such as schools, understands and creates awareness regarding depression, anxiety, and other mental disorders, unawareness about mental health will give rise to stigma. The unawareness about mental health can give rise to stigma such as:
mistaking signs of depression and anxiety as signs of weakness and
misunderstanding a person suffering from depression as attention-seeking.
Thus, it is important that the students get educated and become aware of mental health care. By spreading awareness around symptoms, causes, and treatments, schools can encourage students to understand and help the people whose lives have been affected by mental health issues.
How to improve mental health in schools?
Now that we have learned the role of schools in addressing mental health stigma, here are some ways in which schools can promote awareness about mental health:
By Advocacy Campaigns
The schools can create awareness by using school newsletters, information brochures, and school community events that can spread community awareness about mental health issues.
By Educational Programs
There are enough resources in classroom settings to educate students about mental illnesses. So, teaching about mental health and developing literacy about mental health issues can help eliminate the stigma.
By Developing an Empathetic and Supportive Environment
A safe, compassionate, and supportive environment must be built for troubled students with mental health issues.
By Delivering Respect
We must try to treat people who have mental health issues with respect rather than defining them as mental health patients and making other stereotypical and unsupportive remarks.
How Can The Adults Help?
Every parent and educator wishes for the best life full of happiness, friends, and success for their children and students. So, here are a few ways for parents, teachers, and other adults to help the cause.
Encourage Affinity
Creating a sense of belonging is essential for children's positive attitude, self-esteem, and trust in others. A child facing mental health issues must be encouraged to build strong bonds between family members, friends, students, and school staff to encourage a positive state of mind.
Encourage Flexibility
Life comes with hardships, hence flexibility is essential to overcoming challenges in a healthy way. Practicing empathy, and building strength to face difficulties can encourage flexibility.
Encourage Capabilities
Children need encouragement to overcome challenges and achieve their goals. Academic success, overall development, and individual interests help children feel capable to a greater extent. It creates the ability to deal with stress and their social capability can be maximized by staying connected to friends and family, enhancing mental wellness.
Ensure a Safe School Environment
The feeling of safety increases the student's learning and improves their mental health. It stimulates positive behaviors like generosity and discourages negative behaviors like bullying and harassment. Try to fix some protocols and fair discipline practices. Ensure the presence of an adult in areas like cafeterias, locker rooms, and playgrounds. Teach your child to take a stand against bullying and encourage them to seek help from peers.
Encourage Positive Behaviours
Offering children consistent support, and teaching them skills like problem-solving, social skills, and conflict resolution will improve their mental health. Give positive feedback, and reinforce positive ethics and values.
Encourage Physical Health
Good physical health has a direct connection to good mental health. Creating good eating habits, regular exercise, and sound sleep builds immunity against stress and challenging situations. According to Mayo Clinic, regular exercise releases some feel-good hormones (endorphins) to deal with stress, anxiety, and depression.
Encourage Advocacy
Only education can break down the stigma around mental health and make children aware of seeking help.
School mental health professionals can provide helpful information on symptoms of mental health issues like depression, anxiety, or suicidal tendencies.
Takeaway
Since schools are the base of society, it's necessary that we start normalizing mental health issues by addressing mental health stigma in schools. As a parent, it's necessary that you pay attention to your child's behavior such as:
sudden withdrawal from daily activities,
decreased social and academic functioning,
changed behavior, and
physical complaints.
These changes could be signs that the child might be struggling with mental health issues, so be patient and understanding.
The best way to improve their mental health is to address their needs in terms of mind, body, and spirit through communication. Let us know if you found this blog post helpful in the comments below.
In case you are someone dealing with mental health stigma issues, click here to know the ways of avoiding mental health stigma.
Subscribe to Your Mental Health Pal, to keep reading our blog posts to learn more about mental health care.