Being aware of mental health means you make more informed decisions in life and have a framework to judge whether you're doing alright or not. It also includes knowing where to get help if you or your loved ones are dealing with overwhelming psychological problems. Following are the ten most reliable mental health awareness websites through which you can increase the same.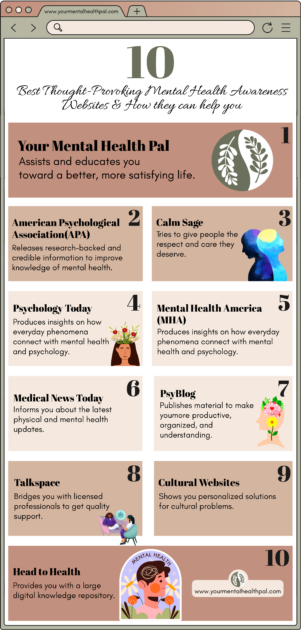 10 Golden Mental Health Awareness Websites To Guide You
Your mental health pal aims to assist and educate you about common mental health issues, stigmas toward treatment, and new findings related to the same. It combines the best of both worlds to bring you practically actionable tips backed by credible research studies. The published material is comprehensive, insightful, easy to understand, and user-friendly. Being one of the best mental health websites, it also features a newsletter providing updates on mental health and an upcoming product line of worksheets for self-introspection and better mental health.
APA is the "leading scientific and professional organization representing psychology in the United States, with more than 133,000 researchers, educators, clinicians, consultants, and students as its members." from their about us page. APA is a source for the latest psychology research, helping you stay aware of factors that affect your mental health.
Calm Sage is one of the emerging best mental health websites. They have a podcast, free resources, quizzes, and an option to tell your mental health stories to the world. Their motto is to get people going through mental health issues the respect and care they deserve. They also aim to make people happy and tell them that "You are not alone" in striving for a better life. There are many others with you, and you will find support if you reach out.
Psychology Today's motto is "here to help." The producers are dedicated to providing professional, expert-authored content with definitive conclusions. Its popular services include a subscription-based magazine and finding a therapist for many locations worldwide(compared to other websites that only offer this service within the United States).

The best thing about psychology today is its sheer volume of blogs. The website is uploaded with many new blog posts daily. The published material is dedicated to accessibility and making the content user-friendly for everyone. However, some users may not find this feature appealing as they have limited time and find it hard to decide what to focus on.
MHA was founded in 1909 by Clifford W. Beers. It is one of the most significant websites to help with mental health. MHA is a nonprofit dedicated to helping those suffering from mental illnesses and promoting mental health in the rest of the population. Being committed to public mental health, they believe in the power of prevention before manifestation and recommends people lead a mentally healthy lifestyle to avoid succumbing to mental illness.
They have resources for peer support, staying mentally healthy, and learning more about mental health on their website. This site is also recommended for those undergoing crisis or knowing someone going through a tough time. They provide various alternatives and help seek professional support.
The site was started by Dr. Jeremy Dean in 2004 and is now trusted by millions worldwide. The published material contains peer-reviewed information about self-improvement, how to change your habits, how to be happy in life, learning, and memory, among other correlated topics. Since starting the blog, Dr. Jeremy has written "Making Habits, Breaking Habits" and other e-books. Mina Dean, a food scientist, also writes in this blog.
A lot of the articles and content on this site are free. However, a paid option allows you to access member-only resources with additional benefits. If you sign up for the PsyBlog mail, you will also receive a daily psych study in your inbox. There couldn't be a better alternative for those interested in learning more about mental health and psychology in practice.
Medical News Today(MNT) is at the forefront of medical journalism. They provide you with quality information filtered for credibility and objectivity through their rigorous editorial process. MNT also covers various issues ranging from nutrition and public health problems to, you guessed it, psychology and mental health.

They also aim to empower readers to live better, healthier lives by making informed choices. MNT focuses on exploring what lies beneath the surface of routine healthcare, the research, the industry, and the lives of its potential readers.
Talkspace is your go-to easy-access therapy provider and one of the best mental health support websites. Clinical research has also shown that online therapy is easier to access and more preferred by many people. Talkspace provides various options, including couples therapy, teen therapy, and psychiatry services. It works by asking for an assessment to develop your profile and matches you with personalized results for the kind of therapy you need.

This organization offers package deals for schools, workplaces, and other institutions. You can also join their newsletter for regular mental health and well-being updates. The Talkspace application is available on Android and IoS to make it more accessible per your needs. It has another advantage over conventional therapy; it is easy to plan and hold appointments.
An interesting phenomenon was mentioned in an article by the New York Times(link above). Many therapists and therapy websites are now targeting consumers based on the culture they've been exposed to. Therapy is culture-dependent, and a therapist from your community or familiar with your community has better chances of guiding you through mental health. This also provides minorities relief as they feel more open to speaking out with someone known for helping others from their culture. Minorities can mean people who are discriminated against or those who are usually stigmatized. That's why people's understanding of minorities can be different depending on the context.

While finding such an option will require more effort, it can pay off with a worthwhile treatment. One easy way to do this is to refer to therapy repositories or directories localized to your area online.
Head to health is one of the best mental health support websites. It is an Australian Government, Department of Health, and Aged Care initiative. It contains a large digital repository of posts, online forums, programs, mental health information, and insights from some of the best Australian healthcare services. The only limitation of this resource is that it only covers services in the country.

However, you can enjoy the digital resources and vast knowledge published here regardless of where you live. Some prominent issues tackled here include how to live a meaningful life, support yourself through tough times and deal with difficulties related to mental and public health issues. There is also a section dedicated to learning how to care for other people, especially children, and teenagers.
Conclusion
These websites are among the best to provide you with a comprehensive yet practical approach to mental health. Let us know if we missed any of the best mental health websites on your list in the comments below, and you might get to see them in the updated version. Navigating mental health doesn't come easy to anyone, and we are often unsure of the next step. Here is a list of short-term mental health goals you can work on to keep getting results till you achieve more clarity.
Subscribe to Your Mental Health Pal for more updates and resources to enlighten you about the "healthy" life.