According to the world health organization, by 2050, the world population over 60 years will double to 22%. About 15% of adults aged 60 or above suffer from mental disorders. 
The worst part is that older persons' mental health is not being treated seriously and is entirely considered a part of their aging. The stigma surrounding senior mental health services makes them reluctant to get medical help or treatment.
Important life changes might occasionally make you anxious, agitated, and depressed. The passing of a loved one, retirement, or dealing with a significant disease is a few examples of these adjustments. Most older persons' mental health face these challenging emotional experiences, which sometimes might make it difficult for them to adapt. Due to these emotions, they may be more susceptible to mental illnesses like anxiety and sadness as a result.
Le's understand the factors that affect the elderly mental health.
Factors that affect older persons' mental health
Older persons' mental health can be affected by various factors ranging from physical health, death of their loved ones, abuse, etc. the key is to recognize these factors and provide them with the required treatment.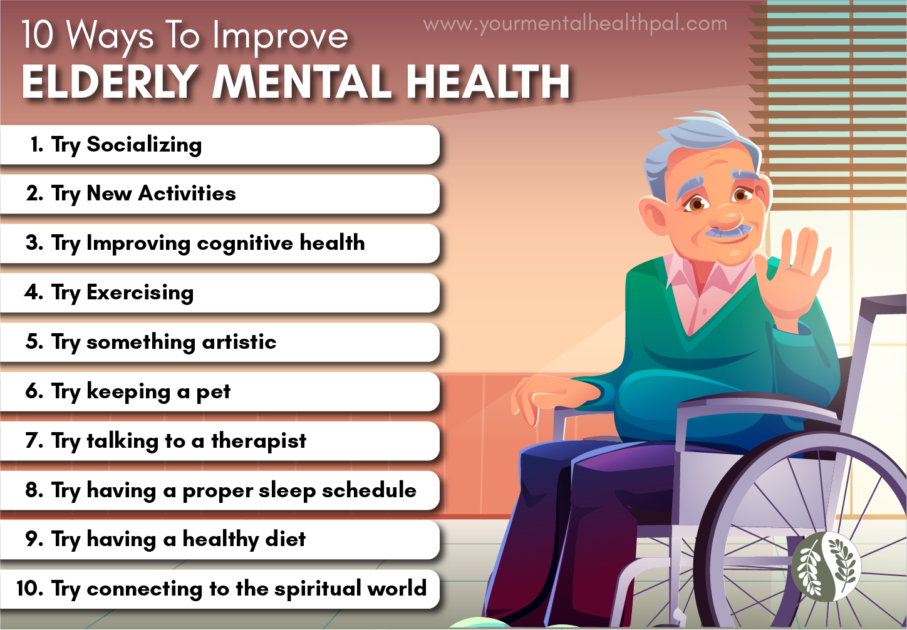 1. Physical health problem
Physical and mental health are related.
The prevalence of depression is higher among older persons with physical health issues like heart disease than among those in good health. Untreated depression in an older individual with heart disease can also have a negative impact on the elderly mental health and treatment plans.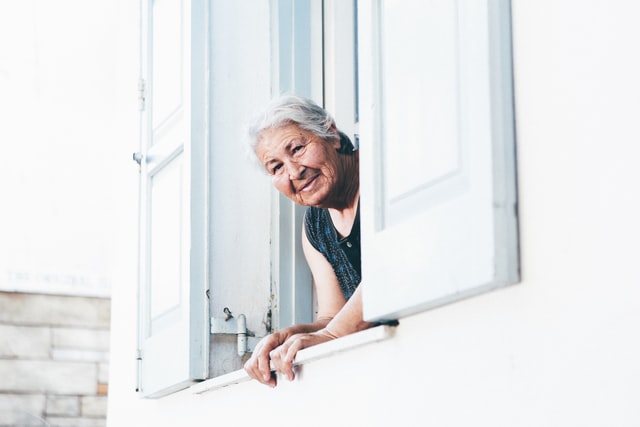 Grief is common in the clinical treatment of older persons' mental health since it is a natural reaction to losing a loved one. Normally, acute grieving transforms into integrated grief over time. Grief can occasionally be severe, persistent, and incapacitating. Intense longing for the deceased or continuous preoccupation with the deceased that persists longer than six months after death is the defining characteristic of Prolonged Grief Disorder (PGD).
As a result, older people's grief may go unnoticed and untreated.
3. Dementia
A syndrome known as dementia is characterized by a decline in memory, reasoning, behavior, and the capacity to carry out daily tasks. Dementia is typically chronic or progressive in nature. Although it is not a typical aspect of aging, it primarily affects the elderly mental health. In 2030, there will be 82 million cases of dementia worldwide, and by 2050, there will be 152 million cases.
The direct costs of social, informal, and medical care related to dementia provide substantial societal and economic challenges.
4. Elder abuse
Elder abuse is any act, whether once or repeatedly, or a lack of appropriate action, that harms or distresses an elderly person while taking place in a relationship with a trusting expectation. This sort of violence, which encompasses physical, sexual, psychological, and emotional abuse as well as financial and material exploitation, abandonment, neglect, and severe loss of respect, affects older persons' mental health.
Abuse of elderly people can have severe negative effects on elderly mental health, as well as their financial situation and social standing. These effects can include, for example, physical harm, early mortality, depression, cognitive decline, financial ruin, and nursing facility placement. Abuse's effects can be very severe, and a person's rehabilitation may take longer in older persons.
10 ways to improve elderly mental health
Constant mental health check-ins are important while dealing with older persons' mental health. Therapy, inpatient treatments, and other mental health activities are there to improve their mental health.
1. Try Socializing
One of the seniors' most prevalent problems is loneliness, which can seriously affect their mental health. We all require meaningful interactions with others because humans are social beings. Seniors should look for as many social activities as possible because they are more likely to live alone or have infrequent interactions with friends and relatives.
Recurring social gatherings can be planned, which is a good choice for senior citizens. It's simple to let weeks or even months go by without seeing a buddy, but you'll be sure to keep in touch by scheduling repeating events. Establishing a routine in this way can assist older adults in maintaining their mental health.
Finding a sense of purpose in daily life can be a challenge for seniors, which is a prevalent element in mental health. The characteristics that once defined them may no longer be a part of who they are once they retire and have grown children. They can look for new hobbies that give their life more purpose to safeguard their mental health.
Making a difference in the community can often be done effectively by volunteering. Giving time to a nearby hospital, school, food bank, or other groups. Mental health depends on having a sense of pride and purpose. 
3. Try Improving cognitive health 
Abilities like language, memory, and focus may impact your mental health. You might experience depression, anxiety, or confusion when it is difficult to relate to the world around you. As you age, it's crucial to maintain your cognitive health to safeguard your mental well-being. You may live your life more confidently and easily if you keep your ability to communicate with others.
Playing games and solving puzzles might help you develop your cognitive abilities. Work on jigsaw puzzles, crosswords, Sudoku problems, or adult coloring books when you're by yourself. You could play card or board games with friends or family to keep your mind active. This also allows you to spend time with loved ones, which is beneficial.
4. Try Exercising
One of the most effective things you can do for your mental health at any age is exercise. Exercise benefits your heart, joints, and muscles and positively impacts senior mental health. It helps lessen depression symptoms, ease anxiety, and improve your mood.
Exercise has the ability to enhance your quality of life even if you do not have a mental health problem. Setting up an exercise regimen gives your day structure and consistency, and it might be a chance to get outside and interact with people. The advantages to your physical health may also make you happier.
Senior mental health benefits from creative pursuits because you can see the fruits of your efforts. You get to witness the results of your work and the effort spent honing a creative skill. Your mental health may benefit greatly from the sensation of success, and you'll have something to brag about or show off to loved ones.
These pastimes may also be a mental strain. Learning these new skills can help you feel more awake, engaged, and motivated because cognitive health and mental health are tightly related.
6. Try keeping a pet
Adopting a pet can be a great method to enhance your mental health if you enjoy animals.
A pet may be a very calming and welcoming presence in your home, particularly if you live alone. Petting an animal helps ease stress and anxiety, and caring for a pet can improve your mental health in general. Having someone to look out for gives your day more meaning and purpose and keeps you interested in the world around you.
7. Try talking to a therapist
Senior mental health can occasionally be managed with a change in lifestyle and social assistance. Some situations call for professional assistance. Numerous people have battled mental health illnesses yet have discovered coping mechanisms through counseling. Therapy is common among people of all ages and socioeconomic levels and can positively affect senior mental health.
You can explore your feelings in a secure and confidential setting with the help of a mental health therapist. You can learn coping mechanisms for sadness or anxiety and work through challenging situations. Counseling allows many senior citizens to interact and talk with someone else. Regular social interaction can enhance cognitive function and give your life more structure.
According to the American Psychology Association, sleep is a crucial component of mental health, and getting more of it can make people happier, healthier, live longer, and be safer.
Unfortunately, sleep disorders and insomnia are more common among seniors, raising the risk of depression and other chronic illnesses. There are many sleep therapy that you can try if you are having trouble falling asleep. These can help you master your sleep pattern and make you feel better.
9. Try having a healthy diet
Diet can positively or negatively impact the elderly mental health and physical effects.
Following a heart-healthy, balanced diet high in nutrients, fruits, vegetables, lean proteins, and healthy fats has been shown to boost brain function. It may even help to fend off depression and lower the risk of developing dementia.
 10. Try connecting to the spiritual world
Seniors who want to connect with the spiritual realm might do so through religion and meditation. They can engage in regular religious practices that provide comfort and peace. Yoga lessons and various forms of meditation can be helpful in this regard. Practicing yoga can help your body and your mind. You can take the help of a yoga instructor and p[ractise different yoga poses that you are comfortable with. 
Different elderly mental health services available:
When it comes to elderly mental health, many services are available that focus on different treatments and the overall mental well-being of older people, especially if they are undergoing any serious mental health issues. These services provide extensive care and facility. Here are some of the treatment services:
The U.S. Department of Health and Human Services Administration on Aging division is one of its divisions. Its website links to organizations, initiatives, and resources that deal with various issues related to drug usage and mental health among the elderly.
You can locate a nearby treatment facility for mental health aging difficulties with the use of this service provided by the Substance Abuse and Mental Health Services Administration.
Cross Timbers is a long-term care institution specifically for senior citizens with mental health needs. Seniors' daily activities and physical, mental, and emotional well-being can all be significantly impacted by senior mental illness. The kind, dedicated staff at Cross Timbers senior mental health service works hard to provide each resident with tailored care, ensuring a life of meaning and purpose.
Information on mental health and mental health issues can be accessed in one place at this website from the U.S. Department of Health & Human Services.
This database offers thorough details on local and federal initiatives that offer senior citizens mental health assistance.
For older people, this community service and work-based job training program offer work experience in various volunteer activities at non-profit and governmental organizations, including schools, hospitals, daycare facilities, and senior centers.
This organization provides information on reporting suspected elder abuse available to everyone in the country.
Takeaway:
Older persons' mental health plays an important role in society. Understanding how you can help them and regulating the triggers that affect their mental health is the first step toward their well-being. Elderly people have to undergo several sudden changes in their life, starting from their health to their living conditions, jobs, mobility, etc. The only thing that they need at that moment is support.
Removing the stigma around mental health treatments, therapists, and services and making elderly people aware of how important their mental health is, is the job of their caregivers.
The National Council on Aging (NCOA) states that one in ten adults over 60 has experienced elder abuse. More than half of all cases of elder abuse that are recorded are typically the fault of an adult child, spouse, or relative. To know more about signs of elder abuse, click here. 
Subscribe to Your Mental Health Pal to learn more about mental health issues.