The world is home to 8 billion people.
According to an article by Our World In Data, approximately 970 million suffer from mental and substance use disorders, whereas 4% of the total world population suffers from an anxiety disorder.
Although it might seem like a personal problem, is it more than that? Apart from this, it has grave consequences for society as a whole. Not convinced? Let's understand how mental health impacts society in detail.
Impact Of Mental Health On Society
The stigma of mental illness is present in society and internalized by people. This stigma has been a barrier for several people seeking mental health help. The extent of mental health stigma has several implications for employment and society.
Although the specific economical cost of mental illness varies by culture and nation. Untreated mental illness has significant social implications. The World Health Organization estimated in 2001 that mental health disorders cost affluent countries between three and four percent of their Gross Domestic Production (GDP).
Besides the economy, mental health issues also affect society in the form of maternal depression. It may raise the chance of low birth weight, childhood health issues, and "incomplete vaccination" in newborns, which are risk factors for premature death.
The WHO states that mental health disorders are "extremely high,", particularly among female convicts.
It recommends that developing and developed nations undertake more comprehensive preventative and interventional mental health programs to reduce the adverse effects of mental illness on people and their local and global communities.
Society's impact on mental health
The society's discrimination and stigmatization can also worsen someone's mental health issues and prevent them from seeking care. Social exclusion, substandard housing, unemployment, and poverty are all associated with mental illness. In other words, stigma and prejudice can keep a person stuck in a cycle of disease.
Apart from society's impact on mental health, let's see society's response to mental health issues in cities.
A high share of the urban population suffers from mental health issues
In cities, one in every four persons might have a mental health issue over their lifetime, which can happen at any age.
Cities are set to face an increase in mental health issues. Between 1990 and 2010, the worldwide burden of illness attributed to mental and drug use disorders grew by more than a third, mainly owing to population growth and aging. Cities will house more than two-thirds of the world's population by 2050.
Many mental health issues are more prevalent in cities: Depression (39%), Anxiety (21%), and Schizophrenia (21%).
The city's direct costs regarding mental health treatments
Mental health treatment in cities could be more expensive than you think. Let's have a look at city's direct costs for mental health treatments.
Care
Health care, social care, and long-term care expenditures are direct costs for mental health illnesses.
Disability expenses
The World Economic Forum reported that mental health problems would form a significant part of the global economic burden caused due to noncommunicable diseases. An estimated 18.1 percent (43.6 million) of adults in the United States aged 18 and up suffer from a mental illness in any given year. Around 4.2 percent (9.8 million) suffer from a significantly disabling mental disease.
Physical Health Issues
Mental health difficulties worsen mental health problems. People with mental health problems are more prone to heart disease and cancer. Since mental and physical health is interrelated, the cost of treating disorders grows. For example, according to the Association of Depression and Diabetes Complications research, the cost of treating the combined illness rises if a person has diabetes and depression. Thus, they might experience adverse effects on their physical health issues.
Mortality
People with mental health disorders have a higher mortality rate. People with serious mental diseases (schizophrenia, severe depression, bipolar disorder) die 20 years sooner than the general population. It is mostly due to physical illnesses such as cardiovascular disease.
Undertreatment
People with mental illnesses frequently do not receive the treatment they require; city investment seldom meets the need, and access to care can be difficult. According to the Organization for Economic Co-operation and Development (OECD), undertreatment increases mental diseases' high social and economic consequences.
Effects of mental health disorder on an Individual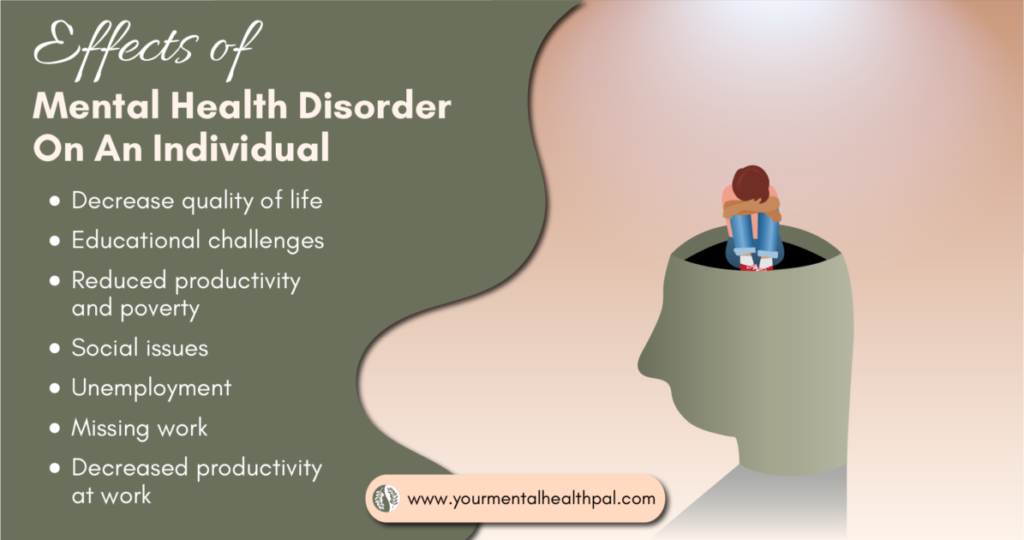 After seeing the city's direct cost of mental health treatment. Let's look at how society's stigma towards mental health affect an individual. Individuals with mental illnesses are more likely to have:
A decrease in quality of life
Educational challenges
Reduced productivity
Social issues
Abuse vulnerability and other health concerns
Employment issues
Decreased productivity at work
According to 2001 research, five to six million U.S. employees aged 16 to 54 'lost, failed to seek, or cannot secure employment due to mental illness.
Mental illness was expected to affect the annual income of working mentally ill people by $3,500 to $6,000. Mentally ill people are at a higher risk of poverty due to lower incomes and work opportunities. Mental health disorders can worsen other physical issues and pressures.
For example, people with comorbid depression (depression co-occurring with another health condition) are three times less likely than non-depressed patients to adhere to medical treatment regimens.
Effects of Mental Illness On The Family
Yes, an individual with mental illness goes through a lot when the proper support and treatment are unavailable. But so does the person's family:
Mental health disorders may be incredibly unpleasant and upsetting for the entire family. They can significantly influence the financial and emotional components of a family.
Apart from the financial issues, the family also suffers socially and psychologically. Caring for a family member with mental health issues can be highly stressful, and coping with stress can cause several symptoms, including
Physical problems:
Migraines
Loss of appetite
Fatigue
Cognitive and emotional issues:
All these issues are likely to occur due to facing society with mental illness stigma and costly mental health expenditure.
Confusion and behavioral issues:
As the demands of the sick take priority, family life may become chaotic and unpredictable. According to a study by Frontiers, many family members have had to abandon their jobs one or more times due to effects on mental health.
In contrast, others have had to give up their recreational activities. Social lives are frequently the first to suffer, as they may be hesitant to invite others into their house and find it difficult to live a regular life.
Conclusion
If your family members suffer from any mental health disorder, help them get proper treatment and support. Remember that every individual deserves happiness and beautiful life. Getting the appropriate treatment will help them live their lives beautifully.
Drop your thoughts in the comments and let us know your thoughts about this blog post.
Now that you have learned how mental health impacts society, let us learn about it's adverse effect on families. To learn more about the impact of mental health on family, click here. To keep learning a thing or two about mental health with us daily, subscribe to Your Mental Health Pal.