Understanding your emotions can sometimes be challenging. In such a situation, we want somebody who can be there with us and help us find the ultimate solution.
We have friends and families that can help us in situations where we want somebody to talk to, but they might need help understanding our emotions and feelings, and we might need clarification.
In such situations going for mental health counseling is a good option. Various trained professionals, psychiatrists, or therapists are there who have mastered the working of the brain and understand how emotions should be regulated. They can help us understand our feelings better and show us a path to heal from discomfort. There are also various mental health counseling books to help one know different aspects of mental disorders and treatments.
Now, what does it mean when we say mental health counseling?
What is Mental Health Counseling?
The human mind is a complex connection of neurons and nerves that mentally and physically regulates our entire body. Our brains regulate all the emotions and activities we show or do. Being so complex in nature, our brains can sometimes face issues. Both your physical health and mental health are essential, and it depends on your brain functioning.
There are various mental health issues and illnesses like depression, anxiety, post-traumatic disorders(PTSD), personality disorders, relationship issues, anger management, suicidal thoughts, etc. When one is diagnosed with any such illness or disorder, getting their life back on track becomes challenging.
This is where mental health counseling is advised so they can plan to heal themselves. It is defined as individual therapy with the intent of problem-solving using traditional psychotherapy given in books on psychotherapy and counseling.
Counseling helps solve emotional, social, or other mental health problems. Mental health counseling is not about giving advice; a counselor's job is to make their patients understand that they are not alone and find solutions together by being a part of their journey. Counseling involves steps where the counselor gives various perspectives to solve the problem and makes their patients understand their weaknesses and strengths.
It is possible that sometimes a person might be undergoing a mental health issue but may not be aware of it, and also, no symptoms might be visible. In such a case, talking to a mental health counselor will help them understand their feelings better and find the best solution. Depending on the patient's suitability, there are various types of mental health counseling, individual or group. Psychologists also conduct therapy for severe mental illnesses like schizophrenia, personality disorders, etc.
Different types of therapies, like cognitive therapy, behavior therapy, group therapy, and psychoanalysis, might be used during mental health counseling therapy.
If you want to understand different mental health issues and their treatments, there are various mental health counseling books that you can read.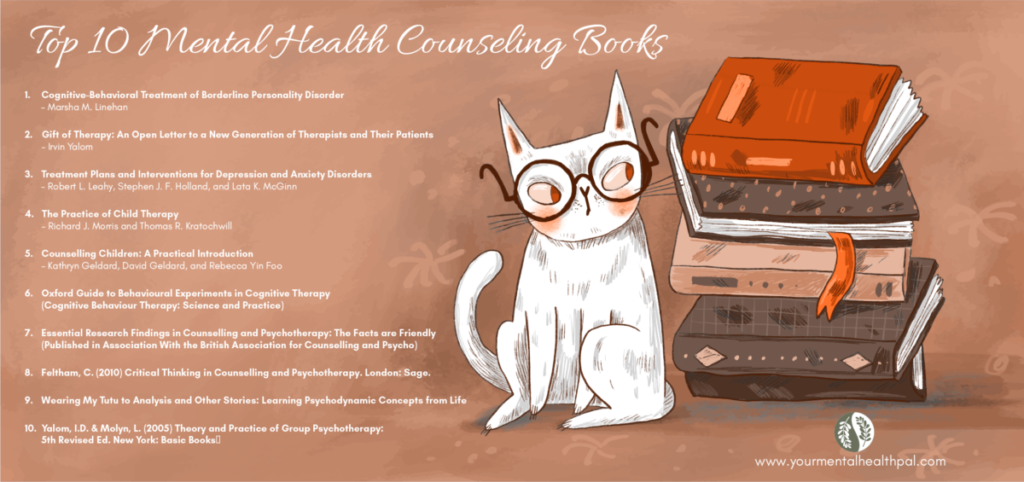 Why Is Mental Health Counseling Important?
Physical injuries or diseases are frequently easier to treat than mental health issues. This is primarily because when a problem emerges, it is already too late, and the symptoms have gotten worse. Mentally unstable people are already entirely captivated by their difficulties. The first step in treating mental health issues is early detection. One of the finest strategies to address the underlying cause of mental problems is counseling.
Counseling is crucial and highly helpful at the same time. Regularly attending therapy sessions in the event of emotional or mental discomfort can assist in calming your life and also offer it meaning and purpose.
Counseling enables you to express your emotions without worrying about being criticized.
Counseling assists you in regaining your confidence.
Counseling opens a new path in your life.
Counseling enhances self-acceptance and acknowledgment.
Counseling enhances the communication of feelings and emotions.
Counseling helps in the early treatment of any kind of severe mental health issues.
Counseling helps in saving many relationships.
Top 10 Mental Health Counselling Books:
The first in mental health counseling books is Cognitive-Behavioral Treatment of Borderline Personality Disorder, based on treating borderline personality disorder. Treating borderline personality disorders is challenging for many therapists or psychologists.
This book discusses some of the best cognitive behavioral therapy (CBT) which might help you treat borderline personality disorder and identify all the different issues.
The cognitive-behavioral method for treating borderline personality disorders is integrative and open to all patients.
Author Marsha Linehan discusses contemporary advancements in dialectical behavior therapy (DBT) and (CBT) cognitive behavioral therapy and illustrates how therapists might mix the two approaches to achieve a better outcome.
The one among the psychotherapy books is highly recommended for therapists who work with clients with borderline personality disorder or want to learn more about the interventions because it is simplified.
For more than 35 years, Irvin D. Yalom has been a practitioner. The second one in our, The Gift of Therapy: An Open Letter to a New Generation of Therapists and Their Patients, brilliantly captures his invaluable knowledge and comprehension of the client-therapist connection.
The book comprises thought-provoking case studies and over 80 crucial pointers for new psychotherapists.
This, among the mental health counseling books, is excellent for professionals starting their journey. It contains insightful information on important therapy topics like identifying personal biases, performing home visits, and individualizing the therapy process each time.
This third book, among the books on psychotherapy and counseling, compiles some of the most effective techniques that therapists treating depression and anxiety can use. More than 50 client handouts, unique step-by-step treatment plans, and downloads are included for therapists to use daily.
The book Treatment Plans and Interventions for Depression and Anxiety Disorders serves as both a therapist's manual and a rich source of theory. It widens treatment to encompass more innovative therapies and centers on cutting-edge discoveries in the discipline.
Another one of the books on psychotherapy and counseling is "The Practice of Child Therapy". It compiles child therapy research and detailed treatment regimens for various ailments.
This book will guide readers through essential topics like attention deficit disorder, academic underachievement, behavioral issues, childhood obsessive-compulsive disorder, autism spectrum disorders, and intellectual impairments by authors Richard Morris and Thomas Kratos.
The one in the top psychotherapy books includes different therapy philosophies, case studies, empirical discoveries, psychopharmacology, and CBT procedures. It is a well-liked option for students interested in child therapy and therapists beginning their careers with children.
The fifth one on the list of mental health counseling books is 'Counseling Children: A Practical Introduction'. This book is a helpful manual for therapists working with patients with emotional and interpersonal difficulties in childhood.
The book covers topics like setting up a successful strategy and specifying the objectives of therapy, figuring out the contributing components to the current issue, incorporating play therapy into the sessions and evaluating its efficacy in the given scenario, multiple types of child counseling, enhancing one's own fortitude and adaptability.
Worksheets from the book are also included for therapists to utilize in sessions or assign to patients at home. This book covers various issues in child psychotherapy and is organized logically and succinctly overall.
Behavioral experimentation is one of the most essential and effective cognitive therapy intervention forms. However, there hasn't been a volume to help therapists who want to plan and carry out behavioral trials until today.
This one in the list of books on psychotherapy and counseling will be of great use in the real world because it includes examples from more than 200 behavioral tests.
The first two chapters offer a theoretical and practical framework for the comprehension and advancement of behavioral studies after an introduction by David Clark. The subsequent chapters of the book then concentrate on specific problem areas. These include issues like depression and anxiety disorders, which have traditionally been the focus of cognitive therapy, and issues like bipolar illness and psychotic symptoms, which have only recently become research topics.
These and other inquiries are addressed in Essential Research Findings in Counseling and Psychotherapy, which offers students, professionals, and researchers a thorough introduction to the most recent research in the field. The book lays out the evidence for therapy's efficacy and the variables linked to successful therapeutic results without using jargon. This text is perfect for training since it offers recommendations for additional reading, definitions of essential topics, and discussion questions.
This book in the list of mental health counseling books is also intended for professionals who must provide empirical support for their therapeutic interventions in a growing number of cases. Thanks to Essential Research Findings in Counseling and Psychotherapy, they have the knowledge and assurance to carry out that task. It also makes study findings available and offers guidance on how to put them into practice in counseling and psychotherapy.
Another one at the top is 'Feltham, C. (2010) Critical Thinking in Counseling and Psychotherapy". The critical discussions surrounding important issues in counseling and psychotherapy are examined in Critical Thinking in Counseling and Psychotherapy. Colin Feltham examines and cross-references 60 intriguing questions essential to counseling training and practice in nine sections, including Everyday Counseling Practice, Training and Curriculum Issues, and Counseling, Society, and Culture.
Case studies, reflection questions, and student exercises are all included in each unit. Lecturers can use this thorough, accessible text to pique discussion in seminars and by all trainees who want to write essays or improve their critical thinking skills in counseling and psychotherapy.
Using a story as a medium for teaching the dynamics of psychoanalysis could not be more apt. This book has also made the list of mental health counseling books written by Kerry L. Malawista, Anne J. Adelman, and Catherine L. Anderson. They invite readers to explore the intricate foundations of the psychoanalytic profession and its esoteric theories by sharing humorous, moving, and occasionally challenging stories from their personal and professional lives.
These working analysts demonstrate how to apply psychodynamic ideas and locate universal truths at the core of human experience through their narratives. Their method demystifies complex information and the psychological effects of in-depth clinical treatment. The book discusses psychodynamic theory, the evolution of concepts, different therapy modalities, treatment challenges, and the experiences of trauma and loss. An overview of one person's life precedes each segment.
Before starting such work, anyone leading a group of any kind must be proficient in all the key concepts and practical techniques covered in this article. Yalom and Leszcz have assimilated and transformed the most recent studies on the subject and older ones into a fascinating and illuminating reading experience. The fundamental mechanisms needed for group change will be revealed to the reader. There are also strategies for handling problematic group members and instructions for carrying out essential tasks. This one, among the psychotherapy books, has a lot of practice as well as a lot of words.
Takeaway: 
So these were some of the mental health counseling books that might be helpful for you.
Mental health regulation is challenging work. Proper guidance can help you achieve your goal. You just have to develop patience and trust the process. If you trust your treatment, it will show the results faster.
In the entire process of mental health counseling, developing trust in your counselor or health professional is very important. You'll find it easier to open up to them if you trust them. Going through these psychotherapy books will also help you understand your counselor better.
Also, being a counselor or mental health professional requires much hard work. A high level of understanding must be developed to deal with the patients. They must make their patients trust them, which is only possible if they are good at their jobs.
Nowadays, therapies are being provided both online and offline. Click here to know more.
Subscribe to your mental health pal to know more about mental health issues.