It's 2022 right now, and we are living through a pandemic that has changed how we see the world! The gloomy cycle of the news refuses to stop as the emotional burden of these testing times adds up. Clearly, there is no shortage of stressors around, and we are all just one stop away from a meltdown.
The tips of all your pens are chewed up. When you are stressed, you take off that bracelet or ring and put it back on. You slip your shoes under the table and then drag them out. You repeatedly run your hands through your hair and crack your knuckles.
To cut the long story short, clearly, not all of us have the ability to go for a massage or read a book, or just take some time out to chill when we are feeling down. That's exactly where stress reliever toys come in.
Remember those fidget spinners and squishy balls that you waved off as a trend?
Well, it turns out they actually work.
So, to give a break to your teeth from the ardent chewing of pen tips, let's de-stress with the best stress reliever toys instead.
What Are Stress-Reliever Toys?
Relaxation plays a crucial role in everyone's life nowadays. Stress-release toys act as a great relaxation technique as they have the potential to cut down your negative energy while recharging your head with some presence of mind. Stress relief toys for anxiety are now widely becoming popular on office tables, homes, and other workplaces.
While numerous toys are classic stress busters, the new age stress-reliever toys help release your mental tension and calm your mind. Nowadays, these toys have become a new approach people use to handle stress.
How Do Stress Reliever Toys Help In Reducing Stress?
Stress is caused by a rush of hormones such as adrenaline and cortisol. These hormones provide us with the immediate energy to fight when danger arises. Since these hormones get constantly turned on for our safety, they could cause our bodies to overload and face a mental breakdown.
Hence, it becomes essential to distract our minds through regular stress toys and lower our stress levels. These toys can distract your focus from work and reduce your stress levels.
Research by Physics.org shows that minor distractions can help relieve stress and increase productivity.
Now, you might wonder that a quick game on your phone might also be a good distraction. Because pfft! Distractions can be anything, right?
Well, no.
A key differentiator between stress reliever toys and other distractions is that these toys are used just for the enjoyment of the experience they give. Hence, going by this logic, playing a game on your phone might not be as helpful as a stress ball or fidget spinner.
13 Stress-Relieving Toys That Should Be A Part Of Your Collection: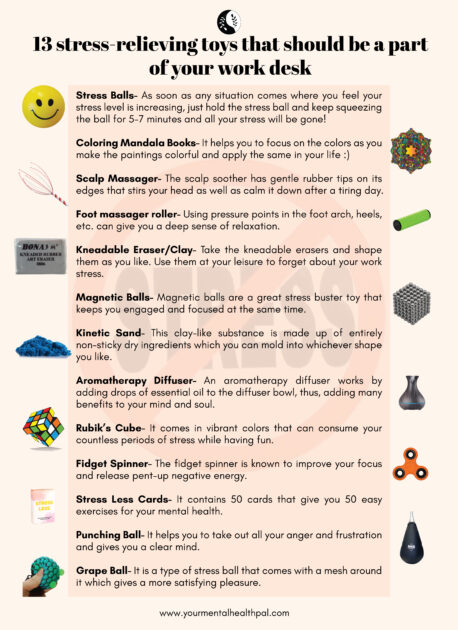 Stress toys are the need of the hour. They help students, employees, and many other people who suffer from stress-related issues daily. At a time when stress-related issues are constantly increasing, we can use all the help we get.
Let's explore some of the best stress-relieving toys that can be taken with you everywhere you think you would need them.
1. Stress Balls
Stress Balls are common stress reliever toys for adults. It is based on a simple technique to kill your stress and uplift your mood. Dr. David Posen, a notable stress expert, told HuffPost that squeezing releases some kind of energy that induces relaxation.
The best part about stress balls is that they are small and portable. You can carry one easily and keep it wherever you want to: in a school bag, on your office desk, etc. It comes in varied shapes, colors, and sizes that can perfectly fit in your palms. As soon as any situation comes where you feel your stress level is increasing, just hold and keep squeezing the ball for 5-7 minutes, and you will be able to see the results.
2. Coloring Mandala Books
If you haven't tried a coloring book since school, this is the right time to start. Coloring books make for one of the best stress reliever gifts for kids and adults both.
They help you clean your mind of unnecessary thoughts and calm down your nerves. As you go on coloring paintings, you might be able to let go of the stressors. Coloring books also aid in focus.
3. Scalp Massager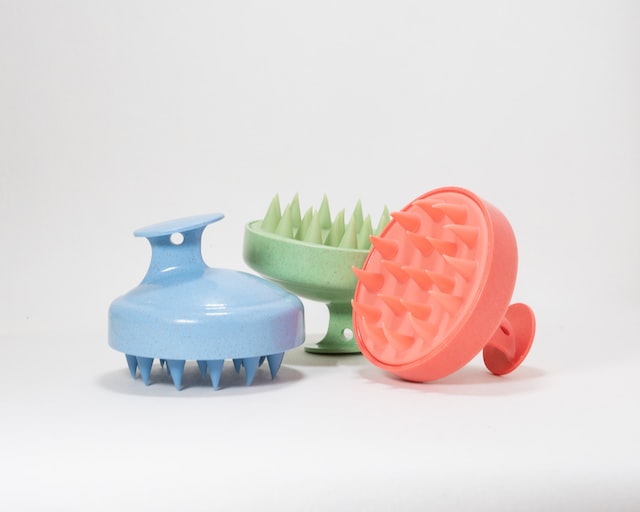 A scalp massager is among the best stress reliever toys for work. A study by In-Hong Kim shows that a scalp massager helps reduce your stress and regulates your blood pressure and heart rate. The scalp soother has gentle rubber tips on its edges that stirs your head and calm it down after a tiring day. It also promotes scalp wellness at the same time.
4. Foot Massager Roller
Acupressure massages can be one of the best stress relief toys. Using pressure points in the foot arch, heels, etc., can give you a deep sense of relaxation. Even when tired, spending 10-15 minutes with the roller is a big plus for your stress reduction. It is light and highly portable; hence, it can be carried easily to your workplace as well.
5. Kneadable Eraser/Clay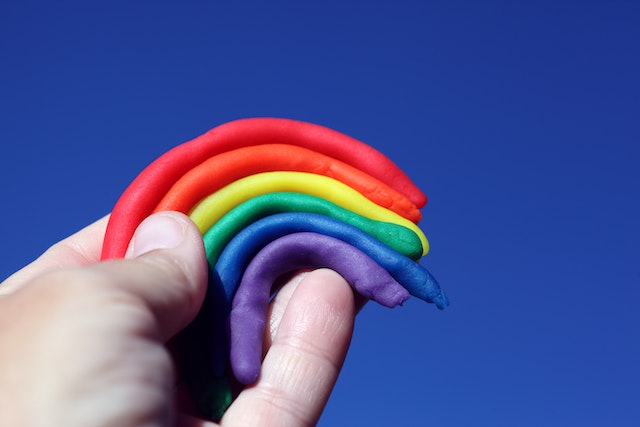 Are you stressed and fidgety? Try out kneadable erasers or clay for your stress relief.
Yes, clay is not only for kindergarten children. Adults use them too. Take the kneadable erasers and shape them as you like. They come in different shapes, colors, and sizes and are not pricey. Use them at your leisure to forget about your work stress.
6. Magnetic Balls
Magnetic balls are great stress relief toys for anxiety that keep you engaged and focused simultaneously. They can be built in any shape and give your mind an excellent sensation when smashed off. Chill down, relax and give yourself a chance to calm down with these magnetic balls.
7. Kinetic Sand
This clay-like substance is made up of entirely non-sticky dry ingredients, which you can mold into whatever shape you like. Sand is available in different colors to help you bring out your inner creativity and calm and soothe your mind.
It is suitable for individuals looking to create shapes and figures and give their minds minutes of distraction from mundane work experiences.
8. Aromatherapy Diffuser
An aromatherapy diffuser works by adding drops of essential oil to the diffuser bowl. The diffuser is then switched on, and the vapor of the concoction released into the air can calm your mind. Most diffusers come with a USB cable and can be conveniently attached to any socket to improve your concentration. This precious stress-reliever toy can add many benefits to your mind and soul.
To know more about integrating aromatherapy into your daily yoga practice, click here.
9. Rubik's Cube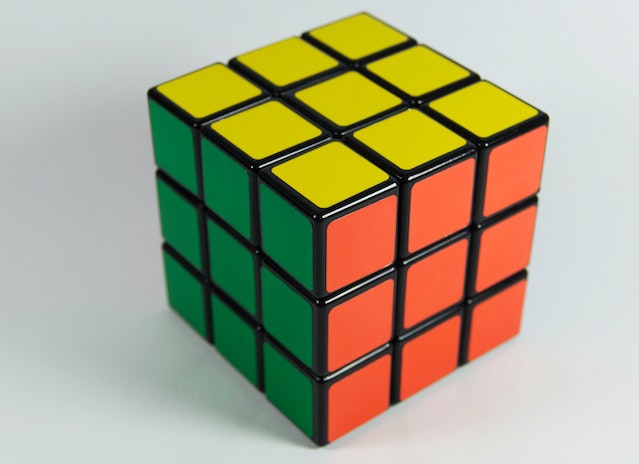 You must be aware of what a classic Rubik's cube looks like. It is one of the highly entertaining stress relief desk toys that you just can't miss. It comes in vibrant colors that can consume your countless periods of stress while having fun. It is a must-have among various other stress relief toys for anxiety.
10. Fidget Spinner
The Fidget spinner is one of the all-time popular stress relief fidget toys. There is no way this list would be completed without this pocket-friendly stress-buster. The fidget spinner improves your focus and releases pent-up negative energy. This is a silent tool and, unlike other toys, cannot catch your boss's/teacher's attention so spin it at your own pace.
11. Stress Less Cards
A professional mindfulness teacher creates these cards. It contains 50 cards that give you 50 easy exercises for your mental health. It includes meditation techniques, a first-aid kit, and other games to soothe your mind and give you a healthy headspace.
12. Punching Ball
For high and quick stress relief, try a punching ball. It helps you take out all your anger and frustration and gives you a clear mind. When combined with gloves, this toy can provide strength to your muscle and balance your brain to come to its mindfulness.
13. Grape Ball
The grape ball is a meshed-squishy ball that comes in many vibrant colors to keep you attracted and engaged. You can keep it on your work desk and squeeze it whenever you feel stressed out. It is a type of stress ball that comes with a mesh around it, giving a more satisfying pleasure. With time, it can become one of your favorite stress relief desk toys.
Conclusion
According to the American Psychological Association, almost three-fourths of adults face stress-related symptoms, including sleep loss, tiredness, and frequent headaches. At times like these, it is helpful to have healthy coping habits to fall back upon.
We hope this list of stress reliever toys will help you manage your stress effectively.
Now that you know about stress relief toys, let us take you to another great of reducing your anxiety and stress. To learn more about art therapy activities for stress relief, click here.
To know more about mental health, subscribe to Your Mental Health Pal.