There are some things constantly associated with worse mental health and stress. And guess what tops that list?
Our mobile phones.
Yes, we know you love your phones. But if you were to be true, you would admit that the meeting schedules, online classes, and constant notifications stress us out. And adding to this is the overwhelming burden of putting the best foot forward on Instagram.
You are flooded with wellness messages like turn off those notifications prompting you to switch off your phones. This got us thinking about how we can make technology work with us to fight against stress and anxiety.
Do you know that you can use your phones to reduce stress and anxiety? Do you know that your phones can be a great self-care tool?
Well, don't worry. We went through a myriad of mental health games and activities online to find you the 13 best ones.
Can gaming be good for mental health?
But firstly, let us know can gaming really be good for mental health?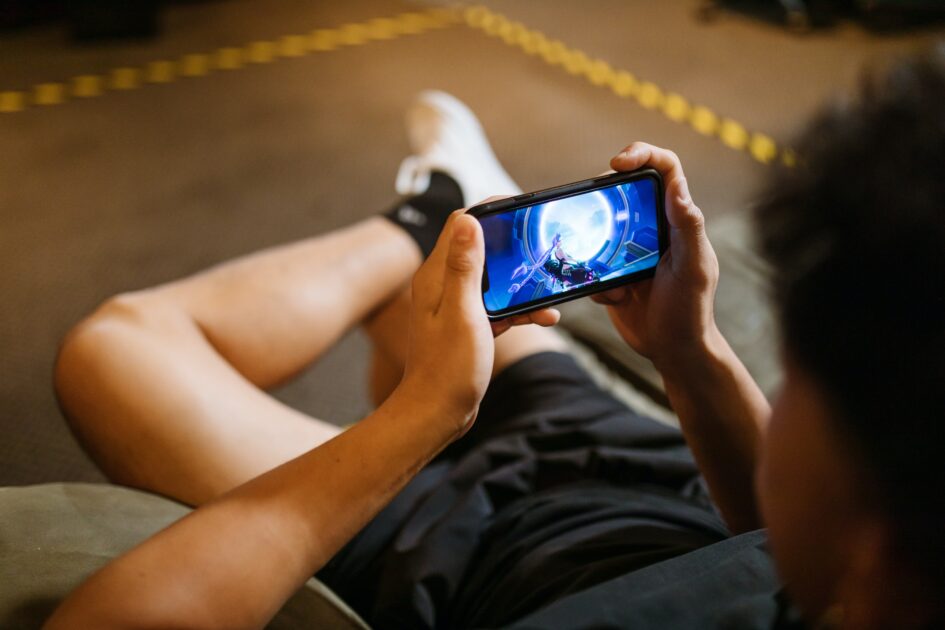 A lot of noise prevails around how gaming affects mental health adversely. However, contrary to the popular belief, there is a small but significant positive correlation between playing games and mental wellness. A study published by the Royal House Society proved that players were more motivated and focused when they knew they were about to play a game. This meant that the idea of playing a game was related to mental well-being. Researchers also found blending talk therapy with gaming leads to better results.
However, this is not new. Earlier, too, people have preferred fidget spinners and weighted blankets to relieve stress and anxiety.
Regardless of the types of games you play, they can act as a positive distraction from your daily problems. In every game, there are a set of goals and objectives. When you reach these goals, they provide you with a sense of satisfaction. They have lasting effects on moods and brain activity.
Let's get you started with the top 13 mental health games and activities online.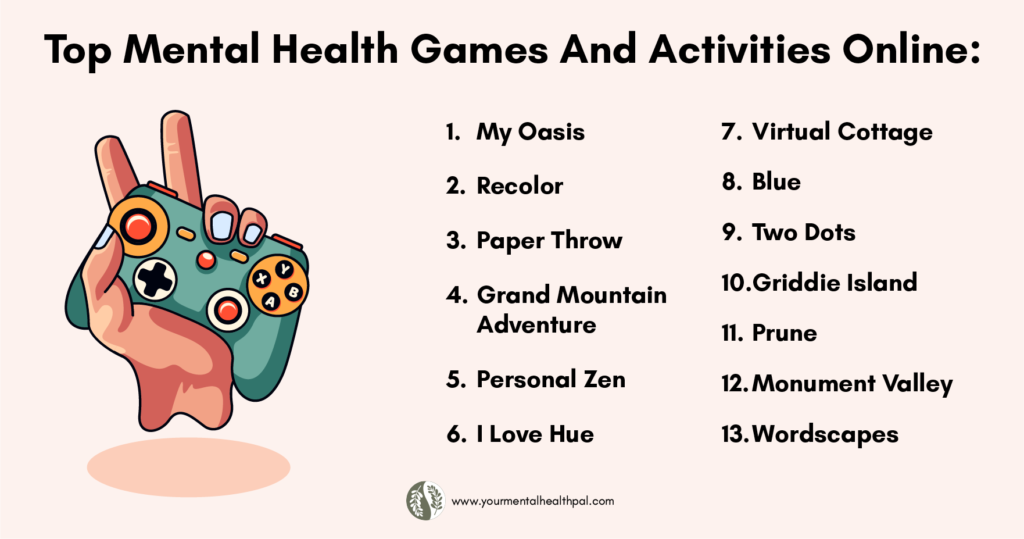 1. My Oasis
Available on: iOS + Android
Cost: Both free and paid versions available
Remember that childhood dream of having your own island? Well, with My Oasis, you can achieve right that. This game is all about building your very own little island. The island is not large and overwhelming. And, you can easily find the pieces you need.
You can fill your islands with plants and animals and watch them grow. The game allows you to interact with them through musical chords which are soothing and peaceful. The whole idea of a world growing under your care and music feels therapeutic.
2. Recolor
Available on: iOS + Android
Cost: Both free and paid versions available
Studies have linked painting and coloring to emotional well-being and improved memory skills. Recolor is an adult coloring book app. This free digital color book is a great way to unwind. Enter a world of colors as you paint your worries away. The app has a complete set of digital colors that lets you revisit your childhood minus the mess you made. The app has more content in the paid version that you can buy if you feel you need a little bit more painting experience.
3. Paper Throw
Available on: iOS + Android
Cost: Both free and paid versions available
The mini basketball version that we played in our schools of attempting to throw a paper into the dustbin is now an online game. So, if you feel like you need to take a break, play Paper Throw. The feeling of aiming at a crushed paper, albeit virtual, at a bin is satisfying. There are different levels of the game. You can change the environment you want to keep your bin in. This is one of the best mental health games and activities for students. However, the game is highly addictive. So make sure you keep track of your time playing.
4. Grand Mountain Adventure
Available on: iOS + Android
Cost: Both free and paid versions available
Grand Mountain Adventure lets you explore beautiful and serene mountains while completing different challenges. The strength of the game is undoubtedly its calm and soothing music. Adding to this, the beautiful design and feel of Alpine forests create a peaceful environment. This is one of the go-to mental health games and activities for adults to relax and unwind after a tiring day. 
5. Personal Zen
Available on: iOS + Android
Cost: Free
Personal Zen is one of our favorites on the list. This app has been created with the help of professionals to help people battle emotions and stress. This game is relief personified. It redirects your attention toward the positive things in life. The coolest part, it allows you to journal and track your moods in the same app.
6. I Love Hue
Available on: iOS + Android
Cost: Free
I Love Hue is your journey into color and perceptions. The game has different levels. However, the primary aim is to arrange similar tiles into a perfect spectrum. You will love the game if puzzles or colors are your things. 
7. Virtual Cottage
Available on: iOS + Android
Cost: Free
All of us wish to have that one perfect room of our dreams. Virtual Cottage helps you design that one perfect working space for yourself online. It has a simple cozy design. The main purpose of Virtual Cottage is to track tasks. Players can assign themselves tasks for a particular duration. The timer, once started, cannot be paused. This is to increase the dedication toward the task at hand. The best part about this game is the long list of lo-fi music you get to choose from.
8. Blue
Available on: iOS + Android
Cost: Free
If blue is not your favorite color, then this is the perfect game for you. The game's main aim is to change the color of the screen to anything but blue. Blue is a short but highly engaging game. The puzzles are designed in such a way that they are intriguing and not annoying. 
9. Two Dots
Available on: iOS + Android
Cost: Free
The game is basically connecting the dots but with points, level-ups, and spunky music. The game lets you sway your focus away from the stress and onto the dots. There is a time attached to each level. However, you can opt out of the timer and play the game as fast and slow as you want.
10. Griddie Islands
Available on: iOS + Android
Cost: Both free and paid versions available
Griddle Island is one of those absolutely weird games that you will grow to love. It is the super mega version of Tetris. The game lets you merge Griddies (Tetris-like pieces) to create structures on the islands. The structures, in turn, attract fleas which gives you virtual money. We told you! It is weird but super relaxing. 
11. Prune
Available on: iOS + Android
Cost: Paid
One of the best ways to de-stress after a hard day would be playing Prune. Soothing music, beautiful design, and a gripping storyline make Prune one of the best in the genre. The game is centered around a Bonsai Tree that can be trimmed into any shape. As you start on the journey of designing the tree, you continue to unlock the storyline.
12. Monument Valley
Available on: iOS + Android
Cost: Paid
Monument Valley is an optical illusion puzzle game. The main goal is to navigate the princess through this illusion. The color scheme and gentle chimes in the game's music have a calming effect attached to them. 
13. Wordscapes
Available on: iOS + Android
Cost: Free
As the name sounds, Wordscapes is a word game that helps your mind relax. It has different challenges like anagrams and crosswords daily. As your mind worlds through the puzzles, it will begin to relax along with the scenic background of the game. There are unlimited chances, hence no pressure of losing or getting kicked out.
Conclusion
Gaming, as the activity we know, is evolving and changing completely. The technologies are changing the world of gaming for the better. And now that smartphones are such an integral part of our lives, it is essential to put this technology to good use. The next time you feel stressed or just worked up, try one of these top mental health games and activities online. You might find yourself reaching closer to what Master Shifu tried so hard to conquer in Kung Fu Panda- inner peace.
However, these mental health games and activities online are not a substitute for proper professional help. Consider getting professional therapy if you feel you are dealing with mental health issues that are much deeper. Therapy is a powerful tool for such issues. Now you can get mental health therapy right from the comfort of your home. To learn more about the best online therapy platforms, click here.
To know more about self-care tips and mental health, subscribe to Your Mental Health Pal. Get access to premium products to up your self-care game at the Ultimate Mental Health Shop today!