Have you ever felt like every day is the same?
There is no excitement or pleasure as you aimlessly drift through mundane existence with no ambition, simply spending the time, not living, just existing. These feelings are normal and, in some amount, even expected. Nobody can feel inspired, recharged, or motivated 24/7.
Morning motivation quotes are a must-have in this fast-paced world. These quotes are free and scattered over the internet. These short motivational quotes are also easy to digest and have life lessons that are easy to digest. Successful people use exercise, meditation, affirmations, and deep motivational quotes to achieve a positive mindset for the day ahead.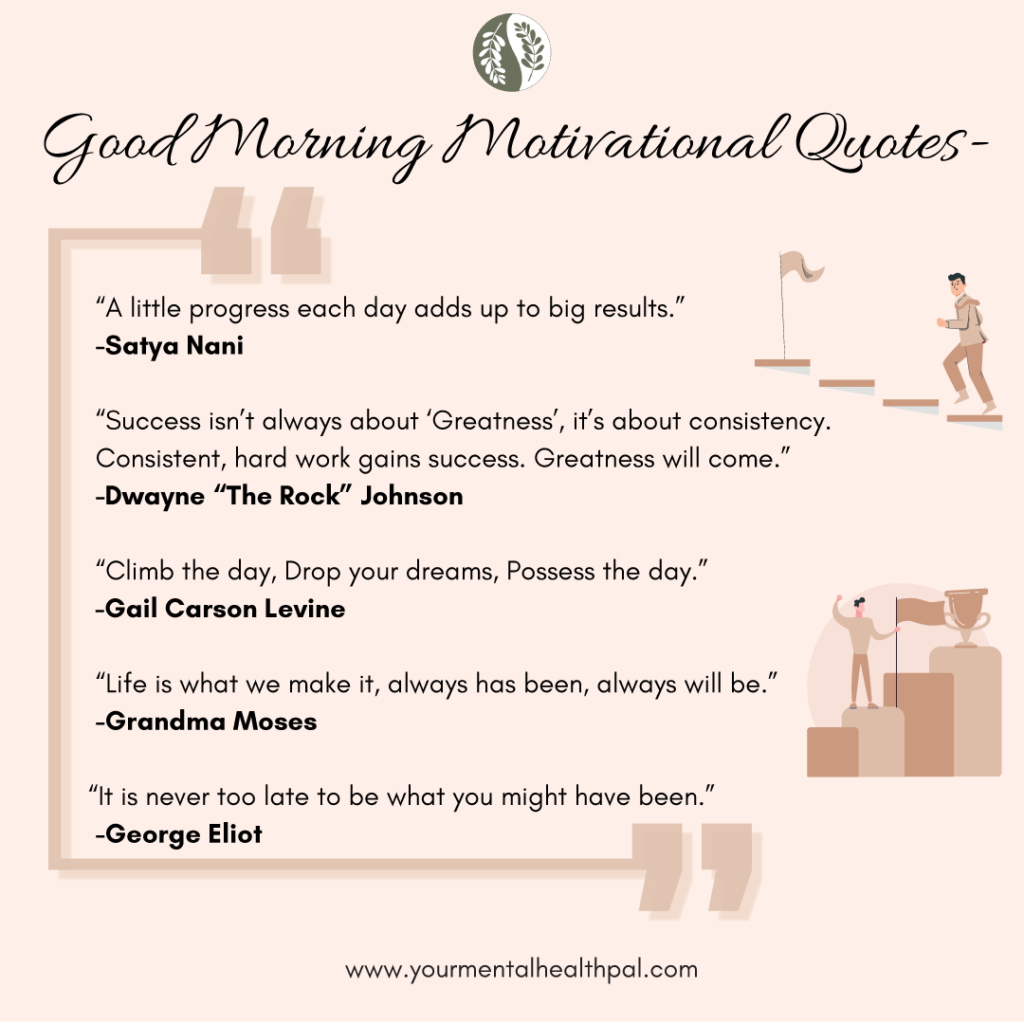 Every day is a new opportunity to improve your life. The track of your day is determined based on how you spend the first hour after waking up. Inspirational quotes engage your mind, provoke action and lead to a more active thought process throughout the day.

Morning Motivation Quotes and Affirmations can help you change your mindset and be better prepared for dealing with the challenges life throws. They help calm you, provide insight into psychology, inspire kindness, inculcate mindfulness practice, and make your mornings shine more. A journal can help you record and revisit your favorite quotes anytime and show your unique tastes and personality to your friends. Good morning motivation quotes and positive mantras motivate you and help start the day with wisdom and foresight.

You can understand the value of inspirational quotes better by implementing what you learn from them. Motivational thoughts are golden nuggets containing the condensed experience of perhaps the most extraordinary people on this planet. On that note, here are some deep motivational quotes to inspire and help you start a splendid day.
Top 17 Good Morning Motivation Quotes
1. "The secret of change is to focus all your energy not on fighting the old but on building the new." — Socrates
Creating new positive routines is more accessible than changing old negative patterns. Positive motivation focuses on building new habits, rituals, and life visions rather than removing the old ones. It is the best way to produce long-lasting tangible results.
2. "The sun has not caught me in bed in 50 years." — Thomas Jefferson
Every new morning is an adventure waiting in disguise. You can laugh, dream, live, and do anything with your morning energy. It's the best time to seek your passions and fulfill your deepest desires.
3. "Given another shot at life, I would seize every minute of it … look at it and really see it … try it on … live it … exhaust it … and never give that minute back until there was nothing left of it." — Erma Bombeck
Seize the day, remind yourself of all you've wanted to do and all you've regretted not doing every morning. Let bygones be bygones, and do things that make you happy.
4. "There is something magical about the early morning. It's a time when the world belongs to only those few who are awake. And we walk around like kings while others remain unseen in their beds." — Shawn Blanc
We have all heard the age-old saying, "Early to bed and early to rise makes a man healthy, wealthy, and wise." People who wake up in the morning have an advantage over those who remain asleep. They enjoy a fresher and more vibrant slice of life, leading to better motivation and daily performance.

Remember that a good morning starts with a good night's sleep. You can take steps to ensure quality sleep by sticking to a particular time each day. Guided sleep meditation might help you improve your sleeping experience.
5. "This is a wonderful day. I've never seen this one before." — Maya Angelou
Gratitude is essential to mental health and developing a positive attitude. One way of practicing gratitude is remembering how you overcame the challenges life has thrown at you so far. You can use journaling prompts or gratitude apps to develop a sense of gratitude and feel good every day.
6. "When you arise in the morning think of what a privilege it is to be alive, to think, to enjoy, to love" — Marcus Aurelius
In the hustle of daily life, we often tend to forget how blessed we are to be alive, to be able to sense and think, and to coexist within the universe and the people around us.
7. "Morning without you is a dwindled dawn." — Emily Dickinson
You can also dedicate your morning to loved ones, family, or significant others, making time for them and showing appreciation for them being in your lives.
8. "If you want to change the world, start off by making your bed." — Admiral William H. McRaven
This famous quote by the U.S admiral reminds you that every success is based on small habits and daily routines. You can also set practice for each day and pave a path to success by accumulating the efforts you've put in.
9. "Whether you think you can or think you can't, you're right." — Henry Ford
Your beliefs define who you are and, more importantly, who you can be. It is essential to set realistic goals. Still, you can also look for improvement and self-actualization and become aware of your abilities by acting on your ambitions rather than thinking about them.
10. "Make each day your masterpiece." — John Wooden
You may feel like going through life in a "devil may care" fashion, but planning and strategic thinking are essential to any successful person's routine. Positive changes do not simply happen but result from constant effort, perseverance, and willpower. You can craft a life you're proud of and satisfied with through dedication.
11. "Our greatest glory is not in never falling, but in rising every time we fall." —Confucius
To rise every time we fall takes real courage. Nobody is perfect, and we are prone to falling short of a few of our goals. But perseverance and discipline can get you across many pitfalls in your life, work or career. These qualities are the backbone of motivation and hence achievement.
12. "An early-morning walk is a blessing for the whole day." – Henry David Thoreau
You cannot compromise your physical health if you wish to make the best of your day. Physical well-being is linked with happiness, and a morning walk may well be the blessing of a lifetime.
13. "By waking up 30 minutes earlier than usual, you can transform and energize your morning and your life." ― Shawn Wells
Waking up earlier and reading is an excellent way to start your day. It also gives you more time to plan your routine according to your priorities.

You can start your day with some Yoga to feel safe and secure and reduce anxiety.
You can also go out there and get some sunlight. More sunlight leads to better mental health and well-being. Don't believe this? Click here to find out more.
14. "If you want to make your dreams come true, the first thing you have to do is wake up." – J.M. Power
You often get lazy and press the alarm's snooze button; it happens to everyone. But self-discipline is one of the pillars of happiness. Facing challenges and discomfort enables growth and can make your wildest dreams come true. You can set up a morning routine to make a huge difference with little investment.
15. "Don't judge each day by the harvest you reap but by the seeds that you plant." – Robert Louis Stevenson
Working while everyone else is fast asleep or trying to establish a healthy routine certainly aren't pleasing tasks. But you should judge the value of this work by the possible returns from your efforts. Doing this will make your life much easier up ahead, as your effort bears fruit.
16. "It is not a daily increase, but a daily decrease. Hack away at the inessentials."― Bruce Lee
Every day is a challenge and an opportunity. The challenge is to do one thing less, drop a bad habit, and let go of an old obsession. We must learn what holds us back and pushes us ahead and only support the latter. Accepting yourself as you are is better than trying to be someone else. You can identify your values and develop greater self-awareness to do the same.

Every day does not need to be the best or feel good. If you keep making a sincere effort, you will surely reach your happy place and have the perfect morning.
17. "Happiness can be found even in the darkest of times, if one only remembers to turn on the light." — Albus Dumbledore
No matter how bleak and terrifying the night gets, a new day always comes. You can always look to the future for hope and plan. Your efforts will bear fruit and make your coming mornings more beautiful.
This splendid thought is brought to you by the wholesome Hogwarts professor Dumbledore. For more lessons from Hogwarts, click here.
Conclusion

Morning Motivation quotes make us see new insights, inspire us for the day ahead, and enrich our lives with new possibilities.

Now that you've begun to understand and harness the power of inspirational morning quotes, you can keep advancing towards a healthier and happier lifestyle. One essential step towards a better life is establishing critical habits as a part of your daily routine. For a book recommendation to start your journey in pursuing better habits, click here.

Subscribe to Your Mental Health Pal for better mental health advice and tips to make your day better, brighter, and happier.