Don't we love a high rush of energy and the courage to take risks?
The adrenaline rush gives us wings. And then we turn to take a sip of red bull in the hope that it will give us wings.
What is a red bull?
This is a type of energy drink.
Many energy drinks are being consumed by people, especially adolescents, for energy boosts. They stimulate the brain and give a sudden rush of emotions, energizing us.
So, are these energy drinks good for our bodies and minds? What are the psychological effects of energy drinks?
Before that, let's first learn what energy drinks are and what they are made of.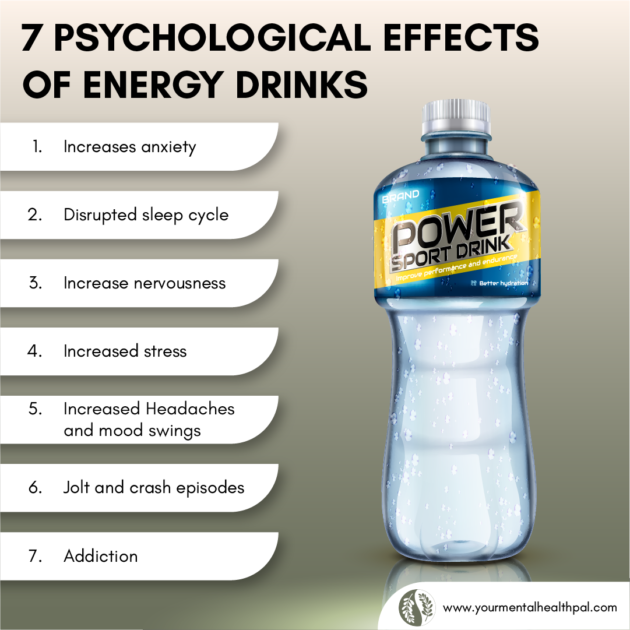 What Are Energy Drinks?
Energy drinks are frequently marketed to boost vitality, mental clarity, and physical performance. In addition to sugar, other sweeteners, herbal extracts, taurine, and amino acids are present; they may or may not be carbonated. They are different from sports beverages, which are promoted as enhancing athletic performance.
Energy drinks are the most popular beverages consumed by American teenagers and young adults, second only to multivitamins. Most energy drink consumers are men between the ages of 18 and 34, and about one-third of adolescents of the ages of 12 and 17 frequently take them.
Energy drink items come in two different categories. One is sold in bottles roughly the same size as typical soft drinks, and the other is known as "energy shots." Typically, energy drinks do not include coffee, tea, or other naturally caffeinated beverages. Even though other soft drinks like cola may contain caffeine, they are not considered energy drinks. The primary source of caffeine in energy drinks is a plant known as guarana. Caffeine, abundant in this plant, stimulates the heart, muscles, and nervous system.
Red Bull, 5-Hour Energy, Monster, AMP, Rockstar, NOS, and Full Throttle are examples of popular energy drink products.
7 Psychological Effects Of Energy Drinks
According to the Centers for Disease Control and Prevention, In 2011, 1,499 adolescents between the ages of 12 and 17 visited the emergency room due to an incident using an energy drink.
Among the risks associated with energy drinks is :
Dehydration
Cardiac condition
Anxiety
Insomnia
When understanding the effects of energy drinks on the body, the primary active element that needs to be considered is caffeine which shortens and degrades sleep. According to a study by a nutrition journal, high levels of stress, depressive mood symptoms, and suicidal conduct in teens who often drank energy drinks may be due to the mood swings and irritability brought on by caffeine overdose or withdrawal. Excessive consumption of these will have you face energy drink side effects.
1. Increases Anxiety
There are various psychological effects of energy drinks, one of which is anxiety. Anxiety is the most prevalent negative effect associated with guarana. The central nervous system (CNS) is stimulated by caffeine, which raises blood flow and heart rate. Inappropriate consumption may result in bodily symptoms such as agitation, palpitations, anxiety, and heart palpitations.
Sleep is an essential factor that maintains our well-being. A proper sleep schedule can help the body and mind stay energized. A person should have 7-8 hours of sleep.
Energy drinks' effects last up to 8 hours and can cause insomnia. Energy drink consumption increases sleep latency. A disrupted sleep cycle is bad for mental health.
3. Increase Nervousness
Since caffeine intake increases with the consumption of energy drinks, it leads to an increase in heart palpitations leading to nervousness.
People consuming high amounts of energy drinks develop shaky hands due to the negative effect of caffeine on cognition.
4. Increased Stress
Drinking sugar-sweetened beverages, such as most energy drinks, can cause blood sugar levels to rise, harming your health, particularly if you have diabetes.
Increased oxidative stress and inflammation levels, linked to almost every chronic disease development, have been linked to these blood sugar rises.
According to research by the mayo clinic, the consumption of excess energy drinks leads to the release of the stress hormone norepinephrine.
5. Increased Headaches And Mood Swings
High levels of stress, depressive mood symptoms, and suicidal conduct in teens who regularly drank energy drinks may be explained by the mood swings and irritability brought on by caffeine overdose or withdrawal.
6. Jolt And Crash Episodes
"Jolt and crash" events are another effects of energy drinks. A jolt and crash episode involves using an energy drink to get a quick boost of energy that lasts only a few hours before they crash and become incapacitated. Headaches and intense tiredness are common side effects of these crashes.
7. Addiction
A continuing desire to consume a substance or engage in a behavior, despite the negative effects, is a psychological disorder known as addiction.
To create flavor, beverage manufacturing businesses heavily rely on sugar. It's vital to limit the consumption of these energy drinks since if you start taking them excessively, they can become somewhat addicting, especially for teenagers, and they can face the bad effects of energy drinks on the body.
Conclusion:
After a long tiring day, you may grab a can of energy drink to feel the rush of emotions and feel fresh. There are certain good effects of energy drinks. They offer calming effects and lessen mental exhaustion. An energy drink's components work together to speed up your metabolism and give you more energy. The point here is excess consumption. Due to high levels of caffeine and sugar, there can be adverse psychological effects of energy drinks on your mind.
It is best to limit your use of these caffeinated cans as much as possible. They are incredibly damaging to your body and detrimental to your mental wellness. Keep an eye out for healthy substitutes, such as herbal tea, which can give you energy and is easy on the brain. Avoid sugar highs and make an effort to live a healthy lifestyle. A work-life balance is necessary to help you feel less sluggish and resist the urge to take an energy drink.
Like energy drinks, certain foods might make us happy on their consumption but prove bad for our mental health. To learn more, click here.
To know more about mental health issues, subscribe to Your mental health pal.