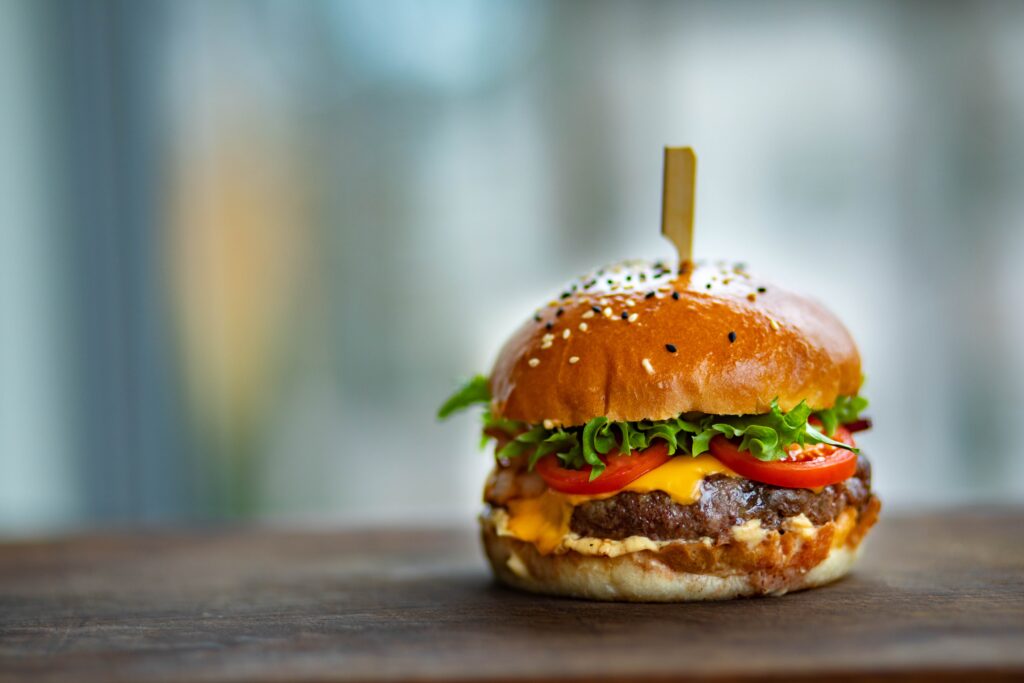 How are you feeling today?
"A bit stressed out today."
"Not bad, just really tired."
"Can't really seem to concentrate today."
"Just not with it today."
Do these responses sound familiar? Mostly when you ask someone how they are, you get these responses. Most of the time, the main reason for these responses is the high-stress hormone levels circulating in our bodies. Have you wondered how you can control these hormones simply through the food you eat?
When stressed or anxious, eating healthy might be the last thing on our minds. Food is either one of the things we must do from our agonizing daily to-do lists or a source of short-lived comfort. Moreover, we have almost always considered food a differentiator in our physical health.
But do you know there is a correlation between food and mental health? Do you know that there are certain foods bad for mental health? Caffeine, chocolates, alcohol, and the list goes on and on. These foods might make you instantly happy, but are they good for your mental health? Well, we did some digging, and here's what we found out.
How does food affect mental health?
You might have probably heard the phrase 'you are what you eat.' But do you realize that what you eat actually affects you? Yes, there is credible evidence that food and mental health are closely linked. And we are not just talking about the stress that occurs when you feel like you've eaten too much or too little.
Many of us consciously think about what we are eating all time. You wonder how it affects your heart, the environment, and whatnot. But we rarely think of its impact on our brains and mental health.
Nutritional psychiatry is a field dedicated to studying the relationship between food and mental health. Several breakthrough pieces of research in the field have been able to define how different foods affect mental health, for example:
A 2019 study by Qingyi Huang and team concluded that certain foods, especially antioxidants and other nutrient-rich food, can be for treating depression. Adequate folic acid and Vitamin B12 were also associated with preventing the risk of depression. Vitamin D deficiency led to an 8-14% increase in depression and an overwhelming 50% increase in suicide rates.
Another interesting fact is that 90% of serotonin receptors are present in the gut. These receptors are responsible for releasing serotonin and certain chemicals like dopamine and acetylcholine that significantly affect a person's mood.
Serotonin is produced from a chemical named tryptophan. It is found in milk, cheese, eggs, etc. Hence the amount of serotonin in your body is linked to the amount of tryptophan in your diet.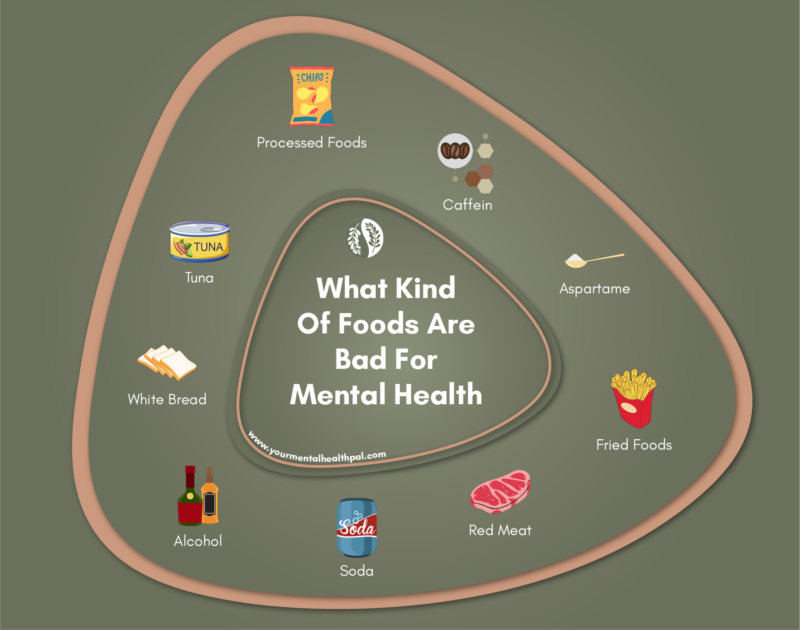 What Kinds of Foods are bad for mental health?
Now that you are aware of the direct connection between food and mental health let's talk about the foods bad for mental health. There are a lot of conflicting messages about what is healthy and what is not. Traditionally, the focus lay on limiting calories, then boomed the low carb-high protein trend, and currently, you may find health gurus singing praises for Kale smoothies and spirulina.
Lucy Jones, an award-winning dietician in a podcast, said that eating healthy didn't have to be costly or overwhelming. And all these latest food fads are best left unengaged. The primary goal should be to eat nutrient–rich and less processed food.
Now we don't believe in denying that there are enough difficulties in our lives without adding a few more! But here is a list of 9 foods bad for mental health that you should aim to limit for the adverse effect they have on your mind:
1. Caffeine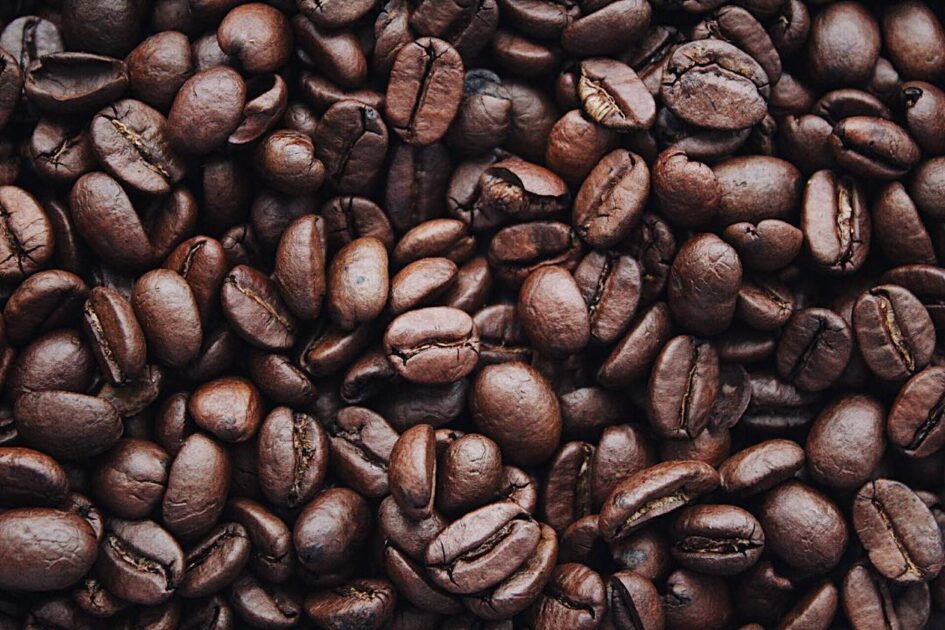 Caffeine is dehydrating in nature and disrupts sleep patterns when consumed in large quantities. Drinking too much caffeine can deplete your calcium and iron levels. Withdrawal symptoms of caffeine include anxiety, low mood, and irritability.
2. Aspartame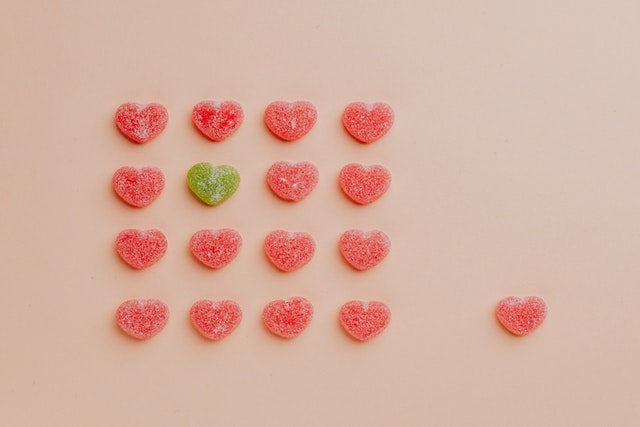 Aspartame is an artificial sweetener found in several food items like soft drinks, chewing gum, yogurt, etc. It elevates the presence of compounds like phenylalanine and aspartic acid that inhibit neurotransmitters like serotonin and dopamine. It can significantly disrupt the production of these mood-enhancing transmitters. Aspartame is deemed as a chemical stressor. It can increase oxidative stress in the brain.
3. Fried Foods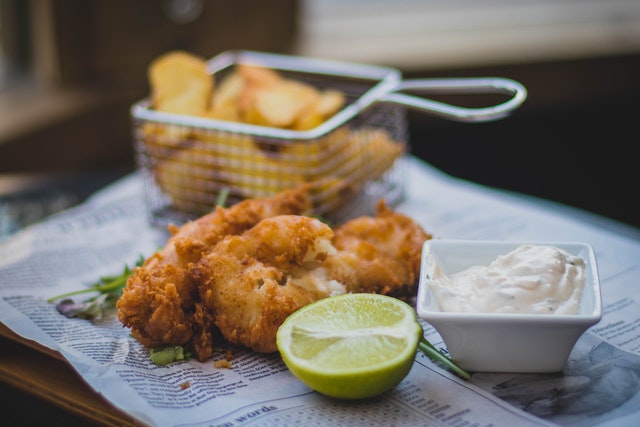 If you were worried that fried chicken or french fries would make you gain an inch or two, here is another reason to avoid them. Fried foods are bad for mental health.
In a study by the Journal of Nutritional Science, people who ate fried food scored negatively in cognitive tests that evaluated memory and function than the ones that didn't. By contrast, the ones who ate plant-based foods ranked higher.
4. Red meat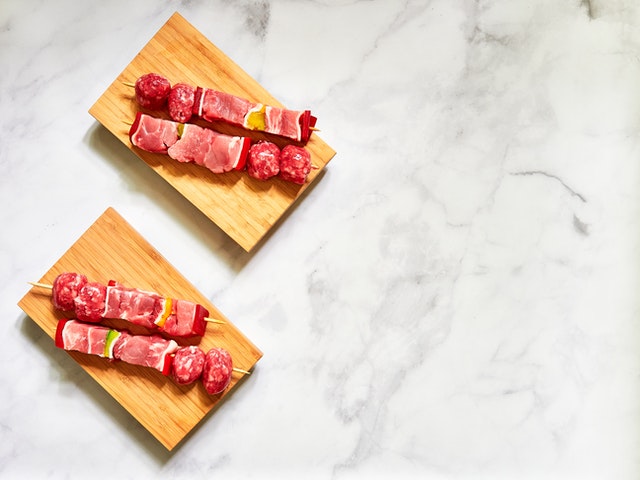 Scientists believe that red meat is one of the foods that are bad for mental health. The reason is the saturated nature of red meat that can lead to plaque buildup in the brain. According to research by Andrea M. McGrattan et al., saturated foods increase the risk of stroke and neurodegenerative diseases like dementia and Alzheimer's.
However, this does not mean you must completely cut down on red meat from your diet. Just keep the intake to less than 12 pounds a week, and you are good to go.
5. Soda
There is no nutritional benefit for gulping down soda, either regular or diet. The high amount of sugar present in it can lead to a spike in blood pressure which may eventually affect the brain. An NHS study has linked to consumption of soda to depression. The caffeine in some soda brands adds to the reasons why sodas are among foods bad for mental health.
6. Alcohol
Many people believe that alcohol, a depressant, might have a calming effect on the brain. However, this misconception backfires, and alcohol intake leads to fragmented sleep and increased blood sugar levels. It can also cause dehydration and physical hangover symptoms that might cause anxiety. Alcohol consumption also leads to depletion of Vitamin B, which causes low mood.
7. White Bread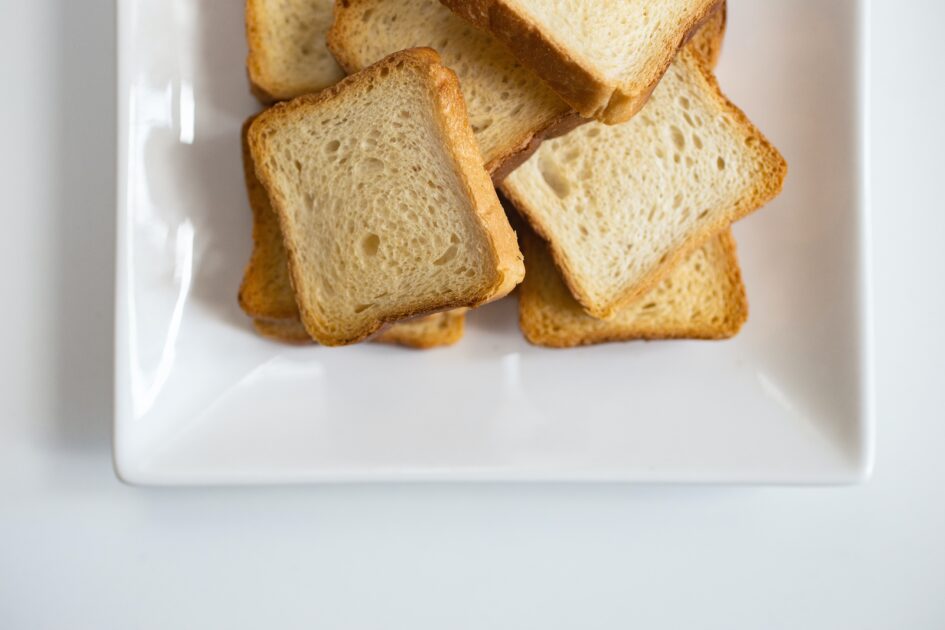 It is time to finally reconsider what kind of bread you use in your sandwiches every morning. White bread is made of heavily processed white flour, which eventually becomes sugar in your body. This might lead to energy spikes and lows that might be bad for depression and anxiety. But do not worry. Try switching your white bread with whole wheat one, and you are good to go.
8. Tuna
While an occasional intake of tuna fish sandwich might not be an issue, you might want to think twice if it is a part of your everyday meals. This is because tuna has higher mercury levels than any other seafood. A study published by Integrative Medicine showed that people with high levels of heavy metals in the blood had a 5% drop in cognitive function.
However, you do not have to banish tuna from your plate. 2-3 services of canned or fresh tuna (150g) are recommended by dieticians.
9. Processed Foods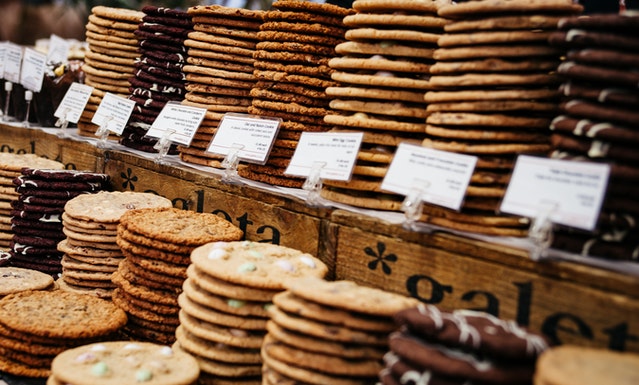 Foods that come packaged like ready meals or biscuits are processed foods. Although pretty convenient, processed foods have a low nutrient value. Health professionals advise eating fresh foods to provide adequate micro-nutrients to the brain.
Conclusion
Don't stress yourself out. We are not asking you to cut off these foods from your diet. We love a fresh cup of coffee and a pack of biscuits just as much as you do! However, we recommend cutting down the intake of foods that are bad for your mental health and adding brain-boosting foods to your meals as well.
Wondering what these brain-boosting foods are? To know about the best foods to fight depression, click here.
To build a supportive society and know more about mental health, subscribe to Your Mental Health Pal.