Have you ever struggled to make it out of bed for weeks on a stretch?
Have you gotten to a point where you have mentally given up on the day even though you are just getting dressed up for work?
Do you get stressed at the burden of your workload and constantly feel unproductive?
If you have answered yes to these questions, you might be dealing with workplace-related burnout. Burnout is what happens to you when the stress in your life goes beyond what you can manage. It affects your physical and mental health. This is why figuring out how to avoid burnout at work is essential.
An average person spends about 90,000 hours at work, which means 50% of their non-sleeping hours. When you spend so much time in one sector of your life, it is supposed to rejuvenate you, fill you with a sense of accomplishment, and make you feel happy. However, on the contrary, after the end of every work shift, most people end up feeling worse than before. 
Now, the Internet is filled with advice regarding how to avoid burnout at work. However, starting to make significant, life-altering changes while dealing with your work stress can feel like another struggle you don't want in your life. To help you start the process on a much smoother note, here are three easy and less intimidating ways to avoid burnout at work.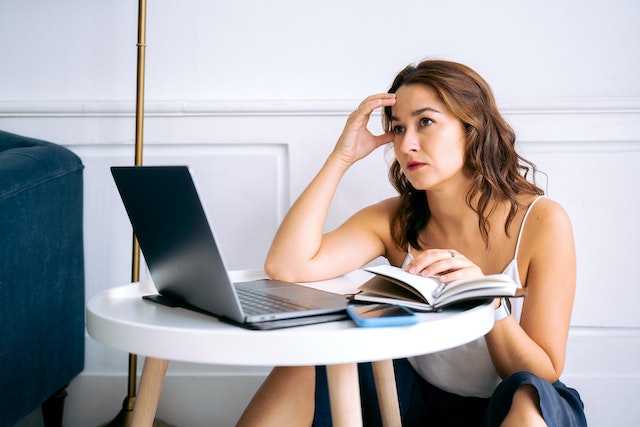 3 Effective Solutions On How To Avoid Burnout At Work
1. Look at the time you spend working.
The time spent working in the office is termed as work hours. You get up, reach the office, and get back home — a typical 9-5 job.
But hold on a second; the pandemic has altered the working structure of almost every office. Now we are:
working extended hours,
reachable outside of our work, and
take fewer breaks during work hours.
We need to understand that work hours don't just include the time you spend working.
Work hours = time spent working + time spent thinking about work.
Now before your boss starts to revolt against us, we are not advocating cutting down work hours. All we are asking you is to set specific work hours and pay attention to other aspects of life outside them. Try not to engage in work tasks outside of your working hours unnecessarily.
2. Take that break.
Sometimes all you need to do is nothing. Making sure you have an escape from work, a circle of people you love, and a life that has nothing to do with your work is essential. It is important to use this escape from time to time. After all, we all deserve to take a break.
Read more: Quiet Quitting – The Tik Tok Trend Taking Over Workplaces
3. Start being kinder to yourself.
Many times, we become our own enemies. We start feeling unproductive when we can't touch the unrealistic expectations we have set for ourselves. A constant string of negative self-talk pushes our self-esteem down further.
See, when things start going south, it is okay to get stressed. However, when you start blaming yourself for everything, you end up doing more harm than good. That is why in order to figure out how to avoid burnout at work, you need to learn to forgive and be kind to yourself. Practice self-compassion. Think of yourself as your best friend. Imagine if they had made a similar mistake. You would allow them the chance to rectify it and eventually forgive them. Now, treat yourself similarly.
Read more: Best Online Therapy Platforms
Conclusion:
Burnout is a stage of mental exhaustion when your stress levels become much more than what your mind and body can handle. It can have destructive long-term effects on your physical and mental health. That is why figuring out how to avoid burnout at work is essential to finding a balance in life and happiness.
Have you been in doubt about whether you are experiencing burnout or not? Learn more about the signs of burnout here.
To continue learning about mental health daily, subscribe to Your Mental Health Pal.