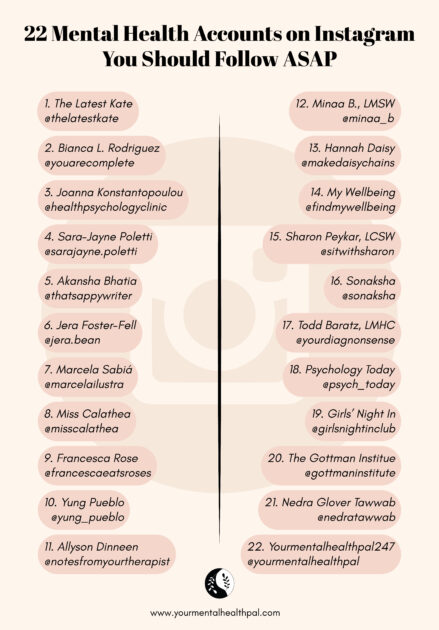 There is no denying fact that 2020 has been the most distressing year for most people. Luckily, there are many ways to combat negative mental health effects, including one following mental health accounts on Instagram.
In this modern era, most of you spend a lot of time on social media, and the feed you interact with directly impacts your mental well-being and thinking. There are tons of social media influencers, content writers, and therapists who play a crucial role in maintaining your mental health.
Hence, it becomes essential for you to follow only those accounts on social media that give you positive energy and uplift your mood. So what are you waiting for? Check out these top 22 mental health accounts on Instagram right now!
The Latest Kate posts mental health quotes with adorable animal characters in her original artwork. It posts content related to body positivity, self-care, self-love, quotes for people battling depression and anxiety, motivational quotes, etc. Kate also includes tips on dealing with mental stress and other related issues.
Bianca was once a patient too. Her struggles with depression, anxiety, and alcohol led her to a path by which she enlightened others. She makes people aware of various techniques to connect with their inner-self and energize their impulse to become the fullest and the most badass version of themselves.
She has already connected with many people and founded a community of mindful souls worldwide. Bianca talks about self-empowerment, practical solutions, deep thoughts, and the subconscious mind's role through her Instagram account. She can be one of the best mental health accounts on Instagram you must follow.
Joanna is a registered health psychologist in the United Kingdom. She interacts with her followers by posting mental health tips, advice, motivational quotes, and self-care content. She prioritizes self-care and says that self-care is crucial for everyone's psychological and emotional health. She also schedules "me-time" every week to ensure self-care remains a priority.
Sara Jayne was born in a Catholic family where talking about mental health was taboo. She slowly learned how taking care of mental health is important for every individual. 
Sara even sought professional help as she was diagnosed with major depressive order, anxiety, and later PTS disorders. She uploads a mixture of content on her Instagram feed ranging from pretty plants to books and coffee to medications she takes for her mental health.
Akansha originally started her Instagram page as a platform to share her poetry, but gradually she steered her content towards self-care. She also communicated her battles with anxiety and depression, which she was diagnosed with at the age of 16.
She talks about self-love, anxiety issues, and daily struggles common to every human being. This is one of the best mental health accounts on Instagram, which can flood your feed with self-love and positive quotes to make your mind and soul happy.
6. Jera Foster-Fell | @jera.bean
A 10-second glance at Jera's Instagram feed can make you seem like she is a typical Instagram influencer with a glamorous life. But a closer look reveals that she opens up about accepting weight gain, struggles with social anxiety, etc.
For Jera, one of the most beautiful things that social media offers is that it allows people to connect with other people and feel less alone and isolated, which is required for people struggling with mental illness.
Marcela is a Brazilian artist who encourages positive mental health through her art and illustrations. She aims to make social media a place of support and honesty rather than a toxic place for mental health.
Marcela Sabiá posts content related to body positivity, self-care, self-love, and her own experiences with depression and anxiety that can make you feel more confident about yourself.
If you are passionate about plants and gardening, give Miss Calathea a follow. Her account depicts her collection of plants alongside her experience of surviving anxiety and depression.
She began uploading about her plants and mental health in a psychiatric clinic during her last depressive episode. For her, caring for plants is very therapeutic and helps her avoid depression and unnecessary stress.
Francesca has a colorful feed filled with vegan food photos. In addition to healthy recipes, she encourages a healthy relationship with food. Francesca's account has created a community that holds her accountable in a positive way.
She posts content related to self-care and help, meditation, mental health remedies, and vegan food recipes that can positively influence your mind.
Diego Perez, aka Yung Pueblo, is a poet passionate about meditation and mental wellness. He shares his thoughts on mental health that will encourage you to think deeper, reevaluate your relationships and offer yourself a bit more kindness as you work on healing yourself.
11. Nedra Glover Tawwab | @nedratawwab
Nedra Glover Tawwab is a New York Times best-selling author and a certified therapist. She works with relationships, boundaries, and practicing healthy communication.
Nedra Tawwab shares various behavioral changes, daily tips, tools, and practices for mental health wellness. Her timely posts will help you reduce your screen time and not lead you to get into deep thinking and self-reflection with yourself.
The Gottman Institue was started by Dr. John Gottman. He was named one of the top 10 Most Influential Therapists by the Psychotherapy Networker. Their posts are usually directed towards their methodology, which aims to disarm conflicting verbal communication, increase intimacy, respect, and affection, remove barriers of any kind and create understanding and empathy in a relationship.
Girls' Night In is a Washington D.C.-based digital hub that started as a weekly newsletter focused on embracing an introverted lifestyle and now has grown into a virtual community.
The Instagram account engages with its audience by posting various self-care tips, memes, and curated resources for anyone needing extra care and love in their life.
Psychology Today was started by Dr. Nicholas Charney in 1967 as a magazine to bring the idea of psychology to the whole world. One of the world's most significant mental health and behavioral science online destinations creates content related to human behavior and changes to help people manage their mental health.
Whenever you are bored or free, just scroll through the blogs this website creates instead of endless room scrolling. The blog offers a variety of articles based on psychological concepts, human behaviors, and life concerns that can be very insightful. However, the Instagram page posts small snippets and infographics, serving as bite-sized informative pieces.
Todd Baratz is a licensed mental health counselor, a registered sex therapist, a licensed psychotherapist, and a writer specializing in relationships. He maintains a pink-purplish feed, offers content related to self-awareness, and gives relationship advice.
With some really radical perspectives presented in an attractive, informative, and gentle manner, this account can become your favorite mental health account on Instagram.
Sonaksha is an illustrator and a writer based in India. Her feed is full of colorful and immersive art related to mental health, body positivity, and gender issues. She writes Instagram captions that can give you a lot of information about self-care, feminism, and mental health.
Sharon Peykar is a well-known writer, a licensed psychotherapist, and a relationship coach. She maintains a pastel color feed that is soothing to the eyes and posts infographics and educational content related to relationship boundaries, learning better relationship patterns, skills, etc.
The content that she posts, especially the boundary settings and healing unhealthy patterns in a relationship, can solve most of your problems by noting some of your habits and behaviors that might not suit you well.
My Wellbeing is mental health service that connects individuals with therapists in New York City. This matchmaking company provides great content, including professionally written articles, guides, and comforting self-affirmations. The feed is aesthetically maintained and can give your mind a calm sensation. 
Hannah Daisy is a renowned artist and a mental health advocate. Hannah maintains a colorful feed with her illustrations and inclusive drawings through which she tries to normalize the conversations related to self-harm, sexual assault, depression, etc.
She is an occupational mental health therapist and engages with her audience through many types of body positivity and motivational quotes. Hannah uses #BoringSelfCare to celebrate the small acts of compassion, so others can also use this hashtag and move forward in their self-love journey.
Hannah's feed is a perfect place if you are looking for positive self-affirmations and mantras for everyday life.
20. Minaa B., LMSW | @minaa_b
Minaa B. is a therapist and a wellness coach. She is also a licensed social worker and a mental health advocate. Minaa B. founded an online book and writing club called "The Literary Social."
She maintains a pastel feed, and you can see her answering questions about working in the mental health industry in her highlights.
Minaa B. also lists and provides gentle reminders to breathe and relax amidst the chaos. All her posts can give you a wonderful reminder to stop, check in with yourself, and find new ways to support your mental health each day. Following her account can surely give you great mental relaxation.
Allyson Dinneen, a marriage and family therapist, can give you the insights you need. She focuses on trauma, boundaries, friendship, and love. Following her can give your mind a clear-cut image and help your mind maintain its serenity.
Your Mental Health Pal aims to talk about mental health and work together to remove the stigma. It works to increase awareness and normalize mental health diseases and addiction problems among people. Your mental health pal is a great option to follow if you are looking for a day-to-day friend striving to break the walls of the stigma of mental health problems.
Conclusion
We hope you liked our recommendations. Following these top 22 mental health accounts on Instagram will help inculcate self-love and positive energy in you. Start with your mental health wellness journey by taking these small steps. We believe in you!
Which other Instagram accounts do you follow for mental health therapy? Recommend us some too through the comment section 🙂