We are at a revolutionary point in the history of mental healthcare. Conversations around the pervasive economic, psychological, and social impact of mental health issues are gaining traction, and we are more aware than ever of taking our mental wellness seriously.
Our understanding of the treatment and support strategies for mental illnesses is increasing. Medical professionals, governments, and social organizations are joining hands to make mental health care more accessible to individuals worldwide.
At the heart of these efforts are licensed mental health counselors.
Licensed mental health counselors include medical professionals trained to help patients deal with their life issues. These issues can range from personal to behavioral, emotional, or vocational problems. Counseling services are offered by psychologists and social workers through government and social service agencies. Other professionals also provide services to independent individuals, families, or groups.
In this post, we will understand what licensed mental health counselors are and how they help individuals. We will also dive into how to become a licensed mental health counselor.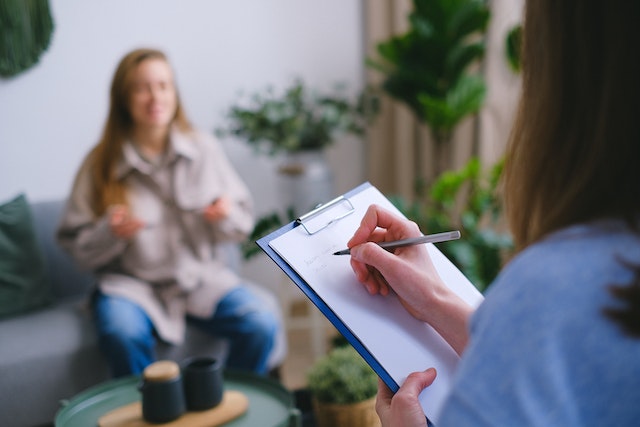 Who Is A Licensed Mental Health Counselor?
Licensed mental health counselors are medical professionals trained to treat cognitive, emotional, and behavioral issues related to mental health or substance abuse disorders. They can work in different setting catering to individuals or groups simultaneously.
Mental health counselors use multiple techniques to help individuals:
build a healthy lifestyle,
identify their stressors and deal with them, and
restore their mental well-being.
Licensed mental health counselors perform a variety of activities. They assess their client's symptoms and discuss further treatment options. In some states, licensed mental health counselors can also diagnose mental health disorders, whereas, in others, the diagnosis is made by physicians or psychiatrists.
Counselors work along with other mental health professionals like primary care doctors or psychiatrists to provide proper mental health care to affected individuals.
Ultimate Guide On How To Become A Licensed Mental Health Counselor
Now that you know what a mental health counselor is, let us dive deeper into how you can become one yourself.
1. Complete a bachelor's degree in social science, behavioral, or psychology field.
The most important requirement for becoming a licensed mental health counselor is a master's degree. This is why having a bachelor's degree in social work, behavioral, or psychology field can set the right foundation for you. The course structure in these subjects at the bachelor's level includes learning about human behavior evaluation, basic counseling skills, and an introduction to the various aspects of counseling.
2. Complete a master's degree in mental health counseling.
After you have finished your bachelor's, earning a master's degree in mental health counseling is the step in how to become a licensed mental health counselor. Opt for a course accredited by the Council for Accreditation of Counseling and Related Educational Programs (CACREP). A CACREP accreditation ensures that the course you opt for meets the standards for pursuing a medical profession.
3. Gain the required experience.
The next step after a master's degree is to gain the required experience to apply for licensure. Every state requires a certain number of fixed hours to provide a certificate of licensure. Generally, most states require around 2,000-3,000 hours of supervised counseling to be completed within a specific time frame, along with a certain fixed number of face-to-face counseling hours.
Read more: What Is The Difference Between A Mental Health Counselor And A Therapist?
4. Pass a recognized state test required for licensure.
All states in the country require individuals to pass one of the following recognized tests on counseling practice. The recognized tests include the following:
National Counselor Examination (NCE)
National Clinical Mental Health Counselor Examination (NCMHCE)
Certified Rehabilitation Counselor Examination (CRCE)
Examination of Clinical Counselor Practice (ECCP)
Additionally, some states also require jurisprudence examinations to be passed to test an individual's knowledge about the licensing and counseling rules. Therefore it is essential to consult with the state licensing board beforehand.
5. Apply for the license.
Passing the licensing exam is one of the most integral steps in becoming a licensed mental health counselor. Now you can apply for an independent practice license. The requirements for licensing might vary depending on the state of the applicant.
6. Gain Additional Certificates.
Once you become a licensed mental health counselor, you can continue applying for other certification programs through the National Board of Certified Counselors (NBCC).
Read more: Counseling Awareness Month – The Need For Student Counselors
Conclusion:
Licensed mental health counselors are at the very core of the country's efforts to deal with mental illnesses. If you feel that your mental health struggles have been affecting your daily life, it is important to talk to a mental health counselor.
With the advent of online therapy, you can now to a licensed mental health counselor right from the comfort of your home. To learn more about online therapy platforms, click here.
To continue learning about mental health, subscribe to Your Mental Health Pal.