Let's face the facts – we all have a particular set routine for our daily lives. All of us follow that set pattern. In fact, most of us share almost similar life patterns. It is almost always a modified variation of getting up, getting to the office, getting work done, getting back home, getting household chores done, and repeating.
It is easy to get stuck in the monotony of our daily routines and find yourself in a rut. It is easy to find yourself lacking the passion to make any life-altering decisions or changes in your life. This regular grind inhibits your growth, making it tougher to shift your mindset and find fresh sparks.
If all this sounds familiar to you, we have the perfect solution — inspiring positive mindset podcasts.
Whether you are lacking inspiration or looking to find a fresh perspective on old topics, try tuning in to these podcasts. These positive mindset podcasts are the right place to get new insights that will help you gain a new outlook on life.
At the very least, these podcasts will help make your boring commute to work or household chores much more enjoyable. Let's get started.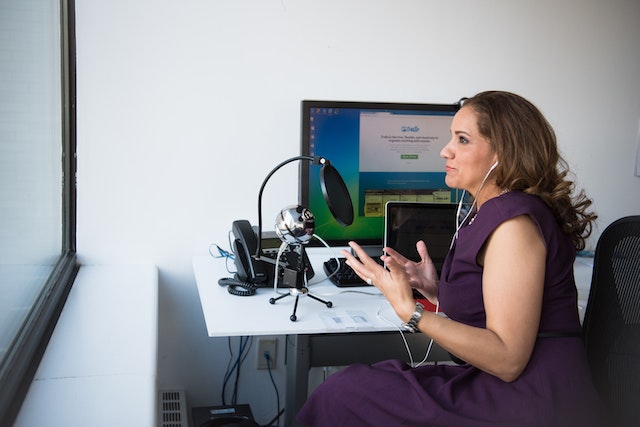 5 Positive Mindset Podcasts To Inspire You
1. Revisionist History by Malcolm Gladwell
Available on: Spotify, Apple Podcasts
There hasn't been one episode in Malcolm Gladwell's Revisionist History that hasn't fascinated the audience. Gladwell's masterful storytelling keeps hooks right from the start to the end. He picks up topics that are usually shunned or overlooked in our day-to-day life and then moves the listener through the topic with granular details. He goes on to compile facts and information about the things we think we know but ends up giving a completely fresh and unexpected perspective.
What makes Gladwell's podcast occupy one of the spots in our list of the best positive mindset podcasts is its ability to make you think. So even though you might not agree with his perspective on things or have a big mind-awakening, you will undoubtedly stretch your mind and be thoroughly entertained.
2. The School of Greatness by Lewis Howes
Available on: Spotify, Apple Podcasts
Author and entrepreneur Lewis Howes' podcast 'The School of Greatness' dives into topics as diverse as fitness, mental health, finance, and human rights. Each episode features conversations with people spearheading change in their respective fields. Listening to these individuals is sure to leave you inspired about making life-altering changes and decisions, especially at times when you might have hit a rut.
3. To Make More Space For What You Love by The Minimalists
Available on: Spotify, Apple Podcasts
If you haven't listened to the Minimalists' podcasts yet, this list of the top positive mindset podcasts is your reminder and cue to get started right away. Creators and best friends Joshua Fields Millburn and Ryan Nicodemus started Minimalists in 2016. Today it boasts an audience of 50 million people, and all the noise is for the right reasons.
The philosophy of the podcast is easy. It talks about living, adjusting, and thriving with less (both figuratively and literally) so that you can have more space for stuff that actually matters in life – passion, freedom, and creativity.
Read more: 5 Best Mental Health Podcasts For You
4. Hurdle by Emily Abbate
Available on: Spotify, Apple Podcasts
The pandemic was a stagnant time for most of us. It led to financial, professional, and personal losses on a level that we couldn't comprehend. Veteran journalist Emily Abbate's podcast Hurdle includes conversations with different inspiring individuals who can offer us some advice on how to deal with setbacks, failures, and loss. This wellness podcast consists of intimate conversations that are sure to leave you motivated and inspired to be your best self.
5. Akimbo by Seth Godin
Available on: Spotify, Apple Podcasts
Seth Godin's Akimbo is a thought-provoking, inspiring, and insightful podcast for working professionals in any field wanting to make a positive impact. He motivates you to question yourself, analyze your current situation, and voice your opinions. While you might not understand where Seth is going at the beginning with his topics, you will end up pondering on topics that you would have never thought of on your own. If you are looking to make changes in your life, Seth Godin's Akimbo is one of the best positive mindset podcasts for you.
Read more: Top 25 Motivational Podcasts For Women
Conclusion:
Our daily lives and schedules can often start to seem like a grind. The monotony of this grind restricts our mindset and stunts personal and professional growth. At such times, gaining a fresh perspective on things can go a long way. We hope our list of the best positive mindset podcasts will help you.
Apart from giving you a fresh perspective, podcasts can also motivate you to push harder and achieve bigger. To learn more about motivational podcasts, click here.
To continue learning about mental health, subscribe to Your Mental Health Pal.