How often have you blurted out something to a friend, family member, or colleague and instantly regretted it? Do you often say too little or too much or end up saying the wrong thing altogether? Do you spend hours overthinking what you should have said in a conversation? Do you find yourself second-guessing and rephrasing every word that you say?
If you have answered yes to these questions, it is because you lack an important life skill – mindful communication.
Yes! Mindful communication is the key to smoothening your conversations and helping you communicate your point in the best possible way. Mindfulness is the ability to be fully present in the moment.
Learning how to develop mindful communication allows you to be undistracted and wholly present in the conversation. This way, you will likely be more understanding, empathetic, and eloquent. You can pick up verbal and non-verbal cues and be more sensitive toward different perspectives. Mindful communication fosters better decision-making and greater self-awareness.
Now, incorporating mindfulness in your conversations is important. But how do you do it?
Well, we have got you covered. Here are five practical tips on how to develop mindful communication in life.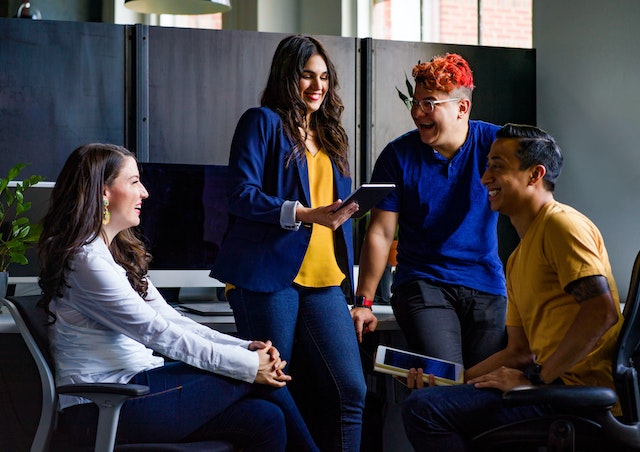 How To Develop Mindful Communication?
1. Practice active listening.
When most people learn how to develop mindful communication, they primarily focus on the speaking part. But conversations are not built on speaking. They are created through a complex interplay of active listening and responding. So, listening is as important as speaking correctly.
Now, in most conversations, we are ready with a revert or response even before the other person has finished making their point. This is because we were busy preparing a response rather than concentrating on what they were saying and understanding their perspective.
Therefore, in order to learn how to develop mindful communication, start listening to people. This means – stop looking for a response, be present in the conversation, put your phone aside, and truly listen.
2. Set a clear purpose or goal.
Whenever we communicate with people, we quickly lose sight of the intention or goal of the conversation. This is especially true for conversations that involve a difference of opinion or vulnerable topics. This is why even before beginning the conversation, it is essential to define the intent of the conversation.
Ask yourself – "Why am I committed to this conversation?"
Now, whether the response is understanding, dialogue, negotiation, etc., just stick to that intent. Additionally, ensure that what you say matches your intention.
3. Bring empathy (however weak) to your conversations.
Mindfulness helps you understand yourself better. It allows you to be more self-aware and empathetic toward yourself. Once you have learned this, you can also translate this sensitivity and awareness toward other people.
As a society, we are more divided on political and moral topics than at any other time. Even small topics like disagreements on a group project in the office can become a big issue.
Therefore, another important tip on how to develop mindful communication is to be more sensitive toward others. Look at how you react during disagreements. If your reactions are harsh and uncalled for, confront them. Teach yourself to be respectful and compassionate toward people who do not share similar points of view.
Read more: Decoding The Connection Between Social Media And Empathy
4. Let go of your judgments.
You will lose track of the conversation when you are too invested in being judgemental. This is because your judgment clouds your senses and creates an instant filter through which you only hear what you want to hear rather than what the other person actually wants to convey.
Therefore, one of the best tips on how to develop mindful communication is to ditch your judging lens and engage in conversations with a more open mind.
5. Be positive in your language.
Now, this one's difficult. But we are not trying to preach any toxic positivity to you. Hear us out.
Being positive in your conversations means rephrasing your words to get the point across in the best possible way.
The endpoint of every conversation is to have the other person listen to you. And people are more likely to listen to reasonable and respectful arguments than trash or negative ones.
Therefore, decide what's important to you and put that point forward. Be assertive in your communication while maintaining a line of respect and regard.
Read more: 5 Effective And Empowering Tips For Raising Resilient Kids
Conclusion:
Mindfulness is the ability to be truly present in every moment. It helps people become more self-aware and understanding. Incorporating mindfulness in your conversations can help you become better communicators. We hope this list of tips on how to develop mindful communication will help you get started on the journey.
Another way to enhance your communication is to learn how to listen without giving advice. To learn more about it, click here.
To continue learning about communication and mental health daily, subscribe to Your Mental Health Pal.