Finding the best mental health tattoos can be a challenge. There are so many factors to consider, and choosing the right design, artist, and price range can be overwhelming.
Your favorite tattoos were not just designed to make you look fantastic but also to make you feel good. Tattoo artists are always looking for new ideas on how to apply their artistry in a meaningful way.
These designs can help you powerfully connect with your emotions and help you cope with difficult times. Whether you're struggling with anxiety, depression, or any other mental health ailment, these tattoos can help you feel more in control.
In our culture, tattoos are still a prevalent form of self-expression and art, especially among those in the younger generation who feel more comfortable expressing their individuality through body art. Research by PLOS ONE has shown that people with tattoos have an increased sense of "self" and feel more confident than those without body art.
Mental health tattoos exist in various styles, sizes, and themes. They may be a way to express yourself and a visible reminder of the need to be strong: they may be signs of your views and the problems you are experiencing with people around you. They may represent everything from optimism and inspiration to grief and melancholia; they may be reminders of loved ones lost; they may show off your favorite artist's work.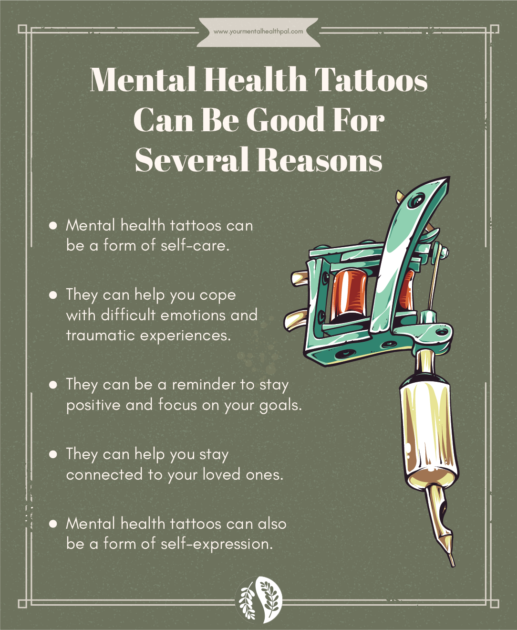 Let's look at some unique mental health tattoos you can use to raise awareness.
Best Mental Health Tattoos
Love Yourself
Source: Love yourself
A person who got this tattoo explains that it serves as a reminder to love and care for oneself. The lovely blooms here provide a ray of optimism. It serves as a reminder to stay devoted to oneself and believe that you deserve beautiful things. In 2016, a French artist showed this tattoo on Instagram, sparking movement. You must remember to love yourself and take good care of your routine.
Unalome
Source: Unalome tattoos
It is a Buddhist symbol for the Path to Enlightenment. It serves as a reminder that we frequently find ourselves wandering about and ultimately finding our path in our journey through life.
Hope
Source: Hope tattoo
A hope tattoo is distinct because it reminds the wearer that there will undoubtedly be better days ahead and that it is worthwhile to persevere. Not only that, but when the hope tattoo is combined with a semicolon, it denotes that it is acceptable to halt and resume.
The Sun Will Rise Again
Source: The sun will rise again
When a problem persists or someone feels down and out, it can be challenging to remember that everything will get better. But with the morning sun comes a new chance for healing and happiness. The concept is visualized in this design by Callmecynthia. Official.
Be Good To Yourself
Source: be good to yourself
Inner critics might be the harshest. French toast ghost, an artist, stated that the inspiration for this tattoo design stemmed from the concept of feeling stuck in life yet being proud of oneself. "And I believe that's fine with me. I think it's good not to be where I want to be yet, have goals to strive for, and be content with where I am now and all of the decisions that have led me here. "I'm good enough, and you are, too.
Semicolon
Source: semicolon
Amy Bleuel founded the Semicolon Project in 2013, which gave birth to the classic semicolon tattoo. Her purpose was to inspire and provide hope to persons suffering from mental illnesses.
The tattoo symbolizes what a semicolon represents to a writer: that the tale isn't done, and there is still more to be written. Similarly, Amy wanted the semicolon tattoo to illustrate how a person suffering from depression decides to keep going.
Breathe
Source: Breathe
"Breathe"- this simple piece of art can greatly impact someone struggling with anxiety or depression. The act of breathing can be difficult for those struggling with their mental health, and this tattoo reminds them that they need to take care of themselves.
A "breathe" tattoo might also remind you to pay conscious attention to your breath to manage your mental health if you struggle with mindfulness and living in the now.
Multiple Faces
Sources: layers
For many people dealing with depression, it can feel as if you're wearing a mask to prove to the world that you're okay. However, beneath that are many emotions inside. This gorgeous tattoo perfectly represents it.
See The Good
Source: See the good
In spiritual terms, the moth signifies desire and transformation. A moth will make its way to the light in a dark environment. A moth tattoo serves as a reminder that despite one's difficulties, there is always hope.
Follow Your Heart
Source: Follow your heart
Your instinct and gut sensations are more robust than you may realize. Trusting your intuition is the same as trusting yourself. Why not go back to the basics and listen to your heart when you find yourself overthinking or overanalyzing?
It's OK not to be Okay
Source: It's OK not to be Okay
This tattoo is a reminder that although things aren't always going how you want them to, it's OK to not be OK. It is better to express your emotions and know that you are human rather than pretending everything is OK. This tattoo represents a broad array of words and thoughts that most people feel but aren't always comfortable expressing.
Trapped In Your Own Head
Source: trapped in your own head
At times, you can become caught in your head, feeling as if you're being chained down and unable to think about anything else. However, progress comes from inside and teaches your thinking to be stronger than your emotions.
Still Growing
Source: Still growing
Healing is a process, and there is always space for improvement. This design was developed for people who struggle with being sympathetic to themselves for their identity or for perceived flaws; getting a tattoo to remind them that they, like all plants, are still developing may be beneficial.
Conclusion-
A Mental Health Tattoo is an artistic way to showcase your support of mental health awareness and advocacy. The tattoos in this list express the positive impact of mental health on a person's life and the need for mental health awareness. Hopefully, this list can introduce you to a few artists to help you tell your story with tattoos! Enjoy!
Now that you have learned how tattoos can help with mental health, let's talk about how art therapy helps with mental health. To learn more about art therapy activities, click here.
To learn more about mental health, subscribe to Your Mental Health Pal.