There are some activities that men will always find time to get done. Sunday football with the guys, upcoming anniversary or birthday dinners, electricity bills submission, and much more. But what about self-care?
Yes! Self-care for men isn't something that has been extensively discussed in our society, but it is essential in protecting their mental health and preventing burnout.
The traditional notions of self-care indulge our imagination in the portrait of a person wearing bath robes or taking bubble baths. However, forget these trendy self-care ideas for a second. Even apart from these, general, regular activities that can easily fit into your routine and help you rest and recharge after a long day are enough. You might think of self-care for men as a waste of time, but a self-care activity will help you make the most out of your day.
This is because your mind and body are the centers of your pursuits and daily activities. You remember that monitor you turn off when the core gets heated, only to restart it after some time. Think of self-care for men as that 'turn-off and restart' process for the monitor – it allows you to recharge and find the energy to get back on track.
Finding your self-care plan can take time and effort. Here are the five easiest and least intimidating self-care activities for men to help you figure out what your cherished self-care activities will look like.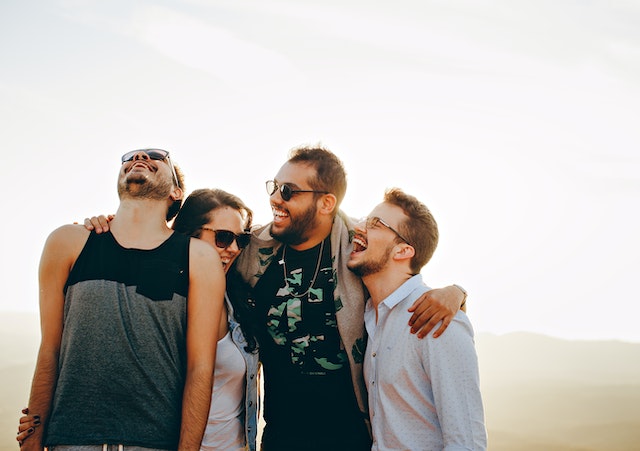 Ideas To Practice Self-Care For Men
1. Take a break.
One of the easiest and no-nonsense self-care activities for men and literally anyone is taking little breaks from tiring schedules and spending quality time with themselves. The world is dynamic and evolving, and there are opportunities at every step of the way. However, sometimes all you need is simple rest. It would help if you had some conscious time away from your hectic life to sit and reflect on who you are and how you have been truly feeling lately.
2. Read a little more.
We know that watching your favorite Netflix show sounds like fun. However, on a different note, trying to read a little more instead of staring at a screen can benefit you a lot. There are various good books out there, and honestly, there is something for everyone.
Read more: 13 Mental Health Games And Activities Online
3. Spend time with the people you love.
We all know that life can get busy, and you might not find the time to meet the most important and cherished people in your life. However, finding small occasions, making sudden plans, or dropping surprise visits to the people you love and genuinely care about is important. In fact, being in the company of people who make you feel seen is one of the most underrated forms of therapy.
4. Volunteering at an organization you care about.
While self-care is deemed to be pretty personal, it does not necessarily mean pampering yourself in stereotypical ways. For some people, the positive emotional feelings you get from helping others can be the perfect form of self-care. Whether helping at nursing homes or preparing food kits for underprivileged kids — volunteering at an organization is the type of self-care activity that can help you along with others.
5. Start therapy.
More often than not, people consider therapy as a last resort. It is regarded as a form of treatment. However, therapy is not just the last resort to finding professional help for your issues; it is also a resource. You don't have to wait for the problems in your life to reach the worst stage to seek help. Instead, if you have been feeling unwell for some time, you find it difficult to balance your emotions, or you need to become a healthier version of yourself – start therapy.
Read more: Best Online Therapy Platforms.
Conclusion:
Self-care for men is just as important as for everyone else. While the traditional narratives might feel restrictive for men to find the time needed to look after their well-being, it is important to do so. We hope these self-care activity ideas will help you find the perfect self-care routine for yourself.
If you are looking to find effective ways to make a positive difference in your father's mental health, we have the perfect solutions. To know more, click here. 
To continue learning about mental health daily, subscribe to Your Mental Health Pal.